We've known who the Falcons will play in 2018 for some time and now we finally know when they're going to play those games. And with the NFL Draft less than a week away, you've got plenty of questions. And here are your answers – Straight from the 'Beek! Just remember, all opinions here are mine unless noted otherwise.
OK, now I'll answer your questions.
Beek, Love your insights on these Dirty Birds. Lots of unknowns as the draft approaches and as much as I like multiple prospects, my belief is we trade out and acquire more picks. I gotta believe a Maurice Hurst, possibly Taven Bryan, make it out of Round 1. Possibly have DL and OL in Round 2 and would love to see Nick Chubb fall to us in the third round. Any chance Chubb falls that far, in your opinion?
Matt: I think Chubb will likely go on Day 2 – in the second or third round, Dion. I don't see the Falcons trading down or even out of the first, only up. But if they did trade down and acquired some Day 2 picks, I would think they'd be in a position to be even more flexible (as far as moving around to land some of their targets). It wouldn't surprise me at all to see the Falcons draft a running back, but I think it'll be on Day 3, in rounds 4-7. And just for the sake of transparency, I am not privy to the team's draft board and have no idea of where they have Chubb rated.
---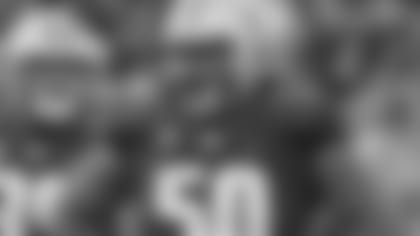 Arthur from Thomaston, GA
Hey, Beek. Loving all the trash talk and back-and-forth and all the worldwide brotherhood members. I'm a little long in the tooth and was an NFL fan before the Birds were a twinkle in their mother's eye. When I was a wee lad, most Jawjans were 'Skins fans because of the East Coast TV feeds. Much like they were Cardinals baseball and Yankees fans from radio. My gist today is, if I were the king of the Falcons, I would mortgage the future for Vita Vea and Dallas Goedert. OMG, the film I have watched on them. I'd trade like Mike Ditka. Our window is not open as far as it was, and I think as a looong-suffering Falcons lover, these two would help put us over the top. Yeah, we could use a wideout burner, but a red-zone beast has been missing since Tony Gonzalez retired. All the best to you and the worldwide brohood.
Matt: Great submission and thanks for writing in, Arthur. I don't think you're the only who is a big fan of Vita Vea and I think a lot of teams – specifically, the ones sitting in front of the Falcons at No. 26 – also see the power and run-stuffing abilities that Vea possesses. There's no question that the Falcons have a void to fill with Dontari Poe signing with the Panthers in free agency. Would Vea be able to fill it? Oh, there's no question. But I think there are (at least) two questions to ponder here. Does Falcons coach Dan Quinn think Vea would fit into his scheme? And would the Falcons trade up for him, if that's how it should play out? Now, Goedert is a small-school prospect with exceptional receiving skills for a tight end. I think he'll be there at 26 and if you draft a guy in the first round, you're expecting him to start and make a significant impact. But is he even the best tight end prospect in this draft? I think Mike Gisecki and Hayden Hurst might be available in the second half of the first round as well. And I agree with you about needing more production in the red zone on offense. It'll be interesting to see how the draft shakes out, Arthur.
---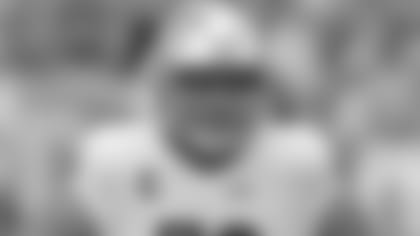 Orjan from Tromsø, Norway
Hey Beek! How do you feel trading up and get Quenton Nelson? That guy is a freak of nature and would really be able to make our O-line as good as it was two seasons ago. Safe to say I'm not too impressed by Brandon Fusco. If that's out of the question, I really hope we bring in either Da'Ron Payne or Maurice Hurst in the first round. Rise up!
Matt: I'm a huge fan of Quenton Nelson and I think he's probably the safest pick in this draft. But I also think he'll go early in this draft, definitely in the top half and maybe even in the top five. That's a long way from pick No. 26, though, and I just can't see the Falcons moving up that high. But, hey, they've done it before. Now, selecting a defensive tackle at 26 seems much more realistic to me, Orjan, and I could see either of those two prospects – Payne or Hurst – sitting there when it comes time for the Falcons to pick. I could also see Atlanta jumping up a few spots to go get the player they really want, too. Hope that helps. Thanks for the question!
---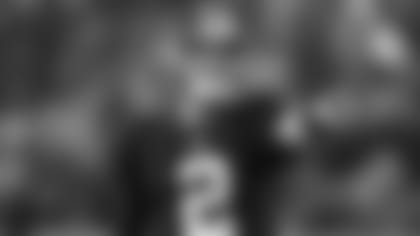 Hey, Beek. I see people criticize Matt Ryan all the time and everyone has a right to their own opinion. But there are about 26 teams that would love to have him. It's funny how a QB can win one Super Bowl and all of the sudden he is put on a pedestal above guys that have put up better numbers year after year.
Matt: Couldn't agree more, Joe. Football is a team game. And winning a Super Bowl not only requires having a great team with guys who understand and embrace their roles, but consistent execution, good health and some good fortune (a little luck) along the way. Matt Ryan is a great player who is still playing at a very high level at perhaps the most demanding position on a football team. But he's just one of 11 guys on offense and one of 53 guys on the active roster.
---
Beek tha Freak. As always, LOVE your column and insight! Well, this is more of wanting to hear your perspective on something. We all know Matt Ryan is about to become the richest Falcon in the history of the franchise. I suspect there will be lots of pressure on the Falcons (being that the Super Bowl is in OUR home stadium) AND I suspect being he is the leader of the team. Our "fickle" fan base will scrutinize and nitpick EVERY underthrow, EVERY overthrow, EVERY interception, EVERY missed opportunity. They will hold it against him because of their perceived notion that it took so long to sign (missing out on free agents) and that they'll boo at every opportunity … that "they" feel ... because of his paycheck, that he MUST lead us to the Super Bowl AND WIN it all! Your thoughts, sir.
Matt: Here's the thing, Buc. Whatever Matt Ryan gets paid, he deserves because he's earned it. It's not like he's some unknown entity or something. He's got 10 years of stats to back it – 10 years that prove he's an elite quarterback and the best in this franchise's history. Now, fans have the right to boo and cheer whenever they see fit – especially if they're forking over their hard-earned dough to attend those games in person. And as much as Falcons fans want to win a Super Bowl, I'd be willing to bet that Matt Ryan wants it even more. They just need to keep that in mind, too. Based on your comments, I think you do. And thanks for writing in. Always good to hear from you!
---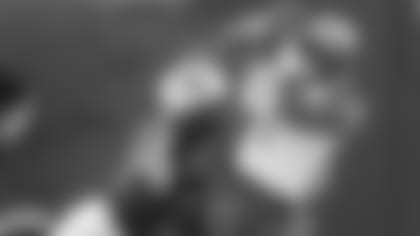 Malachi from Carollton, GA
Hey, Beek. It's been awhile, but I'm really excited for the draft and I'm ready to see what DQ and Dimitroff do on draft night. I think we need to go offense in the first round this year and get WR D.J. Moore or D.J. Chark. Every year Dan Quinn has been here I can count on one hand how many offensive players he has drafted, and I can probably only name one that has been really productive. This year's defensive class is so deep that we can look for our defense needs later in the draft. I also think we should take Donte Jackson out of LSU in the second round. Tell me what you think, Beek.
Matt: Hey there, Malachi. Good to have you back here firing off questions again. I think the Falcons will go defensive tackle and receiver early in this draft, and in that order. I would not be surprised at all if they went in a different direction, but that's just my semi-educated guess. I'm a huge fan of D.J. Moore and think Chark is a Day 2 guy. As far as Donte Jackson, I think he'll definitely go in the second round. If the Falcons choose to pick a corner there, well, he looks like he'd be a solid pick. Jackson ran a 4.32 40 and might be the fastest player in this draft.
---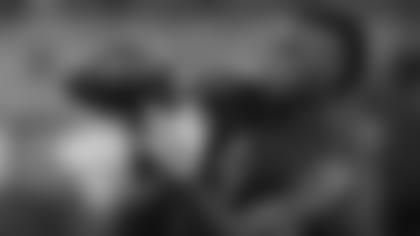 Jerry from Statesboro, GA
Hey, Beek. I talked it over with TD and DQ. We are at a standstill between taking a DT in the first round or trading down. I hope this clears things up for the Beekers. With that being cleared up and based on what DQ told me in sworn secret, our Round 2 draft pick will be the steal of this year's draft (if he's there). In your opinion, who do you think is the biggest Round 2 projected sleeper that best fits our scheme?
Matt: I think the Falcons will go defensive tackle with the first pick, Jerry. So, I'll go with a different position in the second round. The guy I just wrote about above – Donte Jackson – would be a good one to start off with if we're talking about cornerbacks. I just don't know if he qualifies as a sleeper at this point. I think there a number of receivers who will be available in the second round, and one of my favorites is Deon Cain out of Clemson. He's big and fast but has had some off-field issues in the past (early on in his career at Clemson) – which might cause him to slip. If you remember, Cain caught five passes for 94 yards in the Tigers' title game win over Alabama.
And I'll throw this out there as well: I'm a big fan of former Penn State tight end Mike Gisecki. If he makes it out of the first round, he'll go in the second round – and I think he'll have a nice career at the next level.