Welcome to Straight from the 'Beek! The Falcons are in offseason mode preparing for free agency, the combine and the draft - and based on the amount of emails in my inbox, you've got planet of questions. So, let's get right to them. Just remember, all opinions you see in this space are mine, unless otherwise noted.
Before we get started, it's worth noting the results from Monday's poll question. I've received a lot of emails about pass rushers and guards lately, but most readers and followers on Twitter identified the defensive backfield as the biggest area of concern outside of the offensive and defensive lines. That said, send me some questions about some of the top corners and safeties coming out this week - would love to talk about them as well.
Brandon from San Antonio, TX
Hey Beek, I love your columns, man. They will surely pull me through this long offseason. Quick question. I feel as though we need to pick up a good offensive guard or another pass rusher. Which guard or pass rusher do you think fits our scheme? Thanks for the response!
Matt: Thanks, Brandon. Appreciate that. Well, if you read this space at all, I think you know where I'm going with at least one of those prospects. Quenton Nelson is hands down the best guard coming out - and might be the best overall prospect in this entire draft class. But in order for the Falcons to have a shot at landing Nelson, they'd have to trade up for the 6-foot-5, 331-pound lineman from Notre Dame. Another player who will likely go early is Will Hernandez, a 6-foot-3, 340-pound guard out of UTEP who performed really well at the Senior Bowl. And a third name that many people around these parts are familiar with is Isaiah Wynn, a 6-foot-2, 308-pound tackle from Georgia who many expect will play guard in the NFL. Wynn could possibly drop into the second round. As far as the pass rushers go, this class doesn't have a ton of them. But the one player stands out from the pack is Bradley Chubb, a 6-foot-4, 275-pound edge rusher from NC State. Another intriguing player is Marcus Davenport out of UTSA, a former basketball player who is tall and long - he's 6-foot-6, 259 pounds - and can play outside linebacker and defensive end. According to some reports, he was nearly impossible to block at times at the Senior Bowl. He could take some time to develop but has the potential to be special. Another name to keep an eye on is Harold Landry out of Boston College (pictured above). He's 6-3, 250 pounds and is very comparable to Bruce Irvin. If you recall, Irvin was a standout pass rusher out of West Virginia who was drafted by the Seahawks.
---
Hey Matt, have a question about first-year players fresh out from the draft. I believe most folks anticipate us bolstering either the offensive guard or defensive line with our first pick in the draft. So, my question is about which of those positions is a player more likely able to learn and be effective during their first year in the NFL? It seems that quarterback (or maybe even center) is the most difficult to learn and running back is the most transferable from college.
Matt: Good question, Gary. And of the two you're asking about - offensive or defensive line - I'd say that the latter (defense) would be easier to learn quicker. Obviously there's a great deal of learning going on initially that also entails being able to make the proper pre-snap reads, but playing defense is more about the preparation and then being able to quickly diagnose a play or formation and then reacting once the ball is snapped. Make sense? Hope so.
---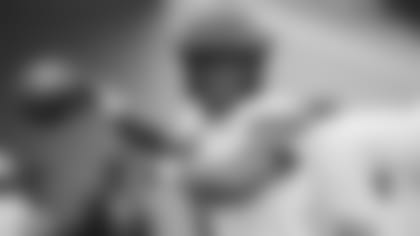 Jerry from Statesboro, GA
Hey Beek. I've got a fun question. Let's say we get a solid offensive and defensive lineman in free agency. The word around the campfire is that Lamar Jackson might fall to the second round. If he's there when we pick in the second, do you think we pull the trigger? Why or why not? Another question since we are having so much fun. If we move up, how far do you think we can move up without giving away the farm. There are no Julio Joneses in this draft if you know what I mean. If Quenton Nelson is still on the board at No. 20, I say we make a move. If not, we should hold or move back for a defensive tackle. What do you think?
Matt: Wow, Jerry. I think you're having maybe a little too much fun with this … OK, I'll play along with the part where the Falcons enter the NFL Draft not needing to draft an offensive or defensive lineman. If Lamar Jackson is sitting there on the board when the Falcons are on the clock at No. 26, why would they draft the quarterback out of Louisville? To sit and learn behind Matt Ryan? Or do subscribe to Bill Polian's theory that Jackson should be playing wide receiver now? Either way, I don't see them spending their first-round pick there, Jerry. I loved watching Jackson play at Louisville, but it just doesn't make sense to me. As far as Nelson falling to 20, I don't see that happening either. He's a top-five pick, I think. Do you remember what the Eagles gave up when they traded up from the No. 8 spot to No. 2 to get Carson Wentz in 2016? They gave up the No. 8 pick, a third-round pick (77th overall), a fourth-round pick (110th overall), a 2017 first-round pick and a 2018 second-round pick. Now that was for what they believed would be a franchise quarterback - and they appear to be right. My point is, the Falcons would have to give up a ton to move up even into the top 10.
But back to Jackson for a minute. If Ryan is your quarterback now and for the foreseeable future, would you really want to spend a first-round draft pick on someone who won't even play? I raise the question because of a number of you have asked about Jackson in the past. And according to the poll results above, only 14 percent of you voted for addressing the backup quarterback position.
---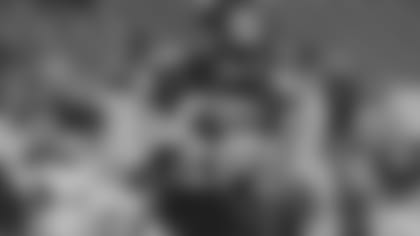 Levine Toilolo was catching the ball when he first got to Atlanta. What happened?
Matt: Let's get the stats out and have a look at Toilolo's body of work in five seasons with the Falcons before we jump to any conclusions, Tim. Here are Toilolo's career highs in targets (54 in 2014), catches (31 in 2014), yards (264 in 2016) and touchdowns (two in 2013, 2014 and 2016). And just in case you're wondering, last season Toilolo 12 catches for 122 yards and one touchdown. Those aren't exactly eye-popping, but he's not what you'd call a downfield threat either. Toilolo's biggest asset, in my opinion, is his size - he's 6-foot-8 and 260 pounds. You would think he would be an excellent red-zone target but that just hasn't been the case thus far.
---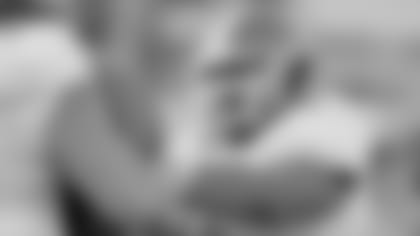 Falcons fan since '89, new to the Beek. I know the offensive guard talk is probably getting old and the UGA homers pining for Wynn is even older, but I digress. A name that I haven't heard mentioned much (or at all) when it comes to the 26th pick is offensive guard Will Hernandez out of UTEP. He might not be the most agile or athletic lineman or "wow" in the underwear olympics, but just turn on the tape and grab some popcorn. He is as fierce and nasty as they come. There may be a slight learning curve in pass-pro against quicker/twitchier interior rushers, but he is DOMINANT in the run game and is an immovable anchor against power/bull rushers. Reminds me a lot of Richie Incognito in his prime. I guess this is more of a suggestion than a question. Watch some tape (Senior Bowl is a good starting place) and let me know what you think.
Matt: Hey, Bryan - and welcome to Straight from the 'Beek. Oh, I totally agree with you when it comes to Hernandez. In fact, I mentioned him above when asked about three guards and three pass rushers I like coming out. And you're spot on with the Richie Incognito comparison, too. I think he'll be one of the top three guards to go in this draft.
---
Malachi from Carrollton, GA
First thing I want to say is that I'm glad your back, Beek. Second, I feel like Jerry is not the lead Beeker. I am, but to my question. Can you please explain the Falcons' cap situation to me? I heard were broke and won't be able to sign any big names in free agency. Also, what do you think about the Falcons trading in the draft and acquiring two first-round picks?
Matt: Ha! Glad to be back. Listen, I love hearing from all you guys - this space wouldn't be a success without all of you, especially the regulars - a.k.a., the Beekers, as you guys put it. So, I thank you for reading and contributing as often as you do! Now to your question. Don't pay attention to people on social media or message boards when they spout off things like, "the Team X is broke" or "the Team X has no cap space." Just look it up for yourself and see. There at least one credible site out there that offers a real-time look at the salary cap totals for each team (as well as breakdowns of individual player contracts) and it's called spotrac. My advice and is to spend some time on the site and look at how different teams are structured. Now, keep in mind, that a lot of will change in the coming weeks due to free agency - so pay attention to how teams spend and how certain deals might even clear up some salary cap space. As far as the Falcons making a trade goes, yes - anything is possible. But trading and acquiring two first-round picks? That's unlikely, Malachi.
---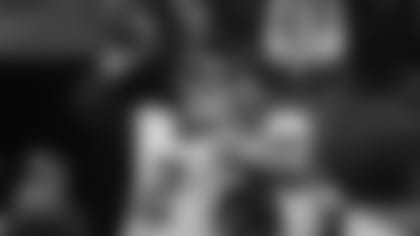 Clifford from Marietta, GA
We need a QB and pass rushers. Matt Ryan is too inconsistent. Take those blinders off, if we intend to win a Super Bowl! The offensive line needs help, too.
Matt: Whoa now, Clifford. Matt Ryan is the best quarterback in franchise history - and that's not an opinion, my friend. It's fact. Just look at his numbers. He's also been named the league's most valuable player once and took Atlanta to a Super Bowl. That's pretty darn good, and he's still playing at an elite level. But my favorite counter to remarks like this is the following: Who exactly are you going to replace him with? Who is walking the street or is available in the draft or is a free agent that's better than Ryan right now? Anyone? That's what I thought. Now, as far as acquiring more pass rushers and bolstering the offensive line - I'm with you there. You can never have enough effective pass rushers - and they're also hard to find. And if you're strong up front, that makes all of the skill-position players that much more effective, including Ryan.