Welcome to Straight from the 'Beek! The NFL Draft is inching closer and you've got plenty of questions. So, let's get right to them. Just remember, all opinions here are mine unless noted otherwise.
Vincent from Chattanooga, TN
Hello Beek, regarding our Falcons with the opportunity to make NFL history by hosting and playing in a Super Bowl, I feel this will be less of a distraction and more of a motivation. What are your thoughts about our chances and this opportunity?
Matt: Every team ultimately wants to reach the Super Bowl and win it, regardless of where it is being played. Once the season begins, most good teams are focused on just one thing: that week's opponent, and nothing else. Win and everything else falls into place. Do I think that the fact that the Super Bowl is being played in Mercedes-Benz Stadium will serve as motivation for the Falcons? Absolutely, when the time is right. This is a veteran team and they know better than to look beyond any opponent. Winning each week, winning the division, winning conference games, making the playoffs – that's what matters. As I wrote here in this space all last season, it doesn't matter how you get into the playoffs – just get in. And the Falcons were the only team in the NFC to make it back form the year before. There's a lot of work to do first, Vincent. But if the Falcons can stay healthy, string some wins together and make the playoffs, I think having the Super Bowl in their backyard will serve as motivation – not a distraction.
---
Jeremiah from Decatur, GA
Hey Matt, I keep hearing a lot of talk about drafting at defensive tackle and wide receiver. I agree with this statement, but I also believe the Falcons need to get a cornerback especially since we lost a key cornerback in Jalen Collins. Collins was a great cornerback before all the suspensions came. (He filled in for Trufant when he was hurt, and he made big plays in playoffs). What are your thoughts?
Matt: Well I guess my first thought is why are we talking about Collins when he didn't play a single snap during the 2017 season – a season in which the Falcons made the playoffs and fell one play short of knocking off the Eagles, the eventual Super Bowl champions. My second thought is I don't think you can have enough solid cover cornerbacks and depth at that position. In a passing league – and that's what the NFL is today – if you have any obvious weaknesses on the back end of the defense, teams will expose and hurt you. While I don't think cornerback is a pressing need, it wouldn't surprise me at all to see the Falcons draft a cornerback on Day 3 of the NFL Draft.
---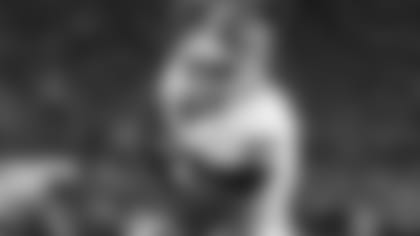 (AP Photo by Gregory Bull)
Our Falcons are showing a lot of interest in running back. Do you think they could surprise us all and take a top back in the second or third round? Someone like Georgia's Nick Chubb could even play a little fullback.
Matt: I think the Falcons are just doing their homework on all of the draft prospects, Joe. And while it would not surprise me to see the Falcons draft a running back this year – much like they did last year when they took Wyoming's Brian Hill in the fifth round – it would surprise if they did on Day 1 or 2, Joe. I think Chubb was a great player at Georgia and it'll be interesting to see where he ends up. I don't expect him to be around come Day 3, but you never know.
---
Here's my reply about Matt Ryan. I understand all his accolades compared to this franchise. I agree he's the best QB we've ever had. He's also had elite wide receivers and running backs since he's been in the league. Kirk Cousins has really had to carry the Redskins. When I think of these elite quarterbacks they carry their teams. Imagine the Falcons without Roddy White, Michael Turner, Devonta Freeman and Julio Jones – that equates to 2013/2014 Falcons 4-12. Matt Ryan is hidden by a stud running game and one of the most talented receivers in the NFL. And on top of all, that he's never had to compete for a job. I'm just saying get some competition at QB. No matter what franchise accolades he has, we still haven't won a Super Bowl. There's new talent every year in the draft. Carson Wentz took Philly to the Super Bowl in his second year. So, you can't say what's out there. I'll give it to Matt Ryan, he's only missed one game in his career. With that much game experience he should be able to carry our team. And I don't see it happening. And we don't even have a competitive backup.
Matt: With all due respect, Tommy, I can't imagine the Falcons having any of the success they've enjoyed the last 10 seasons without Matt Ryan pulling the trigger behind center. Ryan is the centerpiece of the Falcons offense. You forget where this franchise was before Ryan was drafted third overall in 2008. And, again, he's been better in the second half of his career – one in which he's guided the Falcons to the postseason six times, including the Super Bowl. And he is still playing at an elite level while having only missed two games in his career. Regarding Wentz, yes, he's played great during his first two seasons, for sure. But let's not gloss over the fact that Nick Foles, not Wentz, led the Eagles through the playoffs and to a Super Bowl win. And as far as bringing in competition at quarterback – or at any position, for that matter – I'm all for it. But once the season starts, you've got to have someone you trust at that position – who's experienced, is a leader, knows the offense and can lead the team when called upon. Much like Foles did last season. But if you won't take my word for it, maybe some other Falcons fans might convince you …
---
What's up, my man! Big fan of the column. I've always appreciated your honesty. I also thank you for correcting these so-called Falcons fans who continue to disrespect our franchise quarterback. I guess my question is simply this. Why do some Falcons fans not understand how great this guy is? He has been the model of consistency. He is a former MVP, who has passed for over 4,000 yards for seven straight seasons now. According to Pro Football Focus last season, he was the second-best QB in the league behind Tom Brady. And equally as important, Matty Ice has only missed two games in his 10-year NFL career! That fact alone is why he deserves all the money that is coming his way in this next contract. We would never have been successful if it wasn't for that man under center. This guy was the real deal as soon as he put on the red & black; his first NFL pass went for a touchdown, as some tend to forget. I'm fine with folks being critical, but to say that we should trade him or not pay him is absolutely absurd! So Beek, keep doing what you do. I know you understand exactly where I'm coming from.
Matt: You bet, and thanks for writing in, Zach. And this is probably a good time to drop in the results of this poll: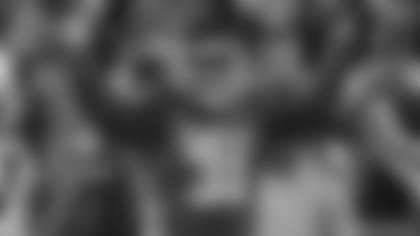 (AP Photo by Sue Ogrocki)
Tim from Leinefelde, Germany
Hello, Beek. Thanks for your hard work for the BROTHERHOOD. My first question is about Ogbonnia Okoronkwo. He is a great DE and is in nearly every mock draft as an early second-rounder. Could we maybe trade up for him in the second round? My second question is, do you believe in Duke Riley as a starter for Vic Beasley? Thanks, and regards from Germany.
Matt: Hey, Tim. I think Ogbonnia Okoronkwo was a force at Oklahoma and I've had him going in the first round in each of the three mock drafts I've put together. Some might think that's too high for him, but all he's done the last two seasons is tally 17 sacks and 146 tackles while terrorizing the Big 12. Falcons coach Dan Quinn always says you can't have enough good pass rushers, and I agree. I'm not going to get into the business of predicting trades, especially in the draft, but I do expect Okoronkwo to go in the first two rounds of the draft. Regarding Riley, I'm expecting him to make a significant jump from Year 1 to Year 2.
---
Beek, what's up man. Hopefully you post this question as you've posted more questions from my son Dylan (4-5) than me (0) thus far! My questions are really more of a statement. I listen to talk radio and I read the forums and everyone seems to be a little anxious about Matt Ryan not signing his new contract yet – and the radio guys are saying it has hurt us in free agency. However, my perspective on this is Dimitroff and Quinn came out and CLEARLY said they weren't enamored with this free agent class. So, the only thing they are going to do with the cap space flexibility once they sign Ryan is to then use that to sign some of their other soon-to-be FA players (Jarrett, Matthews, etc.) to longer-term deals to lock them up. Why would we sign a Suh or Norwell, even if Ryan did his extension? That would just guarantee we wouldn't be able to sign our own players when they become free agents. Also, I truly believe that they are stalling to some degree so Green Bay can't go ahead and use it as a base to sign Aaron Rodgers. Why would we want them to have more cap flexibility when free agency is going on? Anyway, that's my perspective. Appreciate your view on it – love the column!
Matt: Hey, Scott. You're officially on the board! Look, I think you're pretty spot on with your observations. Obviously, you want to lock up your franchise quarterback with a deal that's fair and competitive, yet still have the ability to keep key core players in the fold – and that's crucial to long-term success moving forward, especially after the team has worked hard to develop those players, watch them flourish and know what they're about on and off the field. Dan Quinn and Thomas Dimitroff have worked hard to develop a certain culture here and keeping those core guys around is important. The Falcons see free agency and the draft as one process in player acquisition. If they did not address specific areas or positions in free agency, you can bet they will in the draft. So, no, I don't think they have been "hurt" in any way during free agency. Thanks to you and Dylan for reading and writing in.