Welcome to the international edition of Straight from the 'Beek! I'm kidding, but I was a bit odd going through my inbox and receiving five questions from outside the U.S. today. Who says the Falcons aren't an international brand?
Got a question about the Falcons? All topics are fair game – X's and O's, the draft, free agency, how the rookies are looking so far, the uniforms, anything. This is your place to ask and get an answer – Straight from the 'Beek. Just remember, all opinions here are mine unless noted otherwise.
Oh, and a quick programming note: SFTB will be back on Tuesday, May 29. Enjoy your Memorial Day weekend, everyone.
Travis from Kaiserslautern, Germany
Hey Beek! I want to make a statement about contracts after I read reports that Ricardo Allen wants a long-term deal. I think all players are expendable when it comes to the team, including Matt Ryan, Julio Jones, etc. With that said, I think there is a subtle difference between those players and Ricardo Allen, Damontae Kazee, etc. It's time to step up.
Matt: Hey there, Travis. You say expendable, but I'll counter with this: Who are you going to replace them with? Who exactly is walking the streets right now that's a scheme fit, a cultural fit, a salary cap fit and is also an upgrade? Just sayin.
---
Morning, Beekster. Been in the bush and totally off the grid for several weeks, so have a very generic question. What are the differences between OTAs, minicamps when compared with training camp?
---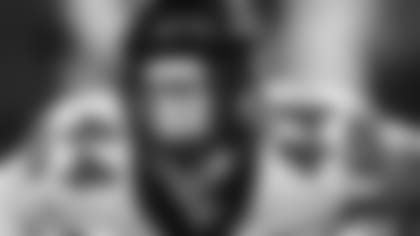 Werner from The Hague, Netherlands
Hi Matt. Thanks for keeping us fans updated this season, keep up the good work. Just a question about Vic Beasley. Do you think coach Quinn made a mistake by putting him in the SAM linebacker spot last season? I mean he was the NFL sack leader in 2016. Makes no sense to 'demote' your best pass rusher. 
Matt: Hey, Werner. Let's clear something up right off the bat here. Vic Beasley wasn't demoted in 2017. If anything, more was added to his plate last season when he was asked to play SAM linebacker due to injury circumstances and, yes, his sack total dropped to five. Beasley also injured his hamstring in the early part of the season and, because of it, missed some time. That affected his production as well. I like that he's back at defensive end full time now, but I would not call the move last season a mistake.
---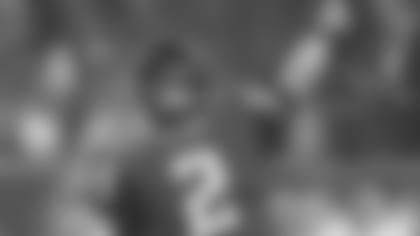 (AP photo) Jack from Gloucester, United Kingdom
Fan from far away here. Fingers crossed you guys come play across the pond soon. Question is how do you think this unit of players will be spoken about in 20 years' time? The last few years have been an absolute rollercoaster; in your opinion, will they establish a legacy?
Matt: Hey, Jack. I'm no Nostradamus, but I think this core group of players definitely has a few more chapters to add to what's already been the most successful decade in Falcons football history. Need proof? Click here and do the math.
---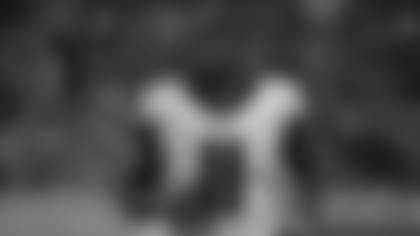 (AP photo) Darren from Brigg in North Lincolnshire, England
Beek, do you think Julio Jones should even be asking for an adjustment to his contract?
Matt: Hey, Darren. I'll answer this by asking you a question. If you believed that your work was worthy of a pay raise, is it anyone's business to tell you whether you should or shouldn't ask for one?
---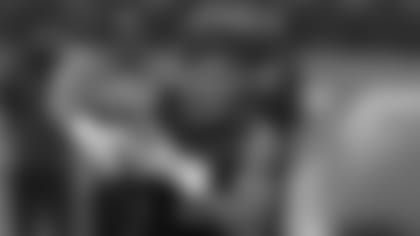 (AP photo) Anthony from Columbus, GA
How are things going with free agent Justin Crawford? Do you think he will make an impact?
Matt: Hi, Anthony. My eyes tell me ... so far so good with Justin Crawford, but it's way too early to tell if he'll make this roster. The Falcons backfield is stacked right now, so the undrafted free agent out of West Virginia will have to make an impact on special teams -- plus do everything else right when given opportunities. Being a WVU alum who bleeds Old Gold and Blue, I'm pulling for him!
---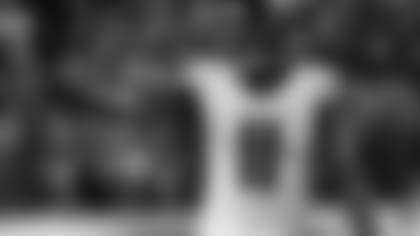 (AP photo) Sonny from Cordele, GA
First of all, thank you for answering all of our questions. Really do appreciate it. Now, to the point I was going to. Should Falcons fans be worried about Julio Jones holding out of OTAs until his contract gets adjusted? Because a talent like Julio Jones comes along once in a generation and I don't want him to leave. Please give your opinion on this and thanks for answering my question.
Matt: Two thoughts here, Sonny. First, remember that OTAs are technically voluntary. Second, Falcons coach Dan Quinn said he speaks with Julio Jones often, noted that he's training hard and, more importantly, that he expects Jones to be at minicamp in June.
How much beek could a Tabeek beek if a Tabeek could beek beek?
Matt: Tony, the real question is, can you really have too much beek? (And that's rhetorical.) But to answer your question, it's 97.
---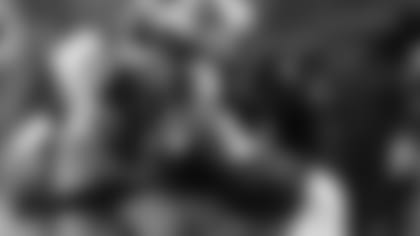 (AP photo) Carlos from Norcross, GA
Hey Beek. I gotta say all these past drafts have been great for us. Maybe all except last year (but Takk). But this year, wow. It was really surprising, and I love it, makes it more exciting. But with the question: I feel our roster looks really strong for a great season. I think my only concern is the linebacker position. I'm not saying to get Mychal Kendricks, but do you see us getting another linebacker before the season starts or would we go on with what we have and wait till next year? Sorry, we pressure you a lot, haha, but I am a Bulldogs fan and we are used to a lot of rotation in the position and looks really effective. Thanks again.
Matt: No pressure. Since you brought up the draft, my advice is to take a closer look at Foyesade Oluokun as well as this current group of Falcons linebackers, Carlos. Also, read here what linebackers coach Jeff Ulbrich said when asked about them recently. I think you'll feel a little bit better about that group.
---
Tomislav from Bjelovar, Croatia
Hi Beek! What is the status of Marvin Hall now that Calvin Ridley is here?
Matt: Hi, Tomislav. Look, I'm happy to report that Marvin Hall is alive and well and competing just as hard as ever. Seriously, let's wait until the pads come out and we start to seeing these guys in some live game action before we start making snap judgments.