Welcome to Straight from the 'Beek! The NFL free agency period continues as teams also prepare for the draft – and you've got plenty of questions about the Falcons. So, let's get right to them. Just remember, all opinions here are mine unless noted otherwise.
We begin talking about tight ends.
What's up, Beek!? What are your thoughts on our newly signed TE? Also, have you ever noticed how Jamie from the Progressive commercial looks just like Matt Ryan? Just had to throw that out there
Matt: Hey, Chris. My initial thoughts on the Logan Paulsen signing? I think he brings some veteran leadership and experience to a relatively young group of tight ends – Austin Hooper (age 23), Eric Saubert (23) and Alex Gray (26) – and he's a decent blocker, which is something the Falcons need. It's a one-year deal, too. I think it's a solid signing that fits what the Falcons are trying to do in free agency, but it's not like I'm singing from the rooftops here, Chris. Regardless, I'm glad you brought the topic up because I'd like to find out what you, the Beekers, think about the signing as well. It's the SFTB Question of the Day:
And as far as whether or not Matt Ryan looks like the character Jamie on the Progressive Insurance commercials … I'll be real honest and tell you I had to look up a few to check and see. Yeah, maybe a little. Jamie is definitely shorter than Matty Ice.
---
Hey Beek. Thoughts on the Pernell McPhee visit? We could always use some depth in the trenches. Also, I think Bennie Logan and Dominique Rodgers-Cromartie are interesting free agents. Both seem to be cheap and could provide good work for a short-term contract, as we need space in the next couple of years for our young guns. Thanks.
Matt: Well, let's keep in mind that it was just a visit at this point. That said, I like McPhee's game – when he's healthy. And that's been one of the questions about him – his durability. He said as much after he was released by the Bears, that he "was disappointed that I wasn't able to stay healthy and staying there and changing the organization around." But when he's on the field and playing, the 29-year-old can be a difference-maker. He only played a handful of snaps against the Falcons in the 2017 opener but did rack up four sacks in the following six games before ultimately being placed on injured reserve for the last two games of the season. At this point he might be worth rolling the dice on, but only for the right price – likely an incentive-laden deal.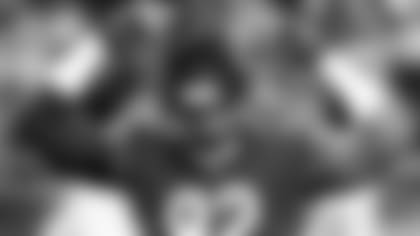 (Photo by Paul Spinelli via AP)
---
Hey Matt, I'd like to hear your opinion on three free agents that are still on the open market. The limited cap space is well documented, but I think these players could be had for a reasonable price. Getting Matt Ryan's new deal done would generate a bit more wiggle room as well.
WR Eric Decker: Would be an ideal fit given his experience playing both on the outside and in the slot. While he's lost a bit of his sneaky athleticism, he's not afraid to catch balls over the middle and get hit. He's a big target (6-foot-3, 217 pounds) who has three double-digit TD seasons under his belt as well.
NT (1-tech) Johnathan Hankins: We need a NT. Literally ANY NT. He's the best available and should be fairly cheap after a down year in a poor scheme fit.
Terrelle Pryor: This would allow Mohamed Sanu to operate almost exclusively from the slot (where he plays majority of snaps anyway). Pryor isn't the same fearless safety blanket w/ little big play ability like Decker. He's more of a vertical threat on the boundary. Should be 1-on-1 for plenty of jump balls and goal line fades with Julio still garnering double and triple teams.
Given TD's lack of success drafting WRs (outside of the first round), I would much prefer filling that spot via FA. And our lack of depth at DT and not having a single NT on the roster scares me. Like, REALLY scares me. No way we could compete with Philadelphia in the playoffs based on current roster. Your thoughts?
Matt: Hey, Bryan, thanks for the question. Here's my takes on all three players you mention – Decker, Hankins and Pryor: Too slow, wrong scheme and too expensive. Decker was good once – for about two seasons – and is now 31 years old. The Falcons need a third receiver who can flat-out fly and the good news is there are a few of those guys in the draft. Outside of Ndamukong Suh, Hankins might be the most notable nose tackle on the free agent market right now. He's 26, 6-foot-3 and 320 pounds, and is definitely a big run stuffer inside. However, he's more of a traditional 3-4 defensive tackle while the Falcons run more of 4-3 hybrid. Coach Dan Quinn likes players who are versatile – and I see Hankins as more of one-trick pony. But the bottom line is I think the Falcons can find a defensive tackle who is better fit for their defense in the draft. I also think Hankins will be asking for big money. Speaking of money, I think Pryor sees himself as a No. 1 receiver and I think he wants to be paid like one. The Falcons have a tremendous duo in Julio Jones and Mohamed Sanu – as well as some smaller, speedy guys in Justin Hardy and Marvin Hall. But they could really use a tall, fast deep threat with good hands to take some pressure of Jones – who is still the best receiver on the planet.
---
Gavin from Ontario, Canada
Hey Matt, I hope all is well with you. Haven't had a lot of time to read lately but I just read a few past SFTBs and its about free agency and the upcoming draft. I trust the Falcons' front office with the losses (Adrian Clayborn, Taylor Gabriel and Dontari Poe, etc.) and the gains so far (Brandon Fusco, Logan Paulsen and all the brotherhood), but I thought I would ask a fun question. Which positions do you think are our weakest and if you could pluck a player from any team to help, which one would you pick? (It's always fun to imagine, like if we had Antonio Brown in the Brotherhood. Just imagine.) Thanks :)
Matt: OK, so basically, we're going to play fantasy football in a four-person league because that's the only way something like this could happen. Got it. I'll pick four areas of need I've talked about quite a bit here in SFTB since the end of the season – defensive line, offensive line, receiver and the secondary. As an added bonus, since you're clearly dying to have some fun with this, Gavin, I'll add running back. OK, my picks would be Aaron Donald, Zack Martin, Mike Evans and Patrick Peterson. For running back, how about Ezekiel Elliott for a change-up back? Hope that helps.
---
Gregory from Louisville, KY
Hey Beek. I love the small but major moves the Falcons made by picking up TE Logan Paulsen and guard Brandon Fusco. This tells me that the Falcons are looking to the draft for key losses. I personally want a young WR that can stretch the field and complement Julio Jones and Mohamed Sanu. I also want someone that will give us great field position on special teams. We always talk offense and defense, but do you think we have a need on special teams? I do love that the Falcons take care its own.
Matt: If only more Falcons fans would realize that the team is really in a great spot by having young players they really covet already on the roster – and that the challenge (and focus) now is figuring out how to secure them with long-term deals. The alternative is being forced to overpay veteran players in free agency – players that other teams did not lock up for various reasons. So, yes, it's a very good thing to be taking care of (and re-signing) your own players, Gregory. I do think the Falcons will address the kick/punt returner position prior to training camp – and that might be a skill they consider when looking at receivers in the draft. And I think the Falcons will be able to find that receiver you're describing in the draft, if they choose to go that route. In fact, I profiled five that I liked who could be available to the Falcons here:
---
Thanks for answering my question of all those receivers. I like Kirk best. And sure hope he slips past the first round so we can snag him (it looks like we need a defenisve tackle in the first round as of now). Not really a question here, but Miller would be good, too, in the middle rounds. But for the record, he never really returned kicks in college so that's a tough projection. Thanks for the good literature. Keep it up, Beek!
Matt: Glad I could help, my man. Thanks for reading.
---
Kaden from Wapakoneta, OH
Hey Beek! I don't see why everyone criticizes Matt Ryan so much. Everyone criticizes about how long he is taking with his contract. He is the best QB in franchise history, and he should be paid like one. I have to admit that I haven't seen any other Falcons QB (I started following the Falcons in 2010). Why can't people just give him a break!
Matt: No arguments from here, Kaden. Not one. Some readers just don't understand how hard it is to land a franchise quarterback – and then surround him with the right pieces to be successful. Conversely, there have been a ton of talented quarterbacks drafted in the first and second rounds only to be eaten up and destroyed in the NFL because they were drafted by bad teams that were mismanaged, couldn't draft right or all of the above. It takes 11 talented guys on offense to win, but you better have a really good one behind center. Thanks for writing in.
---
It has been difficult reading all of the negative comments from so many "Falcons fans" on this forum!! If you actually step back with a bit less emotion, you can see that they are just following a plan that they have researched and are in agreement about. What our GM and head coach – along with the scouting department – have done in the last three years, in my opinion, is amazing! We need to trust their plan. Now my question. Do you think that we will draft a fullback in the draft?
Matt: I have to agree with you, Jimmy. When you look around the league at what other teams have done the last few years, only a handful are consistent winners. The Falcons are among them – and they're staying true to their plan. You can read more about it here. As far as drafting a fullback … hmm. I definitely think they'll bring a couple into training camp, but I'm not so sure they will draft one. But you never know how things will shake out, Jimmy. I'll say this much, if Dimitri Flowers is available on Day 3, it wouldn't bother me in the least to see him picked.