Welcome to Straight from the 'Beek! The Falcons are at the combine, preparing for free agency and the NFL Draft - and you've got plenty of questions. So, let's get right to them. Just remember, all opinions you see in this space are mine, unless otherwise noted.
Gregory from Louisville, KY
Hey, Beek. Taylor Gabriel will hit the free agent market. I wouldn't be surprised if he ended up with San Francisco. Do we replace him within, look to the draft or free agency? I like Sammy Watkins. Watkins is extremely talented and he's still young. If he can stay healthy, I feel he can help our team out. I also like Paul Richardson and Donte Moncrief. Both of these guys are young and may just need a change in scenery. Beek, keep up the great work. We all love what you do.
Matt: Hey, Gregory. One thing fans need to keep in mind about a player hitting free agency is that it does not mean that player won't eventually re-sign with the team. A player might test the market and the demand or offers might not be where we he expected them to be. Or a player might make visits and feel more comfortable re-signing. There are a lot of factors involved though. So, don't completely write off Taylor Gabriel playing with the Falcons in 2018. You also mentioned Sammy Watkins. Look, he's a good player but you've also got consider the financial implications - there is a salary cap for a reason, and it often forces teams to make tough decisions. It'll be interesting to see where Watkins lands in 2018. He's 25 years old and still has a lot of football in him - if he can stay healthy. This is just my opinion, but I think the Falcons will certainly look at receivers in this draft and could very well end up taking on Day 3.
---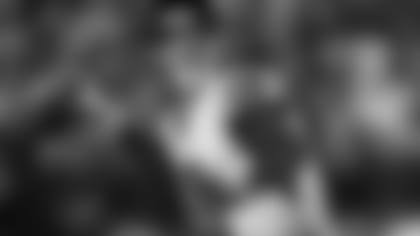 Graham from Asheville, NC
Matt, I just saw that the Panthers were starting to look for Cam Newton's eventual replacement and he is four years younger than Matt Ryan. I love Matty Ice and never want him to retire, but having to be realistic, when do you think the Falcons will start looking for his eventual replacement once he retires? Is this even a concern for our Falcons anytime soon?
Matt: Wow, where did read or hear that about Cam Newton? I mean, he's only led the Panthers to a 32-14 regular-season record the last three seasons, including a Super Bowl run. I'm not doubting you saw it somewhere, Graham, but it seems a little ridiculous to me. Same goes for Matt Ryan, who I believe is playing at an elite level and has led the Falcons to a 21-11 regular-season record the last two years, plus back-to-back trips to the playoffs and a Super Bowl run. Every position on the team is evaluated when the season concludes, including the quarterbacks. The Falcons have also gone on record and said that getting Matt Ryan a new contract is the No. 1 priority during this offseason. What's that tell you in regard to how they feel about Ryan and his future? And when a team is talking about contracts and future deals, it's also taking into account how they want to allocate thus dollars in the future. The Falcons probably have a pretty good idea of how long they think Ryan will play. And when it's time to start grooming a successor, I'm sure they'll be all over. They like Matt Schaub as the backup and trust him. Will they look to upgrade the backup QB position? Will they bring in competition for that spot during camp? We'll learn the answers to many of those questions in the coming months, especially as training camp draws closer. But seriously, it's way too early to be talking about Ryan's successor.
---
Matt, I've read a lot of chatter here last year about not using Dontari Poe in short-yardage and/or goal line situations. That is what drives my question, do you think we should add a bigger back to the team just for those situations? Both Devonta Freeman and Tevin Coleman are quick and strong, and I believe both are under 210 pounds. Is there someone in the 240-plus range that could fill that slot? Or do you think that is an unnecessary addition?
Matt: I definitely think the Falcons will look to bolster the fullback position, Gary. It's an area that the team was, at times, inconsistent in. Current Falcons fullback Derrick Coleman signed a one-year deal with the team prior to the start of last season and is set to become a free agent come March 14. As you noted, the Falcons are one of those teams that still utilizes a lead blocker in the backfield and it undoubtedly will be a position they will address this offseason.
---
Hey Matt, I appreciate the recent responses to many of my questions. So as far as Matt Ryan's contract goes, do you think he's at the point in his career where he is willing to take less money in order to keep a dominant team around him or will he command top QB money? Also, if this new contract is a four- or five-year deal, do you think it could be his last as a Falcon?
Matt: Hey, Cody. I honestly have no idea of how Matt Ryan's deal will end up being structured, but I don't think anyone questions how much the Falcons quarterback wants to win. He's played 10 years in the league and has led the Falcons to a Super Bowl. As general manager Thomas Dimitroff noted at the combine, this team doesn't have any major holes on the roster and is built to win now. And Ryan knows that. In the end, whatever kind of deal Ryan and the Falcons agree to, you've got to believe it will be what's best for both Ryan and the Falcons. Dimitroff has repeatedly said that the Falcons will need to be creative with their deals and that one of the goals with the new Ryan deal is to give the team some flexibility with the cap this year - and years to come. And to answer the last part of your question, no. Based on what the Falcons have said in the past, they think Ryan can play into his 40's. So if that's the case, you'd have to think that he'll possibly have another contract in his future.
---
What is more important than the birds making a yard on third or fourth down?
Matt: Well, Artie … a lot of things. I could go in so many directions with this question, but I should note that I am not an expert on birds.
---
OK, so we all witnessed what happened to the Eagles last season, and I really do pray that a similar scenario doesn't occur with us. But what if Matt Ryan does get injured? Are we really supposed to be confident in Matt Schaub? Why not bring in Johnny Manziel and at least give him a chance to become the potential backup QB?
Matt: Hey, MJ. Why do you automatically assume that the Falcons would have no chance with Matt Schaub behind center? The Falcons trust Matt Schaub and he apparently also works well with Matt Ryan. That all said, the Falcons are going to put the best players they can at every single position. And the team will undoubtedly sign more quarterbacks heading into camp. They've signed Garrett Grayson to a reserve/future contract already. And they're going to sign just anyone, either. The player needs to be a fit - on and off the field - and check all the boxes for the Falcons. As far as Johnny Manziel's situation goes, I hope he gets another shot, too. But it has to be the right team, the right offense and the right culture. And if a team thinks he's worth a look, maybe it'll happen for him.
---
Malachi from Carrollton, GA
Hey Beek, it's THE REAL LEAD BEEKER with another question. I think the Falcons have one of the best rosters in the NFL and going into this season they are reloading not rebuilding. But there are still pressing needs at certain positions. What do you think this team needs to put it all together?
Matt: Hey, Malachi. I agree that this team does not have any glaring holes, but there are some areas that still need to be addressed. If you listen closely to what Falcons coach Dan Quinn and general manager Thomas Dimitroff have said since the end of the season, the consensus is that they believe this team is right there. Make no mistake about it, either, Quinn was not happy with how the season ended. In fact, I wrote this piece right after the season-ending news conference about Quinn's blunt assessment. As far as specific areas go, I think the Falcons need to bolster the offensive and defensive lines in free agency and the draft. I think they'll probably address the fullback position and I also think the wide receiver corps could look a little differently, too. Last year the Falcons drafted Brian Hill in the fifth round and he's no longer with the team. It wouldn't surprise me at all if the Falcons drafted a back in this draft. It also wouldn't surprise me if they looked to add depth in the secondary. Hope that helps.
---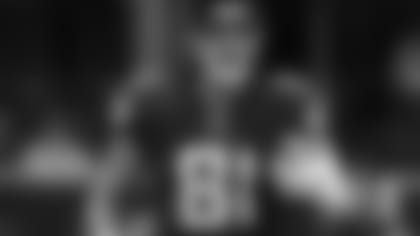 David from Marshalltown, IA
Hi, Beek. While I'm looking forward to the draft and free agency, I'm wondering what would be the justification for seeking another tight end? I realize that Levine Toilolo might be out at some point, but he proved to be useful. We do have a No. 1 tight end in Austin Hooper and an unknown entity in Eric Saubert from Drake University - both of whom were taken in consecutive drafts. Why add another to the mix?