Good morning and happy Friday, Falcons fans! Welcome to Straight from the 'Beek. We're just a couple of days away from the Falcons-Bills showdown at Mercedes-Benz Stadium and you've got lots of questions. Just remember that all opinions you see in this space are mine, unless otherwise noted.
Jonathan from Atlanta, GA
Wassup, Beek. I want to start by saying thank you for everything you do for the Falcons fan base. Now to my question. For years I think our quarterback has been underrated even with the impressive NFL record-setting season he helped engineer last year. People, including some Falcons fans, still question what he can do so, do you consider Matt Ryan to be a tier-1 quarterback?
Matt: Absolutely. I don't get the second-guessing, either, and I'll leave it at that.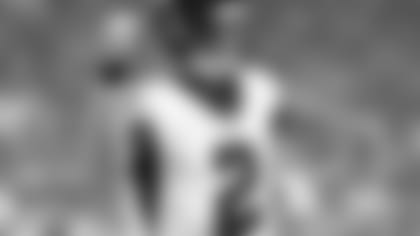 ---
Michael from Imperial, CA
Hey Beek, thanks for answering my question and, before I ask my question, I would like to say that I appreciate all that you do very much. The Falcons have received the ball first in all of the three games this season. Do you believe that this defense has improved enough to where we will be able to not let the opposing team score if they received first? And, also, if you had the decision, would you want to receive the ball first or receive it after halftime?
Matt: Correct, the Falcons have received the ball first in each of the first three games and they have not trailed once in any of those games (they were tied twice against the Bears). Do I think the defense is better this year compared to the 2016 version? Yes, despite some injuries. Look, no team wants to surrender points on any drive, including the opening drive. But it happens. At some point the Falcons might be down 3-0, 7-0 or by more in a game, but they have an explosive offense with lots of players who can score points in a hurry. As far as receiving the ball first or deferring goes, it really depends (location, weather conditions, etc.). In general I like it when teams take the ball and go right into attack mode, score points and put pressure on the other team to score points.
---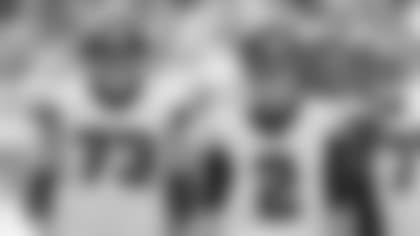 Hey Beek. Love the column. Why is it that sports analysts always point out injuries on other teams around the league as to why they've lost? But you don't hear that about the Falcons. Remember, we are missing the league's sack leader from last year and a pretty good offensive lineman. I say no excuses. Your thoughts?
Matt: I can't speak for the analysts or any specific games, but at the end of the day, James, you need players – especially in key positions. Quarterbacks handle the ball on every offensive snap (outside of punting) while a receiver does not, and so that could be a huge factor in deciding the outcome of a game. As for the Falcons' injuries, you're right – no one's making any excuses around Flowery Branch. Guys like Vic Beasley, Ricardo Allen, Ryan Schraeder, Courtney Upshaw and Terron Ward have all been dealing with injuries and that's far from ideal. Yet they've taken a "next man up" approach and we're seeing just how deep this roster is.
---
Awesome column, I really enjoy what you do. That being said, everyone talks about our secondary being bad when it comes to the end of the game. With our offense putting up points, other teams have to throw to catch up and will get completions. Even if stats show our secondary is ranked low (just an example), really, they are good. What's your take on this?
Matt: The secondary isn't bad, Cody. First, look at the standings. Outside of the Falcons and Chiefs right now, every team has lost at least one game. The Falcons dropped their opener last season and finished just fine. It's tough to win every single game in this league, especially when you're playing against guys like Aaron Rodgers and Matthew Stafford – those guys know how to extend plays and they're going to score some points. You can't put it all on the secondary, either. Your own offense needs to sustain drives, convert third downs and score some points when it has the ball late in games – that gives your defense time to rest and regroup on the sidelines. When teams are trailing, they start attacking differently – and passing more. Against teams like that Packers and Lions, you don't want to give up the big play (you may have watched Rodgers connect on a Hail Mary once or twice) – so you're going to give up shorter gains underneath. By doing that you force them to run seven-, eight- or nine-play drives, burn timeouts and eat up clock. The Lions had no more timeouts left and that's why there was a 10-second runoff.
---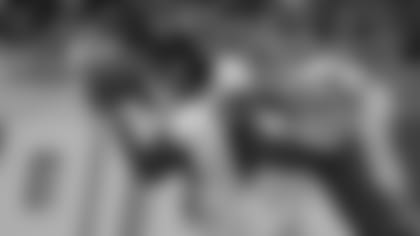 Travis from Kaiserslautern, Germany
Julio has not had that dominant game as of yet. What have the defenses of the first three teams done, as far as coverage is concerned, that he has not seen before? I know he is an unselfish player on an unselfish team, but just wondering if they would be even more dominant getting him a couple of more touches. Thanks.
Matt: Hey, Travis. I think it's been more about the Falcons and how they've decided to attack defenses, especially in the last two games. Against the Packers and the Lions, the Falcons made it a point to go to Julio Jones early and I think it made a difference. Against the Bears, Jones was targeted five times. But against the Packers and Lions, he was targeted nine and 12 times, respectively. The offense seems to play much better when he's involved, especially early on. It's not a coincidence, either, that the running game was much more effective during the last two games. You're right, he still hasn't had that the one big game yet, but so what? If teams take him away, the Falcons will look to someone else to make a play – take what the defense gives you. And they've been doing that – and they are winning. That's all that matters.
---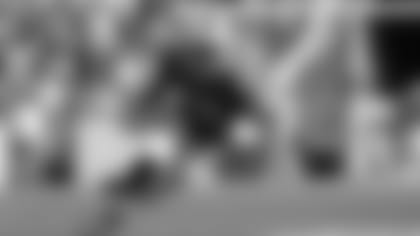 Christopher from Fresno, CA
I feel like everything is going go our way after the bye week. Every opponent is tough, but we take it week to week. Honestly, we're 3-0 and I know we're going to demolish the Bills. Boom! 4-0 going to the bye week. Then we should have Allen, Beasley, Upshaw, and Schraeder back against Miami at home, and that's 5-0. And then comes the moment we've ALL been waiting for, facing the team that beat us in the Super Bowl. Early question, but how do you think we will do these next few weeks? And do you think we'll look more dominant soon? Because I think so.
Matt: Whoa, whoa, whoa. Slow down Christopher. You did see what Buffalo just did to a pretty good Broncos team, right? You were right when you said take it week to week, then you lost me. If you listen closely to Falcons coach Dan Quinn, only one thing matters to this team right now: beating Buffalo. That's it. Don't mention the bye week and definitely don't bring up the Dolphins or anyone (ahem) else. It's all about Buffalo.
---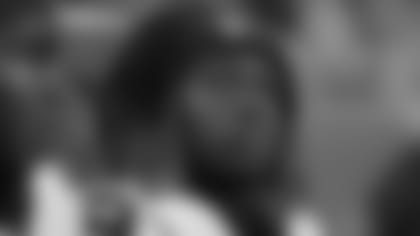 George from San Pedro Sula, Honduras
I am from Honduras and a die-hard fan for about 40 years! Question: Why can't we get a clear answer on Vic Beasley's injury? Is it a strain or a tear? An ESPN or NFL reporter somewhere wrote that it was a tear. Dan Quinn never confirmed. I thought Dan was a little more forthright on these matters and it scares me a little more. I really do not see a good pass rush! I hope we improve quickly! Any comments?
Matt: Hey, George. All we know for sure is that Vic Beasley is out again this week. That's it. You don't want to ever put a player back out there too soon and have them re-injure themselves – and hamstrings can be tricky. In the meantime, guys like Takkarist McKinley (above) and Ty Sambrailo will take on bigger roles, and they did a nice job against the Lions last week.
---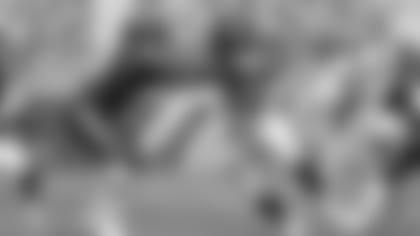 Beek, great column! Love the emphasis on speed with our defense, however it seems to me that stamina and tackling could be better at times. We are on the "light'" side as linebackers go, and tackling seems to suffer as the game progresses. Could conditioning be an issue?
Matt: No, I honestly don't think conditioning is an issue. When it comes to tackling and creating turnovers, though, it's all about technique and having a certain mindset.
---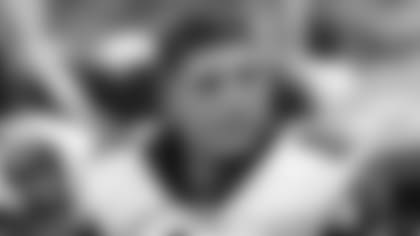 Jonathan from Spokane, WA
I believe the Falcons will be fine this season even with both sides of the ball having a few hiccups to fix, but that's every team. Question: Will Austin Hooper be used more? He seems to have been forgotten these past two games. If the Falcons lose their first game, why will everyone say see they aren't that good? Cause it will happen.
Matt: I think it's wrong to say he's "forgotten." He's not, Jonathan. The Falcons have so many different weapons and just one ball to go around. That said, you take what the defense gives you – and hit the open man, unless it's a run play. Austin Hooper will get his opportunities, just be patient.
---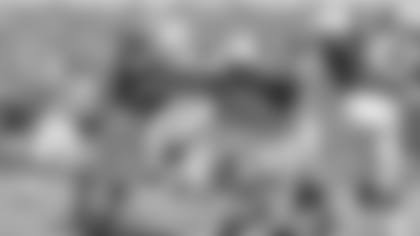 Great article so far from what I've read this season, in fact the best ever. I've been a Falcons fan from the beginning, a 1966 win over Philly. Cheering for many teams has been far from easy but I've never failed. I do get sick over the so-called fans questioning our resolve. We have the best team we have ever had and how can a person calling themselves a fan continue to second-guess a team of this quality? Are they just bandwagon fans or true fans? We have something currently that most NFL fans drool for and, yes, not everything is perfect. I wish I were close enough to go to every game and cheer until my voice is gone. I'm glad you are there to set them straight. Go brotherhood!!!
Matt: Don, I couldn't agree with you more about the second-guessing and negativity – and I respect your loyalty, bud. I've lived in a number of different cities with all different kinds of fan bases, and there's always going to be bandwagon fans that are quick to criticize the minute things aren't perfect. There's nothing you can do, except ignore 'em. Since you're a longtime fan, I'm going to drop a photo here from the Falcons' 1967 season-opener against the Colts just for you. I couldn't find decent picture from the Philly game you referenced. In the photo above, Falcons running back Junior Coffey is stopped after a short gain in the first quarter by Billy Ray Smith (left), Dennis Gaubatz (53) and Fred Miller (76) in Baltimore on Sept. 18, 1967.
---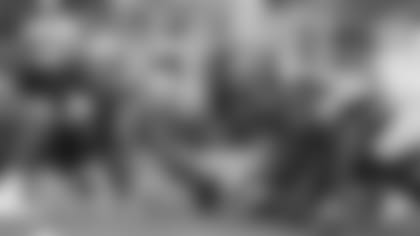 Barry from High Point, NC
Well then, let me be the first. You said, "... not one person has written anything about wanting to keep the current uniforms." I happen to like the current uniforms much better. In my opinion, the old uniforms (with the exception of total black) looked a little dowdy and I never liked the red helmets. I think the black helmets look mean and gritty and give the players a "slicker" appearance. You know how it is: Whatever floats your boat. Love your column!
Matt: You read it here first, folks: Barry from the Tar Heel State loves the current uniforms. Thanks for setting the record straight here in Straight from the 'Beek!
---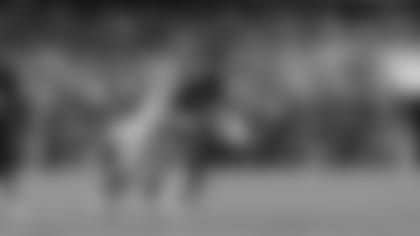 Antuawn from Hinesville, GA
My family and I are No. 1 fans, win or lose. So, question: just like Coleman and Freeman rotate, shouldn't the defense do the same, especially if we're winning, to give the starters a break so they won't run out of gas and make mistakes?
Matt: Actually, the depth, especially along the defensive front, has made a difference this season, Antuawn. Brooks Reed, who had two sacks in the opener against the Bears, mentioned how having eight and nine guys rotate during the game helped keep the players' legs fresh throughout the game and especially late in the fourth quarter.
---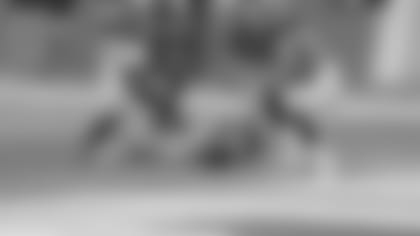 Paul from Tallahassee, FL
Hey Beek. Love the column. I see our close game problem a little different than most. If I'm not mistaken, the defense made three consecutive stops at the end of the Detroit game. The offense tends to get tight, or maybe play a bit conservative at the end. Our offense seems to start fast then cool off. Last season's defense could not have held the lead if the offense stopped scoring. I think the future is bright if we continue to gel on both sides of the ball. Your thoughts?
Matt: Thanks, Paul. Glad you're enjoying it. And you're right; it's just as important for the offense to sustain drives, convert third downs and score points. That helps the defense, obviously.
---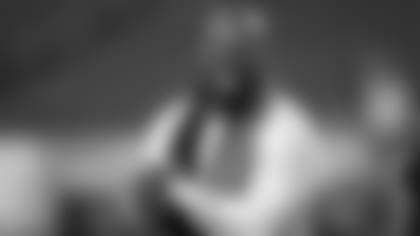 Donovan McNabb said the Falcons' defense isn't disciplined – that's why they run out of gas in the fourth quarter. Do you agree? I, myself, do not.
---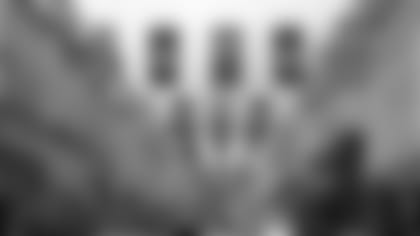 Sean from Glasgow, Scotland
Hi Matt! Falcons fan from Scotland here. I've been a supporter for a good few years now and traveled down to see the team at Wembley a few years back. It was a heartbreaking loss but an amazing experience! Would the players be eager for a return trip and can you see it happening any time soon? Rise up!
Matt: Thanks for writing, Sean. The obvious drawback to a London game is the travel, adjusting to the time change and the positioning of that game on the schedule. Will they play there again anytime soon? I can't say for certain, but there's always a chance. The Falcons last played in London during the 2014 season, a 22-21 loss to the Lions. This year eight teams will be playing in London, including the Jaguars, who just played a home game there for an astounding fifth consecutive season. Once this season is over, 26 different teams will have played there since the inception of the London Games Series in 2007.
---
Last year, Matt Ryan hit a record number of receiving options for touchdowns. So far this year, only four receivers (not including Tevin Coleman and Devonta Freeman) have more than one catch. Minus the one big play in Chicago, the tight ends have been invisible. Is that a design issue or are they giving Ty Sambrailo more tight end (pass protection) help?
Matt: No, they not invisible or forgotten and I answered this above, Greg. It's all about taking what the defense gives you. Plus, remember, the Falcons have a lot of different offensive weapons and just one ball to go around. Even if they were keeping him in a little more to help with protection, I'm sure Austin Hooper will get his opportunities.
---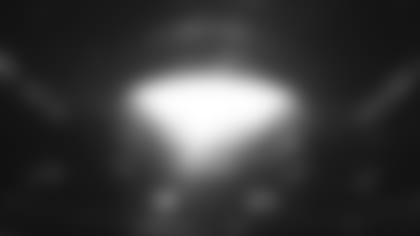 Hi, Beek. I enjoy your posts. Fast paced, fun, and informative. One question for you today. Will the roof of MBS be opened this Sunday for the game with the Bills? The weather is supposed to be fantastic.
Matt: The roof on Mercedes-Benz Stadium will be closed, Greg. It was open for the Falcons' first regular-season home game against the Packers on "Sunday Night Football." As far as when it will be open again … stay tuned.
---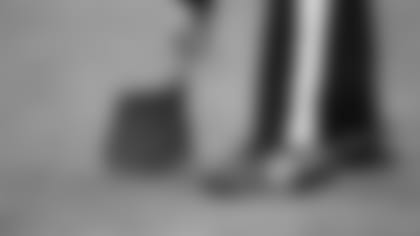 TOSSING THE RED CHALLENGE FLAG ...
Michael from Jonesboro, GA
Why is Robert Alford still starting? He gets a holding call every game and he gets burnt. And Ricardo Allen is not physical enough or fast enough for safety. And Jake Matthews gets called for holding every game.
Matt: Wow, gotta toss the first red challenge flag on this one, Michael. Why did you stop there? You might as well go through every penalty committed by a Falcons player this year. Remember, the team is 3-0. I think you're being a little too critical.