Welcome to Straight from the 'Beek! Got Falcons-related questions? Questions about the NFL Draft? Free agency? Rule changes? Falcons uniforms? The 2018 schedule? Send 'em in here and you'll get answers – with no promises that you'll always agree. And just remember, all opinions here are mine unless noted otherwise.
Nicholas from Augusta, GA
Hey Beek! Love what you do brotherhood for life! So, who do we get if they are still on the draft board, Vita Vea or Matty Ice's cousin, Mike McGlinchey? Furthermore, how about the idea of trading back and racking up on some draft picks? Sounds nice!
Matt: I'll be surprised if either are still on the board, Nicholas. I have Vea going to the Redskins at No. 13 and McGlinchey going to the Giants (via a mock trade) with the 22nd pick in my latest mock draft. And in my three prior mock drafts, I've pegged the former Notre Dame star going even higher. I'm not privy to their draft board, but I do think the Falcons will address defensive tackle with their first pick – and I think there will be some solid options available at No. 26. As far as trading back goes, well, I wouldn't rule anything out when it comes to Falcons general manager Thomas Dimitroff. He has a history of moving around in the NFL.
---
Do the Falcons get any compensatory picks this draft?
---
Hey Matt. Just wanted to say wassup to you. I am enjoying SFTB to the fullest. I wanted your opinion on how my Falcons can look even more explosive without Turbo (Taylor Gabriel) in the lineup. I personally think that his speed will be extremely hard to replace. He possessed the speed to take a quick screen, make one person miss and take it to the house. I'm personally going to miss him simply because that was MR2's go-to boy on quick-screen plays. What do you personally think?
Matt: Hey, Marlon. Glad you're enjoying Straight from the 'Beek! As we all know, teams can't always re-sign all of their players in free agency – and Gabriel ended up signing a four-year contract reportedly worth $26 million with the Bears. And I agree with you that he was electric once he got into the open field. The good news, though, is that I think there's some nice value at receiver in this draft class, especially come Day 2 and 3. And it would not surprise me at all to see the Falcons draft a receiver as early as the second round, depending on how things shake out. Here are some to keep an eye on:
---
Hey Matt, do you think there's a good chance that Nick Chubb or Sony Michel will get drafted by the Falcons?
Matt: Hey, Tay. Well, there's always a chance. If one of those Georgia running backs is still on the board when the Falcons pick in the second or third round – picks 58 and 90, as it stands right now – then maybe. But I think the Falcons will look at defensive tackle and receiver first. Again, that's just my opinion. Here are five to keep an eye on:
---
Travis from Villa Rica, CA
Do you know the key players the Falcons have scheduled workouts and visits with?
---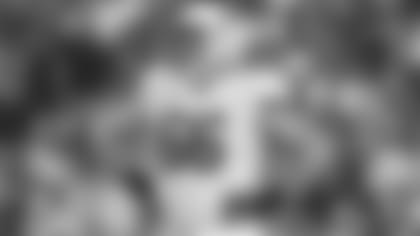 (Photo by Ric Tapia via AP)
What up Beek, first time writing in a while. Personally, I would like to see the Falcons trade down several picks and pick up an early second-rounder in order to get the players they need. I would like if we traded our first-round pick to the Cleveland Browns along with our second-round pick to get the No. 33 pick and No. 35 pick. With the first pick, I believe we would be able to snag a defensive tackle like Maurice Hurst, Harrison Phillips, or possibly Taven Bryan if he falls. I feel like some teams will pass on Hurst because of the heart condition he was diagnosed with, but he is a really good player that would fit our system well. I personally think that Phillips is a very underrated tackle with a ton of strength, if I recall correctly he had one of the better bench presses at the combine. With that second pick, I could see us going three different directions: wide receiver, tight end, or linebacker. I feel that linebacker is a very underrated need on the Falcons, not just for depth, but starter-wise. The two starters that the Falcons currently have are Deion Jones and De'Vondre Campbell, both reliable. However, the other linebacker position currently has Duke Riley, who struggled with tackling a lot last year. I would like the Falcons to bring some competition with a linebacker like Rashaan Evans or maybe if he falls, Leighton Vander Esch. The two receivers I would like are Courtland Sutton and D.J. Moore. The two tight ends I like are Mike Gesicki and Dallas Goedert. I believe that linebacker is the biggest need with this pick. Obviously, this is unlikely to happen but what are your thoughts if they do this trade? Who would you want the Falcons to get?
Matt: OK, let me make sure I have this straight, Dylan. You want to trade picks 26 and 58 for 33 and 35? OK, value-wise, 26 and 58 are worth 1,020 points based on the NFL draft value chart and the Browns' picks – if they'd agree to the deal – are worth 1,130 points. That's obviously not a fair deal from Cleveland's perspective and I wouldn't make the trade if I were the Browns. But I'll play along for the sake of answering your question. As far as Maurice Hurst, Harrison Phillips, or Taven Bryan falling to the 33rd pick, I could see Phillips possibly being there. But I'd expect the other two players to be gone by then. And please get one thing straight about Hurst – he was medically cleared to participate in Michigan's pro day. For the second pick, I think both linebackers, both receivers and one of those tight ends could all be gone by then. So, I don't like your trade proposal at all. I think of the Falcons stay put, they'll get the defensive tackle they want. And with that second pick – No. 58 – there will be some pretty good receivers available.
---
Given our dearth of defensive tackles right now, why wouldn't the Falcons consider Ben Garland as providing depth there, perhaps in addition to offensive tackle? I am not certain how many snaps that Ben has taken at defensive tackle in a Falcons uniform, but the few times that I saw him play on the Falcons defensive line in 2016, he showed potential.
Matt: I think Garland will stay put and the Falcons will address the position in the draft. This class is deep at defensive tackle and there will be plenty of solid options available to Atlanta, Jeff.
---
I would like the red helmets only if they are modernized, like the black ones (sort of a 3-D image). I would suggest wearing the black jerseys like they did a few years ago as throwbacks. I like the white pants. The all-white look for away games make the players look bigger. However, every once in a while, they should wear black pants with the white jerseys and sometimes with the black jerseys. And please, go back to the original block numerals.
Matt: Hey, David. Thanks for weighing in on the uniforms. I'm guessing you'd like this look (see below):