Welcome to Straight from the 'Beek! The Falcons continue to do their homework on college prospects and free agents as the NFL Draft approaches – and you've got plenty of questions. So, let's get right to them. Just remember, all opinions here are mine unless noted otherwise.
Beek, great job leading us up to the draft! Your insights are very helpful as we consider the talent available, particularly after the first-round hoopla. My question: While I know the NFL is extremely competitive and everyone wants that edge, I also know there are very strong friendships and connections among the general managers and coaches around the league. Do close conversations take place during the draft about particular players when it comes down to another team standing between the Falcons and the player they covet? For example, if the guy the Falcons really want is still on the board when the team right before them is set to make their pick, does someone from Atlanta reach out to that team to see if they are interested in the same player? Not suggesting collusion, just cooperation; particularly if that team is in another conference.
Matt: Hey, Jim. Thanks for reading and appreciate the kind words. The short and simple answer to your question is, well, no. Now, do teams reach out to other teams during the draft to gauge interest in a possible trade? Absolutely. In fact, teams field calls all the time from other teams wanting to trade up. But tipping your hand and letting another team know who exactly you'd like to draft is not only risky, it's bad for business and could come back to bite someone in a bad way – regardless of friendships and connections. The risk simply is not worth the reward in my opinion.
---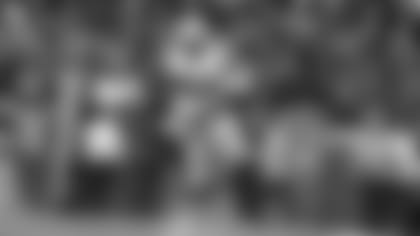 Any chatter about potentially filling the No. 3 receiver spot with Eric Decker?
Matt: Hey, Jacob. None whatsoever.
---
Hey, Beek. Glad to see you back. I enjoy your insights in your articles. Anyways, what players from the draft will help fill the holes for our offense and defense so we can make a run towards becoming NFC champions in 2018 season? A lot of sport talk shows seem to doubt our dirty birds, but I think we are going to be even more of a contender in the NFC. But I will always cheer and scream for my Falcons because we need to make a push and let the league know that they shouldn't sleep on the Falcons. Later, Beek.
Matt: Hey there, Isaiah. Right back at you – thanks for reading. The good news is that the Falcons do not have a ton of holes to fill this offseason. Do they have some needs? Sure, and some are more pressing than others. To answer your question, I think the Falcons need to fill the void left by Dontari Poe at defensive tackle and will address that position – along with receiver – in the draft. I could also see them drafting a cornerback and running back, too. But if they can find a real difference-maker at defensive tackle, that would be huge.
---
Thomas from Frankfort, IN
Hi. I will keep mine fairly simple but how do you see the probability of the Falcons drafting a tight end in a high round? I say that as a position that could use more just so we can spread it around better. I also believe that we should go easy on the defensive line. With Vic Beasley returning, he should be able to apply the pressure needed
Matt: Hey, Thomas. Well, I don't think it's very likely now, but could see it happening only if a number of things fall a certain way in the first round. For example, if there was a run on defensive tackles and the Falcons knew they could get a receiver they liked in the second or third round, then maybe they take a tight end if they have a first-round grade on him – and, of course, really like him. In fact, I had the Falcons picking Mike Gesicki, the top-rated tight end in this draft class, in my previous mock draft. But, again, I think it's less of a priority now, especially after they went and signed Logan Paulsen. I'm going to disagree with your assessment on the defensive line though, Thomas. I think it's a pressing need following the departure of Dontari Poe and believe the Falcons will address it on Day 1. If you'd like to check out my latest mock draft, it's right here: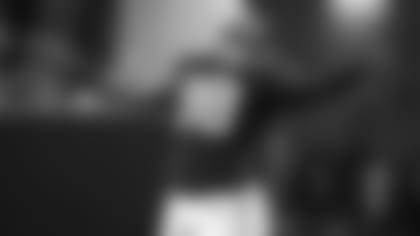 Tim from Leinefelde, Germany
Hey, Beek. I also think that Vic Beasley and Takkarist McKinley are great defensive ends. I hope that McKinley is a starter in 2018. Our team is young, but it has the experience to win the Super Bowl. I trust in Dan Quinn and the other staff members – that they are making the right decisions in the draft and free agency, like they did it in the past.
Matt: Hey, Tim. I believe the expectation is for McKinley – who had a solid rookie year, tallying six sacks – to make that jump from Year 1 to Year 2 and become a starter. This team has a lot of work to do and much to accomplish before we start throwing Super Bowl talk around, but it certainly has many of the pieces in place to make another postseason run. Thanks for writing in.
---
Matt, could you find out when Falcons training camp is scheduled? My brother and I, both retired, were at the camp last year and stayed three days. We are campers so this year we found a federal campground near the Falcons camp. This year we're bring a camper, so we can be there every day permitted. But we need to know what the dates are so we can book our site at the campground. Your help would be MUCH appreciated!
Matt: Hey, Wayne. I don't have the exact dates and training camp schedule just yet but keep checking back with me. Look forward to seeing you there, though.
---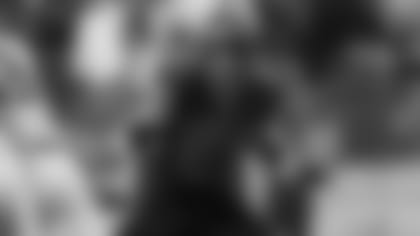 (Photo by Aaron M. Sprecher via AP)
What do you think about Billy Price for an early pick?
Matt: I think if you're team that's looking for someone who can play center or guard, you're looking at the former Ohio State standout. In fact, he might be the best center in this draft class.