Welcome to Straight from the 'Beek! The Falcons and Eagles will square off in a divisional playoff showdown Saturday in Philadelphia – and you've got plenty of questions. Just remember, all opinions you see in this space are mine, unless otherwise noted.
Andrew from Bridgeport, CT
Greetings Beek. Falcons fan since the Bartkowski, Andrews, Johnson, Jenkins days. I am amazingly excited about this weekend's game up in cheese steak town and I feel very confident in my expectations for this game. It's a different team than last year for sure, but I really sense the swagger is back with these guys. Just listen to the Deion Jones mic'd up piece from last week. But let's face it, this Eagles team is tough. So, before we get too far ahead of ourselves let's all take the time to enjoy the ride we are on, because it has been awesome to watch these guys transform into the team we watched last week in L.A. This team has gone 7-2 in the last nine with wins over the Rams, Saints, Panthers, Seahawks, and Cowboys. Not sure it gets too much better than that. So, with that out of the way, the question is Beek, what is your level of confidence with this excellent Falcons squad? Do you feel they are better equipped to win the big one this year? I certainly do. Thanks for listening.
Matt: Hey, Andrew. For longtime fans like yourself, it doesn't get a whole lot better than seasons like the one Falcons fans are enjoying now – especially watching a team like this one evolve and improve at just the right time. When you've been through the peaks and valleys as an NFL fan, you learn to appreciate when it all comes together like it has over the last couple of seasons. But to your point, there's still a lot that this team can accomplish and the big question is, can they do it? Look, when you make it this far into the postseason – to the final four in each conference – you're a very good football team and anything can happen. There's little room for mistakes in these games. A miscue for one team is an opportunity for the other – just look how the Falcons-Rams game turned when Atlanta pounced on some special teams fumbles, turning the gaffes into points (and momentum). Yes, the Falcons are good enough to beat any of the remaining playoff teams. They have the talent. They have the experience. They have the drive. But it will still take doing it – execution. They must execute – block, tackle, catch, carry out their assignments, avoid pre-snap penalties (mental mistakes), etc. If they can do that and stick to their game, they have the ability to beat the Eagles and advance.
---
Barry from High Point, NC
Hey Beek. Figured I'd bother you one more time this season and then I'll leave you alone until next season and find something else to whine or complain about. I'm still wondering why the backs and receivers have stopped giving the ball to a lineman to spike after a score. After all, these brutes do the manual labor and, in my humble opinion, are the force that wins games. Give them some recognition. (If someone takes offense at my lovingly calling them brutes I have a picture of Wes Schweitzer standing beside Devonta Freeman.)
Matt: Ha! Don't ever change, Barry, and please keep writing in. I always enjoy hearing from you. Remember, if you're thinking it, someone else likely is, too. And besides, should the Falcons win on Saturday, we'll have at least one more game to discuss – and I'm sure you can find something to complain about! Oh, I don't think they've stopped acknowledging the big men up front at all, Barry. If you recall against the Rams, Alex Mack and Jake Matthews pushed (more like bulldozed) Devonta Freeman into the end zone for a touchdown (see below). Afterwards, Freeman acknowledged Mack, but right after the score he handed the ball to Matthews – who promptly spiked it.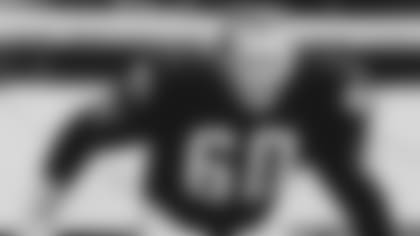 Hey Beek, been reading your columns each week and I enjoy your honest answers to the fans' questions. You don't sound like a homer but only state the facts. Long time Falcon fan, who was sorry to hear about the passing of Tommy Nobis. A great person and fantastic linebacker. Our guy Deion Jones seems to have the same kind of great instinct that Tommy had. He is playing some fantastic football and in order for Atlanta to win in Philly, he will have to bring the wood. I know that they can bring home a win and I wish them much success. Rise up.
Matt: I appreciate that, Marion! Truth be told, I'm really not a homer – but I guess pointing out facts sometimes to folks who are determined to take a glass half-empty view on everything makes me sound like one at times. You're right about both of your points, too. Tommy Nobis was incredible player on the field and an even better person off it. The Falcons could not have picked a better player with their first-ever draft pick. "Mr. Falcon" will be missed. And you are correct about Deion Jones – who just happens to be a terrific and personable person off the field and one of the rising defensive stars in this league. The Falcons will need another strong game from him in the run game as well as the short and intermediate passing game. He's got the speed and quickness to fill those gaps and blow up run plays. Jones can also lock up with tight ends, backs and slot receivers in the passing game, too. He's just a fantastic all-around defensive player at linebacker – and he continues to improve in just his second year.
---
Hey, Matt! Let's go, Mountaineers!! Glad to see a proud alum representing! How similar is being a WVU fan to being a Falcons fan? I've been here 21 years, and am tired of having my heart broken!
Matt: Hey, Steve! Awesome to hear from a fellow alumnus! Like the Falcons, the Mountaineers have had some terrific football seasons but have never won the big one. They've finished 11-1 in 1988, 1993, and 2005 and then 11-2 in both 2006 and 2007. I hope to live long enough to experience at least one national championship. Likewise, I hope to experience seeing the Falcons win the big one, too. Thanks for writing in, Steve! Let's goooooo, Mountaineers! Love it.
---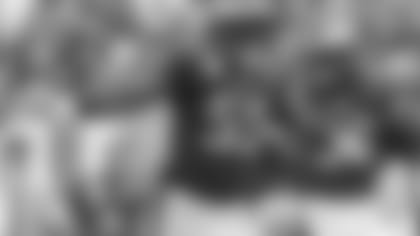 Hey 'Beek! Atlanta has to go up against another tough DT in Fletcher Cox this week. The Falcons' offensive line had trouble slowing down Aaron Donald (but then again, doesn't everyone?). How do you see the battle of Atlanta's O-line vs Philadelphia's D-line shaking out? With the injuries we've had on our line I'm getting a little nervous! Also, I think that Devonta Freeman is a beastly baller, and that Atlanta should give the ball to people who are beastly ballers more often. On the other side of the ball, I think if Atlanta can stop Jay Ajayi, Nick Foles won't be able to win the game for them (especially against Desmond Trufant and Robert Alford). What's your take? Also, what do you predict as the final score?
Matt: Hey, Wes. The Eagles have a stout defensive front – and it's more than just the 300-pound defensive tackle Fletcher Cox (5.5 sacks). They'll also have to contend with 300-pound defensive tackle Timmy Jernigan (2.5 sacks), 266-pound defensive end Vinny Curry (3.0 sacks), and 263-pound defensive end Brandon Graham (9.5 sacks). I listed their weights because they're big and can move. There's a reason why their No. 1 in the league at stopping the run, too, allowing just 79.2 yards per game. They're also pretty good on third downs – opposing offenses have a 32.2 conversion rate, which is third-best in the NFL. They're 15th in the league, however, when it comes to total sacks with 38 (the Falcons are 13th with 39). While you're right in pointing out that Atlanta had trouble slowing Aaron Donald down, he doesn't play in Philly. But, as a group, the Eagles' front four might be better than the Rams. I think the Falcons will have to stay committed to the run while trying to loosen up things with the passing game. The hope is that they spring just enough runs and hit on enough passes downfield to make a difference while the defense does its job. Falcons coach Dan Quinn mentioned that Saturday's game could very well come down to how things go in the trenches, too, Wes. "This is a definite line of scrimmage kind of day," Quinn said. "Both teams like to run it, and both teams are good defending the run. First thing like always, you can see the discipline of the way that the players are playing. They have a real understanding of the scheme, and for a long time I've felt the way they feature the guys in the system really lends to playing really good run defense." Regarding stopping Ajayi, well, he's the last runner to surpass the 100-yard mark against the Falcons this season, gaining 130 yards on 26 attempts in Week 6. And with the big, bruising back in LeGarrette Blount (766 yards, two touchdowns) also hammering away at the Falcons, they'll have their hands full. Foles has plenty of ability and he will certainly have to make some throws against the Falcons in order for them to be successful. But if the Falcons can apply enough pressure in passing situations, the hope is that they can force Foles into making some mistakes – and then capitalize on them. It'll come down to execution and making plays, Wes. I think this could end up being a low-scoring game, too. If pressed to predict a score, I'll go with two touchdowns and three Matt Bryant field goals in a 23-17 Falcons win.
---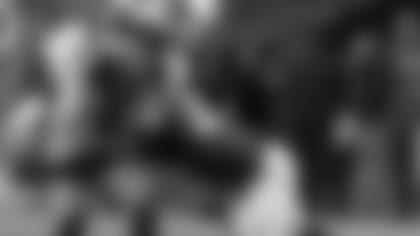 Geoffrey from Albuquerque, NM
Hi Beek! Long-time reader, first-time questioner. I want to give the Brotherhood a big thumbs-up for the amazing win in LA. My question is, with the defense stepping up, dominating and looking as if they could be the cream of the crop this year, isn't it time the guys have EARNED a nickname? I mean every dominate team has had a name and I think it is time the nation learns what we Falcons fans have known for a while.
Matt: A big welcome to Straight from the 'Beek, Geoffrey! As far as I know, this unit doesn't have a nickname – at least one that's well-known on a national level anyway. And I'd think that most Falcons fans would agree that they're certainly worthy of one. That said, I know they've still got a lot they want to accomplish on the field, especially with the divisional playoff game up next. But there is a comments section below and you guys could always start throwing some names and suggestions out there. Just a suggestion! Thanks for writing in.
---
Hey, Beek. Just one question and a couple of statements. OK, now my question, is what color jerseys will we be wearing Saturday? I think seeing that the WE took out the No. 1 scoring offense in the league in the Rams last week that WE will now take out the No. 1 seed in the NFC in the Eagles. And I am not looking past the Eagles. Let's just take it one game at a time, but I would rather play the Minnesota Vikings in the next round. I DO NOT want to play the Saints IN New Orleans because it is really tough to play there. Can you imagine how jacked the crowd will be? An NFC championship game IN New Orleans – it's almost un-winnable it's scary. And plus, under Sean Payton and Drew Brees, the Saints have never lost in the Superdome, so I would rather take my chances vs. a third string QB in Case Keenum. But let's just keep the focus on Saturday in Philly. Hey, you just got to Beeklieve, right?
Matt: The Eagles almost always wear their green jerseys at home so I'd expect the Falcons to be wearing their road whites in Philadelphia, Jon. And we've really got to start working on your confidence, Jon. While you cannot control the weather and the crowds, it's just football at the end of the day – same ball, same size fields, no matter where you line up. Just listen to Falcons coach Dan Quinn a few times. It doesn't matter where they play. Anytime. Anyplace. Anywhere.