Welcome to Straight from the 'Beek! If you've got Falcons-related questions or just want to sound off about your beloved Dirty Birds and want honest answers, this is the place. Just remember, all opinions here are mine unless noted otherwise.
Hello Beek. I love the fact that you keep football flowing in this time headed up to the draft. With that being said, I think the Atlanta Falcons need to draft the best tight end in the first round. I like Mike Gesicki from Penn State. He finished first in just about all of the major combine drills. With his height and athleticism, he could be a beast in the red zone for us. Look how hard it is to defend the teams in the NFL with stud tight ends and a No. 1 receiver. Rob Gronkowski, Travis Kelce and Zach Ertz make their teams super hard to defend. Plus, I've read where the tight ends class this year is the weakest of all positions. To me our defense was playing at its best when Grady Jarrett and Jack Crawford were playing side by side instead of Jarrett and Dontari Poe. If Crawford can stay healthy we can get a defensive tackle in the later rounds with a deeper class of DTs. Do you think the Falcons will draft a tight end in the first round this year? P.S. Keep up the great work that you do.
Matt: Hey, I'm a huge fan of Gesicki, Lonnie. Right before the Falcons signed Logan Paulsen in free agency, I explained a scenario where they could end up drafting the best tight end in this draft class in my third mock draft. The 6-foot-5, 247-pound former Penn State star led all tight ends at the combine in the 40, vertical jump, broad jump and the three-cone. I think he could also help the Falcons in the red zone, an area they want to improve in come 2018. Right now, though, I think the Falcons will address the defensive side of the ball first in the draft. Thanks for reading and all your support, Lonnie.
---
How do they determine who is invited to draft? Neither Nick Chubb nor Sony Michel were invited this year.
Matt: How do you know they weren't invited? They could have been. Every year the NFL invites prospects who could potentially be first-round selections to the NFL Draft and it's up to the players and their families to decide if they'd like to attend. It seems more and more prospects are attending the draft in recent years and not all of them have been taken in the first round, creating some awkward TV moments. Some think too many are invited. On the flip side, not every top prospect chooses to attend and many big names have opted to spend the draft at home versus attend the NFL's annual event. Jameis Winston and Marcus Mariota were the top two picks in 2015 and neither attended the draft. Here is the list of players who will be attending the draft this year, according to the NFL:
---
Hi Beek, I think too much is being made to draft a third WR. I think that player is already on the Falcons roster. What do you think?
Matt: Hey, David. Well, I don't think you're wrong to think that. Justin Hardy and Marvin Hall certainly have an opportunity to solidify themselves at the third receiver come August. But the Falcons will bring in more competition before training camp begins, and at least one of those players could come via the draft.
---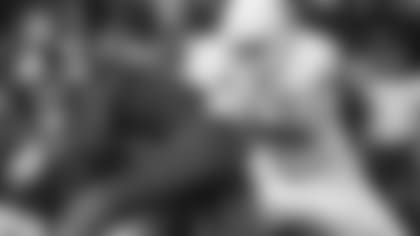 ](http://www.atlantafalcons.com/straight-from-the-beek/article-1/Questions-about-drafting-a-tight-end-NFL-Draft-invitations-Matt-Ryan-free-agency-more/104452b2-c646-49c9-a69a-d3ffa1604954)
Kenny from Palm Springs, CA
Hey Matt, I've been following your posts since last offseason now, and while I realize you take a moderately conservative stand on all Falcons talk, I can't help but wonder how much interest the team is showing in Leighton Vander Esch. On tape, he's a monster, and I think he'd be the kind of player Dan Quinn looks for on his defense. But do you think he'd even be available by the time we pick? Thanks in advance!
Matt: Hey, Kenny. Leighton Vander Esch is easily one of the best prospects in this draft class – and you can bet every single team in the NFL is aware of his talents, including the Falcons. I've published four mock drafts and I've had the linebacker from Boise State going to the Eagles at No. 32 each time, including in my most recent mock draft. He's a former basketball player who's extremely athletic, was very productive in college and performed well at the NFL combine. I think he'll likely go in the bottom half of the first round but some NFL writers think he'll go higher. Pete Prisco of CBS Sports had Vander Esch going in the top 10 in one of his mock drafts.
---
Travis from Villa Rica, CA
Do you think Matt Ryan's contract will be flexible enough for us to sign all our core players on defense?
Matt: Hey, Travis. I have no idea of what Matt Ryan's contract will look like ahead of time. Both sides are still hammering out the details on that. The goal, according to Falcons general manager Thomas Dimitroff, is to give Ryan a deserving contract that doesn't prevent the team from re-signing key core players this year and in the years to come. In order to accomplish that, Dimitroff said they'll have to get a little creative. All I can tell you for now is to stay tuned.
---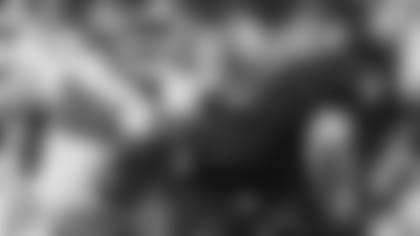 Hey Matt! Back with another question. What do you think about former Oklahoma DE and LB Ogbonnia Okoronkwo? The Falcons do have a void in the LB position and the Falcons could use depth at DE. I think he is an electric player. I think the Falcons could maybe snag him in the second round or possibly trade up in the second for him. Thanks again for answering all of these questions.
Matt: Hey, Anderson. If you've read any of my mock drafts, you'd know what I think of Okoronkwo. He's a tremendous football, who has been extremely productive the last two seasons at Oklahoma (17 sacks and 146 tackles). He had a strong showing at the Senior Bowl as well (two sacks) and I would not be surprised to see him taken in the lower half of the first round or early in the second round on Day 2.
---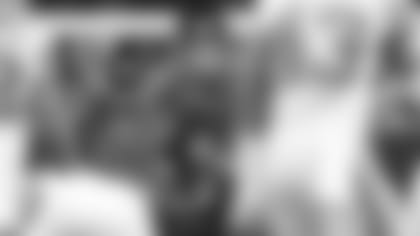 Do you think Matt Ryan would be an elite quarterback if he was with the New York Giants, Miami Dolphins or the San Francisco 49ers? The team you're with plays a good part in the quarterback status. What do you think? I believe an average quarterback would do well with the Falcons team!
Matt: I think Matt Ryan was the third overall pick in the 2008 NFL Draft for a reason, Clarence. And I think he's proven that over the last 10 seasons, going on to become the best quarterback in franchise history. I also don't think the Falcons would have reached Super Bowl LI without him. I don't like to play the "would've, could've, should've" game because so many other factors are involved, and it ends up being pure fantasy talk. But I will say this much, Ryan has been everything the Falcons could have hope for and more when they picked him – and I think he's still playing at an elite level. Thanks for writing in, Clarence.
---
What is going on with Matt Ryan's contract extension? It seems to be holding us hostage. I really think that he is a great QB, but these contracts are getting out of hand. If we give him a record contract, it should be more on the incentive side. In addition, trade away our backup QB to get some relief. We can draft and groom a QB. What do you think?
Matt: I don't think Ryan is holding the team hostage at all, Jamaal. How else do you explain all of the signings and roster moves they've made so far? You can check them all out here. And I totally disagree with cutting a veteran backup quarterback who knows the offense well, can still play and has a good working relationship with the starting quarterback. Why would you do that? Did you miss what just happened with the Philadelphia Eagles when Carson Wentz went down? No one is second guessing keeping veteran Nick Foles around now. HAVE A QUESTION?