Welcome to Straight from the 'Beek! The NFL Draft is 10 days away and you've got plenty of Falcons-related questions, so let's get right to them. Just remember, all opinions here are mine unless noted otherwise.
Dexter from Covington, GA
Why is defensive line more important than offensive line in the draft?
Matt: They're both important, Dexter. But the Falcons do have some pressing needs to address still along the defensive – and they'll likely do so early in the NFL Draft. Remember, they lost two major contributors from last season during free agency, defensive tackle Dontari Poe (Panthers) and defensive end Adrian Clayborn (Patriots).
---
Curtis from Lawrenceville, GA
I would like to know if we are getting new uniforms soon. I thought we would going into the new Mercedes-Benz Stadium.
Matt: Hey, Curtis. There's certainly been lots of discussion (and venting!) about uniforms here in this space over the last eight or so months. As of right now, though, there are no official plans to scrap the current uniforms and introduce new ones. As soon as I hear something differently, I'll be sure to pass it along here. Thanks for asking, Curtis.
---
Katy from Jacksonville, FL
Hi, Beek. I enjoy reading your column each day. I have two questions for you. I am a die-hard Florida Gators fan as well as a die-hard Falcons fan. Where do you list Florida's players in the draft? Do you see Atlanta either drafting a Gator or picking one up as an unrestricted free agent?
Matt: There's at least one former Gator being linked to the Falcons in a number of mock drafts, Katy, and that's defensive tackle Taven Bryan. Atlanta will likely address its defensive front early in the draft and Bryan is viewed as one of the best prospects coming out this year. Another name to keep an eye on is receiver Antonio Callaway. Many, including myself, think the Falcons will pick up a receiver in the draft since they lost Taylor Gabriel in free agency. Callaway has the talent and ability to play on the next level, but he's also had some off-field issues which might scare some teams away. Callaway will likely be there on Day 3 or end up signing somewhere as an undrafted free agent. I'm sure there are some more Florida prospects we could talk about here, but those are two former Gators I'll be watching during the NFL Draft.
---
Jeremy from Virginia Beach, VA
How about Matt Ryan be a team player and take less money for the good of the team and we pick up Dez Bryant? Hahaha. Also, I'm a little tired of hearing how "elite" Ryan is. OK, he's better than most in the league and certainly our best option but come on.
Matt: No offense, Jeremy, but it's hard to take your question and comment seriously. I'm not sure if you've actually looked at Matt Ryan's statistics, but he is still playing at a very high level and not showing any signs of decline. You can't say the same about Dez Bryant, a once-great receiver who is on the downside of his career and whose productions continues to decline. Sure, he had a right to be upset following his release, but he's an emotional guy in general and isn't a locker room fit for some teams. I'm just not on board with your premise of forcing Ryan to "take less money for the good of the team" and then bring in a guy who could possibly disrupt your team, if you're going to listen to guys who have covered the Cowboys for years (see below). It doesn't make sense to me.
---
Barry from High Point, NC
Beek, I agree with Mike Smith: "Act like you've been there before." I think end zone celebrations are almost as stupid as mock drafts, and that's pretty stupid. I will be so glad when the present fad is over, and players can start acting like grown men and show some professionalism. Just my two-cent opinion.
Matt: Hey, Barry. And you are certainly welcome to your opinion – and that's why I'm also running it here today. I'll be honest and say I enjoy the spontaneous reactions most, but some of the orchestrated ones are clever. As long as they don't delay or disrupt the flow of the game, I really have no problem with the celebrations. It's a game, have some fun. Some guys hand the ball to the ref, some like to spike it and some like to dance. All I ask as a fan and father of three is just keep it tasteful. And if teams don't like opposing teams celebrating on their field, stop 'em from scoring!
---
Nice work about the scouts, Beek. That was pretty cool!
Matt: Glad you enjoyed reading those, John. Thanks for the kind words!
---
Hey Beek! I'm gonna keep this short and sweet, but do you think that the Falcons should go ahead and go for Dez Bryant because he can still catch the ball acrobatically? He has gotten slower.
Matt: I still think there's a place for Dez Bryant on the right team. I don't think he's a No. 1 receiver anymore – and his decline in production demonstrates that. But as far as the Falcons pursuing him goes, I just don't see it. There are some reports suggesting that Atlanta would not be interested. The Falcons need someone who's a deep threat – someone who can pull some of the attention away from Julio Jones. Bryant just doesn't have that separation speed anymore. Also, I don't know if he'd be the right fit culturally here, but I'm not the one who'd be able to answer that definitively. That's just my opinion.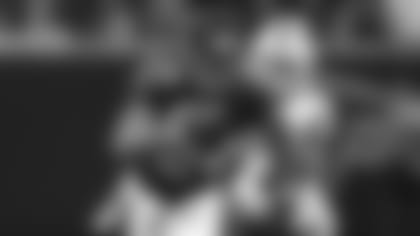 Can we please have our black-on-black helmets and jerseys back?
Matt: I'm guessing you mean these, Carson? That is a pretty sweet combination.
---
Dewayne from College Park, GA
What's going on, Matt! Listen, I know people are upset about Dontari Poe and Adrian Clayborn, but I was wondering. You think we have a shot at getting Taven Bryan in the first round from the Florida Gators? I mean, his get-off speed reminds me of Takk McKinley so much and that would be great if we could get him here! What do you think?
Matt: Well, I think Taven Bryan will go somewhere in the bottom half of the first round, Dewayne – and he might be there when the Falcons pick at No. 26. He's quick, athletic and versatile for a defensive tackle – something Dan Quinn covets. Where he ranks on the Falcons draft board is the bigger question, Dewayne.