Welcome to Straight from the 'Beek! A two-day rookie minicamp kicks off here in Flowery Branch on Friday – and we'll get our first glimpse of the Falcons' six draft picks, the undrafted free agents who were signed as well as nearly two dozen other players trying out for the team. And you, of course, have plenty questions about the Falcons – so let's get to them. Just remember, all opinions here are mine unless noted otherwise.
Do you think Antonio Gates can give us the same type of production that Tony Gonzalez gave us? And are there any plans to meet with him? The Falcons have been very successful at bringing in older Pro Bowl veterans that are able to coach younger guys.
Matt: Hey, Henry. I think Antonio Gates has had a terrific career – an eight-time Pro Bowler with the Chargers after going undrafted in 2003. But he's 37 years old and a free agent because he's no longer the same player he once was. And, no, I don't think he's capable of putting up Tony Gonzalez-like numbers. Not right now, anyway. And to answer your other question, I have not read or heard a thing about the Falcons showing any sort of interest in signing Gates.
---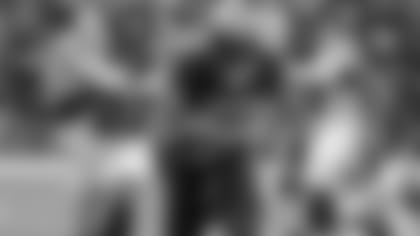 Frederich from Vienna, VA
Hey Beek! Glad you're back, how much do you think Mark Ingram's suspension will affect our game with the Saints? Game-changing? Or just a slight disadvantage? They still have Alvin Kamara, and a couple of other non-starting running backs. Also, do you have a personal draft grade for the Falcons?
Matt: Hey, Frederich. I have hard enough time talking about that Week 1 game in Philadelphia on Sept. 6, never mind the Week 3 game against the Saints on Sept. 23. Why? Because we don't even know what those teams are going to look like yet. Sure, we know the key returners for most teams by now, but who knows how the rookies will shake things up – they always do. I mean, you referenced Alvin Kamara just now – and who saw him developing into the Offensive Rookie of the Year back in May of 2017? Now, losing Mark Ingram is a big deal for the Saints. He's been their leading rusher for the past two seasons (he ran for 1,124 yards on 230 carries with 12 scores in 2017) and as of right now, he will miss games against the Buccaneers, Falcons, Browns and Giants to begin the season. Obviously, Kamara will have more carries with Ingram out and another back (or two) will have to step up for them. But just how much it'll affect the Falcons game in Week 3 is way too early to tell right now, Frederich. And, no, I didn't grade the Falcons draft because it's way too soon. Ask me in two or three years and I'll gladly hand out a grade.
---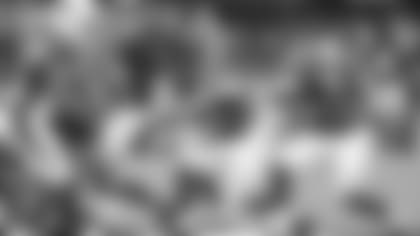 Beek, I read awhile back that the program which allows the Falcons to keep Alex Gray on the practice squad as an extra player has been extended for another year. If he stands out in camp, could he play this year? Will he be able to participate in the preseason games?
Matt: Hey, Joe. You're correct about the program – it's called the International Player Pathway and it allows teams to carry an 11th practice squad player from abroad. It's not only back, but the league has expanded it from four to eight teams now. And tight end Alex Gray (pictured above, far right), a former rugby standout in England, will return for a second year as a member of the Falcons practice squad. Gray was one of four international players to sign with NFC South teams in 2017. Alex Jenkins (New Orleans Saints), Eric Nzeocha (Tampa Bay Buccaneers) and Efe Obada (Carolina Panthers) were the other three – and all will return for 2018, according to the Associated Press. The NFL has expanded the program to the AFC North and those four teams – the Bengals, Browns, Ravens and Steelers – will get an 11th practice squad player this season. To answer your question, Gray (and the other seven players) are ineligible to be activated during the season but will practice with the team and participate in preseason games. Although Gray told me after the season that his goal was to make the active roster in 2018, it's probably a good move for his career as he continues to learn the game and develop. The Falcons signed free agent Logan Paulsen during the offseason, who will compete for playing time with third-year tight end Austin Hooper and Eric Saubert, who is entering his second year in the league.
---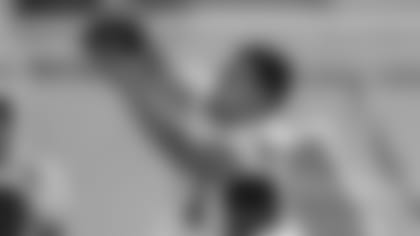 What are the plans for the Falcons at fullback? I think losing Patrick DiMarco last year really hurt the offense.
Matt: I get that Patrick DiMarco is a pretty good fullback and was also a fan favorite, but it's been it's been more than a year now since he signed a four-year deal with the Buffalo Bills, guys. Derrick Coleman won the job last season and wasn't extremely productive. While he appeared in 16 games, Coleman only rushed twice for 8 yards and caught two passes for 20 yards. He has moved on and is now a member of the Arizona Cardinals. The Falcons signed two fullbacks following the NFL Draft – Luke McNitt out of Nebraska (pictured above) and Stanford product Daniel Marx. For now, they are the only fullbacks on the roster. It'll be interesting to see how that position shakes out between now and Week 1 of the regular season. Don't expect those guys to get a lot of touches, but they will have to excel on special teams and be hard-nosed, straight-ahead blockers who can open holes for the likes of Devonta Freeman and Tevin Coleman. Now a quick question for you, Bruce: Do you know Joe from Franklin, NC (above)? Just curious.
---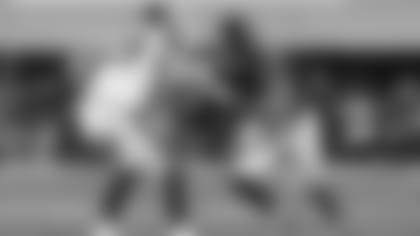 What up? Who do you think will lead the team in TD receptions this year? Also, will Vic Beasley or Takk McKinley have more sacks?
Matt: Oh boy, the prediction requests have already started and we haven't even kicked off rookie minicamp yet. But, what the heck, I'll play along. I'm going to go with Devonta Freeman for the most rushing touchdowns, Julio Jones with the most touchdown receptions and Vic Beasley will thrive playing defensive end full time this season and lead the team in sacks. I'm just glad you didn't ask for specific numbers.
---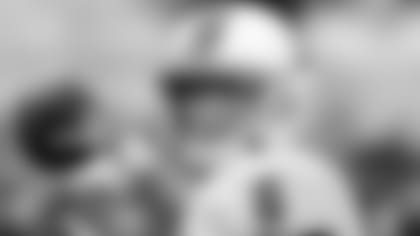 Do you see Kurt Benkert, the Virginia QB, signed as a potential replacement project for Matt Ryan in 4-5 years? He was projected by many scouts to go in rounds 5-6. He has a big arm and size but needs some work.
Matt: Whoa, now. Let's tap the brakes on using the term "potential replacement project" when it comes to Benkert or any undrafted college free agent for that matter. There's a lot of football to be played before we even get to Week 1 in September. Benkert hasn't even taken a meaningful snap yet for the Falcons. And nothing against Benkert (whom I admittedly don't know a ton about other than reading his NFL Draft profiles), but the Falcons traditionally keep two active quarterbacks on the roster during the season – and I'd say another Virginia alum, Matt Schaub, is firmly entrenched as the backup here behind Matt Ryan. So let's just see how rookie minicamp and then training camp shakes out before we starting talking about any long-term plans for any of these rookies, guys.
---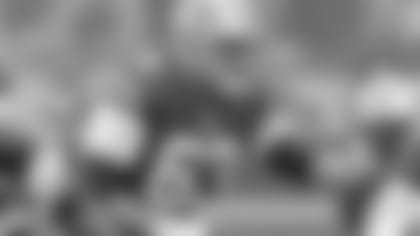 Kevin from Sierra Madre, CA
Hi, Beek. As far as the offensive line depth goes, how do like our situation? I do think Daniel Brunskill may be able to crack the 53-man squad. He has the right size for a decent tackle, although he probably lacks the weight and strength. Every projected roster has his name left off, but the Falcons must see something in him as he stayed on the practice squad last season.
Matt: Hey, Kevin. I'll answer this one by saying I like the Falcons' overall depth a little better heading into this training camp than I did last July. I liked the signing of guard Brandon Fusco (pictured above) during free agency – the ex-49er brings eight years of experience and much-needed depth. I was convinced for a time that the Falcons were going to draft an offensive lineman during the first two days of the NFL Draft, but the Fusco signing allowed them to go in a different direction. You're right about Daniel Brunskill being on the lighter side – of the 15 offensive linemen on the current Falcons roster, he's the lightest at 260 pounds despite his 6-foot-5 frame. I'm certainly not going to make any roster predictions, but Brunskill has his work cut out for him. HAVE A QUESTION?