Got a question about the Falcons? All topics are fair game – X's and O's, potential training camp battles, the latest on Julio Jones, how the rookies are looking so far, the uniforms, anything. This is your place to ask and get an answer – Straight from the 'Beek. Just remember, all opinions here are mine unless noted otherwise.
Jay from Chambersburg, GA
Any thoughts of bringing Mike Vick back as a backup to Matty Ice? He played pretty well as a backup for the Steelers and should be a good fit in Sark's offense with a heavy dose of play-action passes. Would be interesting to see Matt Ryan, Mike Vick, and Matt Schaub on the roster.
---
Michael and Nicole from Mentone, AL
No question. Just want everyone to know we named our 4-year-old-son Falcon. His full name is Michael Falcon Helms. We are huge Falcons fans. We can't wait for the season to start. We also can't wait till camp; we go every year. RISE UP!
Matt: Wow. That's some serious dedication, guys. Maybe we'll see you when you head on up to Flowery Branch this summer for camp. Thanks for writing in.
---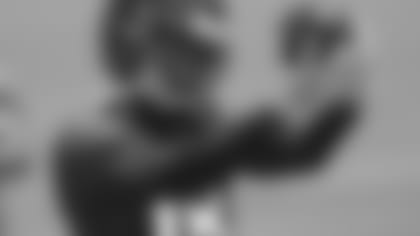 Matthew from Tuscumbia, AL
What's a game that looks easy on paper do you think will give Atlanta the most trouble in 2018? Also, which rookie will have the biggest impact, Calvin Ridley or Isaiah Oliver?
Matt: Well, there's no such thing as an easy game in the NFL. Ever. There's just too much parity and talent on every roster. It's easy to look at the records from a year ago and then look at the Browns (who finished 0-16) and the Giants (3-13) and think those two games might be easy wins. But the Giants, for example, completely overhauled their personnel department, coaching staff and roster during the offseason. There's no telling how they're going to look come Week 1. Same with the Browns for that matter. If the Falcons' defense can pick up where it left off in 2017 and everyone on offense can stay healthy, Atlanta should be able to compete with any team on its schedule – and win. But it's still May. As far as which rookie will make the biggest impact, I think Calvin Ridley will – but that's just the nature of his position. I think both players could be very good and I'm anxious to see both in action come training camp and preseason.
---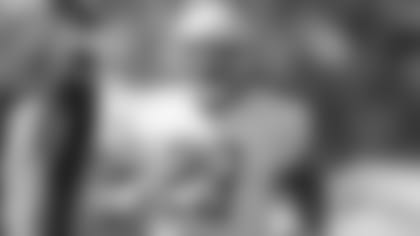 Do you think the Falcons should acquire a power running back to get those 2 or 3 yards when needed, someone like a LeGarrette Blount? We could have used one against the Eagles at the end of the game instead of that dumb shuffle pass to Terron Ward or the low-percentage fade to Julio Jones to lose to the Eagles.
Matt: First, LeGarrette Blount isn't walking the streets as a free agent; he's under contract with the Detroit Lions. You call it a "dumb shuffle pass" only because it didn't result in a touchdown. Had the Falcons scored with it, I'm guessing you would have loved the call. But maybe not. And I'll take my chances 100 out of 100 times when Matt Ryan is throwing to Julio Jones in that situation, Dean. We're talking about the Falcons' two best players on offense … and Jones nearly came down with it, too. It happens. Now, back to the Falcons. I like what they're doing in the backfield. They drafted Ito Smith, who was extremely productive at Southern Miss. He gained 4,538 rushing yards, 1,446 receiving yards and scored 49 touchdowns in four seasons there. They also have three bruising (and athletic) fullbacks on the roster – Daniel Marx, Luke McNitt and Ricky Ortiz – competing for one job. That's going to be a fun battle to watch unfold, too. And who knows, maybe one of those undrafted free agents will surprise us all and make the team. But between Devonta Freeman, Tevin Coleman, Smith and the eventual fullback, you'd like to think the Falcons will be able to get those tough yards in 2018, Dean.
---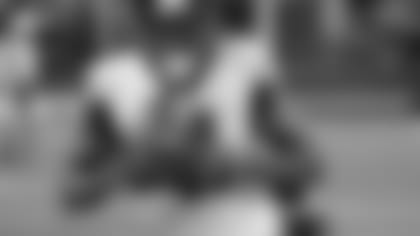 Tony from Virginia Beach, VA
Always love reading SFTB! Question about our offense. I know we had some troubles last year with kick-starting the offense (shouldn't be winning nail-biters against the Bears and Jets or losing to the Dolphins and Bills). Was this just a one-year thing due to a new offensive coordinator or should we be worried in having another year of inconsistent offensive play?
Matt: Hey, Tony. The term that Falcons coach Dan Quinn and general manager Thomas Dimitroff used at the end of the season to describe some of the offensive struggles at times was "under-executed." They also had a few other choice words to describe how they felt about it, too. Back in February, Quinn also outlined the areas in which the Falcons fell short of expectations and he pointed out to three specifically – the lack of explosive scoring plays, red zone offense and the turnover margin. It wasn't necessarily an issue with kick-starting the offense, but more so with just the execution. I like what the Falcons did during free agency and the NFL Draft, as well as some of the coaching moves they've made. I certainly wouldn't be worrying the offense, either, Tony. The Falcons still have Julio Jones, Matt Ryan, Devonta Freeman, Tevin Coleman, Mohamed Sanu and added Calvin Ridley out of Alabama. They also bolstered the offensive line with the addition of guard Brandon Fusco and added depth at tight end with Logan Paulsen. I'm expecting Year 2 under Steve Sarkisian to be even better in 2018.
---
Travis from Villa Rica, GA
With all the money going to our offense, do you think we will be able to take care of our core young players on the defense such as Deion Jones, Keanu Neal, Vic Beasley, Grady Jarrett, etc.? I understand we have drafted well the past few years, but with the league's highest-paid quarterback, running back, and possibly wide receiver, it just seems unlikely we can keep those core young players in ATL for years to come.
Matt: If you've listened to Falcons general manager Thomas Dimitroff at all during the offseason, Travis, you'd know that he is well aware of the current players on the roster who are due for new contracts. That's his job – and that's also why he's one of the best in the business at it. That all said, Dimitroff will always point out that you can't keep every single player. Teams have to identify core players and build around them through the draft and free agency – and that's also what he's done and continue to do. Keep in mind, too, that part of the goal in making these long-term deals is structure them in a way that offers some flexibility in signing players – for this season and the years to come. And that's what Dimitroff will do, in a way that will not prevent the team from making the necessary moves to remain competitive.
---
First of all, thank you for setting that Matt Ryan hater straight. Now my question is, if you could play for the Falcons, what position would you play?
Matt: Some fans are always gonna hate, Antonio. Just like those LeBron James haters out there – I don't get it. Why not just enjoy them now while we can? Anyway … to answer your question, hmm. I've always loved playing defense more than offense because I loved dishing out the punishment (much more than absorbing it). In high school I played outside linebacker on defense and wingback on offense. While I'm more comparable in size and build to a Danny Woodhead or Christian McCaffrey (read I'm not the biggest dude or physically imposing), I'd still probably want to play free safety, Antonio. Just one shot -- that would be a blast. Hope that helps! HAVE A QUESTION?