FLOWERY BRANCH, Ga. — A quarterback's eyes may be his strongest weapon.
From the way Atlanta Falcons offensive coordinator Dave Ragone speaks about the importance of a quarterback's view of the playing field, it certainly seems so at least.
"There is a point from a quarterback standpoint where you can actually see too much. You're feeling way too much, you're seeing way too much," Ragone said. "Then there comes a point where you really don't see anything but your one player that you're looking for. And therefore, you have no feel around you."
Neither is an ideal situation, which means there's a fine line between seeing too much and too little.
Falcons quarterback Desmond Ridder is only five games into his NFL career. So far, he has shown he's able to toe that line well, at least well enough to avoid a passer's most obvious mistake: an interception.
Ridder has not thrown a pick in 133 NFL attempts.
"Obviously, he's a very smart quarterback, and obviously, he's still young, too," Falcons running back Bijan Robinson said. "But I think that he tries to look for the best situation possible. And, every single time that we lined up out there with him, he's always aware of what's in front of him."
Ridder's current stat line makes him only the second quarterback, joining the Dallas Cowboys' Dak Prescott, since the AFL/NFL merger in 1970 with no interceptions in his first five career starts. That's with a minimum of 14 attempts per game, so only legit contenders.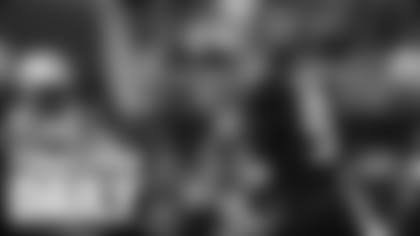 Last year, Ridder had to wait his turn and learn behind starting quarterback Marcus Mariota. Ridder watched and observed from the sideline for 13 weeks, as Mariota completed 184 of his 300 passes for 2,219 yards, 15 touchdowns and nine interceptions. Then, when Ridder took over as QB1 for the final four games, he completed 73 of his 115 passes for 708 yards and two touchdowns.
This season, aka just the Week 1 game, Ridder hit 15 of his 18 targets for 115 yards and a touchdown. The Falcons won, 24-10, against the Carolina Panthers.
"That's what good quarterbacks do," Falcons safety Jessie Bates III said. "They don't turn it over, and they make the right decisions, and they manage the game really well — and I think Des did a good job of that."
It's not like Ridder had all the time in the world to make these decisions, either. The Panthers sacked Ridder four times and managed six quarterback hits overall.
Ridder targeted six different teammates in the passing game, but it was the running backs who found the most success. Bijan Robinson and Tyler Allgeier combined for nine completions on nine targets for 46 yards and a touchdown. Those two also had 131 yards rushing on 25 carries for two touchdowns. The ground game was just operating more successfully and Ridder recognized that.
"There's some situations where you can and can't force things," Ridder said. "But then, also, if we're running, we're running. And (if) it's going good, just keep it staying that way. … I think that's where you get in trouble as a quarterback is trying to force things, trying to create things and (trying to) make things happen that aren't there."
Coaches can have an impact on what way a quarterback leans in the moment, too.
"Ultimately, you want a quarterback to play free, you want a quarterback to trust his instincts," Ragone said. "The minute you start to take away those instincts by (saying,) 'Hey, you can only do this and this,' then all of a sudden, they start to play in a box. You (want to) give them guidelines within each play, but what you don't ever want to take away is the instinct within the pocket. You don't want to make them robotic."
Ragone has been the Falcons' OC since 2021, coming on board at the same time as head coach Arthur Smith. Before Atlanta, Ragone already had nine years of NFL coaching experience under his belt, including five as a quarterbacks coach specifically.
Ragone also had a brief run as a professional quarterback himself — playing two games for the Houston Texans in 2003 — and a full four years as a collegiate passer at Louisville from 1999-2002.
Suffice to say, Ragone knows what he's talking about when it comes to that skill position.
So, of course, the strength of a quarterback's arm is important. That's a physical box that must be checked. But that's also not always enough to withstand a long, success career at the pro level.
"Really, it's the ability to not just improvise but to feel, to see, to trust and to have conviction," Ragone said. "Then you get those players who that grows and grows and grows. And with that grows the confidence every time you go out there."