---
---
Desmond Ridder was the Falcons' backup quarterback last season. Now, he embarks on his journey as the starter in Atlanta with the opportunity to become the face of the franchise.
---
---
Either the eight grapes for breakfast or an existing half pound prevented Desmond Ridder from playing quarterback in his first year of organized football.
Ridder's hometown youth league in Louisville, Kentucky, had a season-long weight rule for the position, and Ridder was just over the limit when he joined. His mother knew of the mandate, so she tried to limit his food intake the morning of his weigh-in.
The thought was there. The result was not.
"I always wanted to be a quarterback," Ridder said. "But then, I just wanted to play football."
So, Ridder – only 6 or 7 years old at the time – reluctantly spent a season in the trenches as a center. On the defensive side, he was placed at linebacker, which he actually ended up enjoying thanks to tackling.
The kid made the most of the contact part of the game while he could.
"I mean," the now 24-year-old said, "it was fun."
Still, when the next year rolled around with a clean slate, Ridder made sure he met any and all physical requirements to play quarterback. And once Ridder got his hands on the ball, there was no taking it away from him. He lined up behind his former position from then on out.
That's because there's one thing that the quarterback holds more of than any other position on the football field. And Ridder, even as a young boy, has always craved it.
"Control," he said. "You just have control over everything."
Not quite everything, the Atlanta Falcons' starting quarterback would later find out.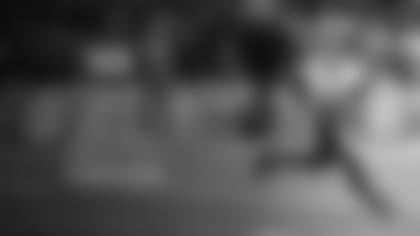 ---
---
FIRST DOWN
The Falcons saw a future with Ridder.
With the 74th overall pick in the third round of the 2022 NFL Draft, Atlanta selected him from the University of Cincinnati. He was the second of nine quarterbacks chosen and the Falcons' fourth of eight selections.
"I could be wrong, but it's almost like he's re-living his college days over again," said Falcons wide receiver Drake London, Atlanta's first-round draft pick that same year. "Coming through his freshman year, he's behind someone. And then, his sophomore year campaign, he takes over. That's when everything started, the ball started rolling.
"It's kind of going in those steps as we see it right now, and I hope that it goes just like his college career because he killed it."
Ridder redshirted his true freshman year in 2017, as Hayden Moore brought Cincinnati to a 4-8 season. Once Ridder took over in 2018, the tide changed. The Bearcats posted four consecutive winning records, and that's putting it lightly.
Cincinnati went 11-2, 11-3, 9-1 and 13-1 during Ridder's tenure from 2018-21. The Bearcats also made the College Football Playoff for the first time in program history and finished the 2021 season fourth in the nation.
As for Ridder himself, well, he won the AAC Offensive Player of the Year award in both 2020 and 2021. His passing stats peaked in his final season – hitting 3,334 yards and 30 touchdowns – after which he became a draft prospect intriguing to the Falcons and many others.
"We like his skillset. We like his leadership qualities, too," Falcons coach Arthur Smith said after the draft in 2022. "He's played at a high level. It's impressive what that program did. … The mental makeup of him, I thought his decision-making, he had a good feel in the pocket. There's a couple little minor technical things that you can always work with the quarterbacks. That's what gave us a lot of comfort."
That, and the fact the Falcons already had Marcus Mariota on the roster, a veteran quarterback with a winning NFL record. Mariota signed with the Falcons on March 25, 2022, just four days after Atlanta traded 14-year starter Matt Ryan to the Indianapolis Colts for the No. 82 overall pick in the 2022 NFL Draft.
Ridder knew he was likely backup bound when he entered the system. He even mentioned his excitement about learning from Mariota during his introductory press conference. Mariota essentially did the reverse, going on record he'd mentor Ridder.
That's great and all, but there can only be one QB1.
"You have prepared as a starter for the last 12,000 days," Ridder said. "And then, coming in, you're not really expected to be the starter, but you're expected to know everything the starter is supposed to know. That was an adjustment."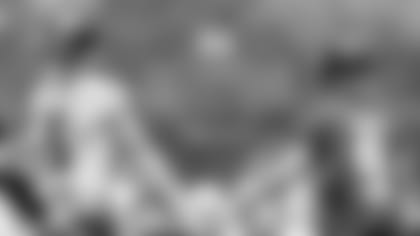 ---
---
SECOND DOWN
The Falcons eased in Ridder.
For the first 13 weeks of the 2022 season, Ridder developed in Mariota's shadow. Ridder did everything he could to ensure when – not if – his number was called, there'd be no doubt: He was ready.
"You want a guy to be authentic," Falcons offensive coordinator Dave Ragone said. "You want a guy that understands that, before you really can become that leader that leads by example, you have to put the work in. Regardless of how talented you are, guys want to know that you know your stuff. Therefore, you're holding yourself accountable first."
Though Ridder waited his turn, he wasn't waiting. Ridder put in that work. He asked questions in meetings, clearing up any possible confusion. He took his playbook home, studying it well into the night with his wife's help.
Meanwhile, Mariota played as the starter. Ridder observed as the backup.
"He understood, at the end of the day, he's still a play away," Ragone said, "regardless of whatever he was named."
Mariota led the Falcons to a 5-8 start. Atlanta only strung together two consecutive wins between Weeks 3 and 4.
After the Falcons' 19-16 loss to the Pittsburgh Steelers in Week 13, Mariota's status in the lineup was in serious jeopardy.
Something had to change, and Smith made a big one during the Week 14 bye.
"In regard to roster moves, we did make a switch at quarterback," Smith said the Monday of Week 15. "Desmond Ridder will be the starter. It's a performance-based decision. … We feel like this is the best decision, not only with where he's at but where the team is at as we prepare to go down to New Orleans."
Mariota also reported a knee issue that ultimately required surgery and landed him on injured reserve two days after the Ridder news broke. Once that transaction became official, the required four-game timeline that followed meant Mariota could not return for the remainder of the season.
As a result, Atlanta brought in Logan Woodside as a backup option. He previously held the same title for two years with the Tennessee Titans, appearing in just 11 games total.
"The growth from Desmond that we've seen, he's been wanting to play all season," Smith said at the time. "But we feel very comfortable with where he's at right now to be able to handle the game plan and operate in a full capacity."
The Falcons' starting role was Ridder's to lose at that point, at least for 2022.
The next four games also doubled as an audition for 2023.
"Oh, I was excited," Ridder said. "I was thrilled because that's what I've been working for my whole life, was to be in this position. I'm one of 32 guys that have this position in the world."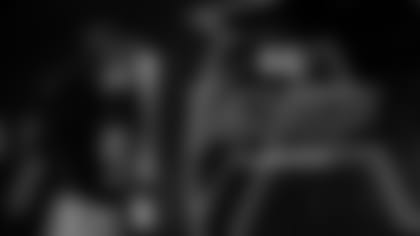 ---
---
THIRD DOWN
The Falcons took a shot with Ridder.
With Atlanta's offense set up at its own 25-yard line, Ridder received the snap in shotgun, dropped back farther into the pocket and threw it deep along the sideline to running back Cordarrelle Patterson. His first NFL pass fell incomplete, but it served its purpose of welcoming Ridder to the league.
"It was one out of 65 plays that game," Ragone said. "You have to treat each play as an individual play, and I think he did that. We moved on, and we got a chance. Unfortunately, we did not win, but we had a chance to put ourselves in a position to do that."
The Falcons did lose, 21-18, to the New Orleans Saints. Ridder completed 13 of his 26 passes for 97 yards.
Atlanta lost the next game, too – 17-9 to the Baltimore Ravens. Ridder completed 22 of his 33 passes for 218 yards.
Then, results flipped. The Falcons closed out their 2022 season with back-to-back victories.
"They were all chaotic," Ridder said. "Every single one of those were just trying to get the ball snapped, get everyone in the right place and just try to keep the ball moving forward."
In Atlanta's 20-19 win over the Arizona Cardinals, Ridder connected on 19 of his 26 throws for 169 yards. Still no breakthrough touchdown.
In the Falcons' 30-17 win against the Tampa Bay Buccaneers, Ridder hit 19 of his 30 targets for 224 yards. He threw two touchdowns – a two-yard pass to tight end MyCole Pruitt in the first quarter and a three-yard strike to wide receiver Olamide Zaccheaus in the third quarter.
"He showed growth and improvement every game," Falcons general manager Terry Fontenot said this past August. "We saw him in critical moments: third down, fourth down, end of game, end of half. He was able to produce in those moments. Also, Desmond, we saw him get knocked down, we saw him handle some adversity, and we saw him respond to it."
Even in the victories, Ridder had to put and keep the Atlanta ahead on the scoreboard. The Cardinals took the initial lead. Power then bounced back and forth seven times before Falcons kicker Younghoe Koo sealed the deal with a 21-yard field goal. Same thing with the Buccaneers, except a 51-yard field goal was the deciding factor.
Also, through the final four games, Ridder was sacked a total of nine times, with the highest count of four coming in his debut.
The losses sit with Ridder more than the wins. A few mistakes corrected here and there, he believes the Falcons could have closed out the season 4-0 rather than 2-2. That would have put them at 9-8 instead of 7-10. A winning record like that would have made Atlanta the top NFC South team.
Alas, there's always next season, which is now this season. And Ridder is already more confident heading into Year 2.
"The first time you got on a rollercoaster, you were scared as hell," Ridder said. "But you went on it a second time and you were just fine."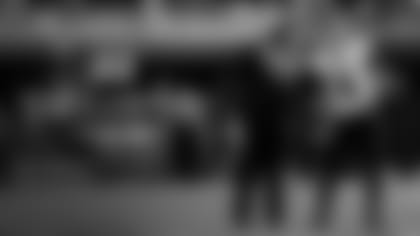 ---
---
FOURTH DOWN
The Falcons are going for it with Ridder.
For somebody who loves control, Ridder really didn't have a whole lot of it when he came to Atlanta. He regained that part of his identity when he took over the huddle last season, but the comfort and command he feels are even more evident now as he enters the 2023 schedule as the starter.
"Night and day," London said. "He may not say he sees it or he may say he's acting the same, but you can tell, there's more sense of urgency and more confidence there."
Ridder does indeed say he has been going about his business the exact same since Day 1: Prioritizing his prep work regardless of where he falls on the depth chart.
And maybe that's true. Maybe that's how Ridder found success in high school and college. Maybe that's how he got to where he is today.
"He's thinking about football in a certain way, where it's just not what I told you as a coach and then going to repeat it back to me," Ragone said. "It's what I told you and then asking follow-up questions on potential things that he might get."
Ridder does his best to go beyond the basics. He wants to be as prepared as possible for anything possible when he steps out onto the field. Because, with knowledge comes power. But also, ease.
That ease should never be taken for granted. The quarterback is the most important domino to fall in the offensive cascade.
"You definitely have to take a deep breath, but then it just goes back to preparation," Ridder said. "Obviously, if you struggle to get the play call out and then struggle to get lined up, things are going to start moving a lot faster in your head, which is going speed you up mentally. If you're prepared with everything that you have going on, if you're prepared with what you think the defense is going to bring you, you kind of see everything. You picture it in your head, and it slows down a lot for you."
It sounds cheesy, but it can literally unfold like a slow-motion scene in a movie sometimes.
Those theatrics rang true in the Falcons' second exhibition game versus the Cincinnati Bengals – a 13-all tie earlier this month. Ridder commanded the opening drive alone, and it lasted 10 plays and netted 57 yards. Things were going well for him – considering none of the penalties that backtracked the offense were his fault – until he was picked off in the red zone. Otherwise, Ridder hit seven of his nine passes for 162 yards.
That was all she wrote for Ridder this preseason.
"We feel pretty strongly that he's going to be our quarterback of the future," Falcons owner Arthur Blank said during training camp.
That future begins Sunday (1 p.m., FOX) when the Falcons host the Carolina Panthers in Mercedes-Benz Stadium for their season opener.
Or, at least that's the future of the franchise. Ridder's future in football began long ago, when he first earned the right to play quarterback — and never looked back.
"I feel like I have to prove myself to myself," Ridder said. "I know what I can do, both mentally and physically. Now, I have to go do it."