FLOWERY BRANCH, Ga. -- If you've made it out to any of the Falcons training camp practices this summer, you know that Duke Riley is hard to miss.
From his curly blond-haired mullet hanging out the back of his helmet to the fiery energy he brings to every drill and play he's participating in, the rookie from LSU has made quite an impression since being drafted in the third round.
And 10 practices into camp, it's clear Riley is also rubbing off on his new teammates.
"Man, Duke has been awesome," Kemal Ishmael said. "He's been going for it. As a rookie, he's been going for it. That has a lot to do with the (linebacker) room and where he's at. We treat him like a vet, we treat him like a brother. He's been digging just like everybody else; he's been showing great signs."
Following Monday morning's practice session, I sat down with Riley and asked him a few questions about his early impressions of camp, his performance and what it'll be like to finally play in an NFL game this week.
---
As a rookie coming in, how have you approached training camp?
"What I do best is I don't look forward. I just take every day head on. I just worry about what I can get better at every day. I go to each guy in the room … and I just go up to them and ask, 'Hey, what's one thing that you see that I can get better at today?' If I can just get better at one thing a day, I'm steadily improving. … I'm just taking slow steps, perfecting my game and just basically putting myself and the defense in the best position is what I do every day."
---
What's been the biggest adjustment for you so far?
"Situational awareness, you know, what to expect – in second-and-long, second-and-short, third-and-short – just things like that. Just responsibilities. If the offense gives us condensed formations or if they're spread out empty, what to expect. In my position, when it's a pass, watching the receiver off the line – watching his steps. Is he hard off the line or is he making choppy steps? Just little stuff like that. The little things."
---
Has there been one veteran here that's taken you under their wing and been a mentor?
"Of course, Deion (Jones), but all of the guys. Everyone, from the offensive guys – as soon as I came in, the first person who talked to me was Matt Ryan. I was like, wow. … I knew De'Vondre (Campbell) already because I took an official visit with him to Minnesota – I've been knowing him since high school. And I've known Deion (Jones) since high school, and I've been training with Robert Alford since high school – we trained at the same facility when he was in college. And there's Jalen Collins, he was at LSU. So I have a connection with a few guys on the defensive side already and everyone just making me feel at home. I really haven't had this feeling about a team since my senior year at LSU and my high school – meaning, everyone just works for the guy next to them. … When you have a team that's together it's so hard to beat them. I just feel like that's what we have here."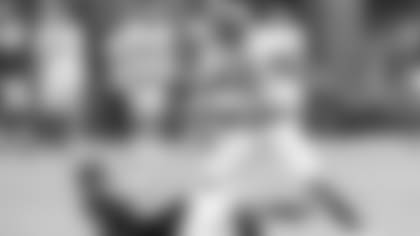 ---
Did you ever hear about the Brotherhood before you got here?
"Yeah, all the time. Obviously because I keep up with Deion every day. Me and him have been talking – when I was in college – every day.
"Usually when people say they live a lifestyle they don't really live it. But over here, they really live it. It's not a hashtag, it's a lifestyle. They show it every day, and they practice like it."
---
What's one thing in camp you've done well and something you need to work on?
"I'm showing a lot of effort, I'm communicating, I'm just flying around and having fun.
"There's a lot of stuff I need to work on. That's why I go to everyone and ask what (they think) I need to work on. I don't even know where to start at – I can always get better at something.
"Like at practice just now, with coming off the edge. Working on my steps so I don't have any false steps. Eliminating false steps because, in the box, a false step or an inch of a misalignment is the difference between making a play or not. The little details are key, and that's what's going to help my game elevate."
---
Was there a player growing up that you tried to emulate or model your game after?
"When I was younger I was an offensive guy and Michael Vick was my favorite player – and he was here, so it's crazy that I'm here now. I used to play quarterback and then when I got to linebacker, of course, Ray Lewis is a guy that I think every linebacker watched, right? Just because of the way he played, how he moved … I just loved watching him. I still watch him to this day."
---
What's your role as a linebacker on this team?
"I'm a vocal guy, a natural leader. That's who WE are, actually – the linebacker corps. We take pride in that. If we're having a bad day as a defense, it's because the linebackers are having a bad day. So it starts with us, because we make the call, we make the checks, and we get everyone aligned. Our voice is so powerful in that defense. If anything happens, it's on the linebackers. We are the quarterbacks of the defense."
---
If you had to give yourself a letter grade, what would it be?
"Overall? I'm so hard on myself, man. An A is just … I've got a lot to work on. I'll give myself a B-minus, because I have so much room to grow. I've had a good start, though. I'm at a good spot. My effort is there, but it can be better. An A is, like, really hard to get. And I'm not going to put myself in the C category because I know what I've put in every day out there.
---
Complete this sentence: This season will be a success for Duke Riley if …
"It's not about me. I don't look at it like, 'Am I going to do good?' If I'm taking on a block, shedding for the safety to make a play, that's a win. It's not about me, it's about the team. If the team is doing great, then I'm doing great. It's not about me, it's about the guys next to me."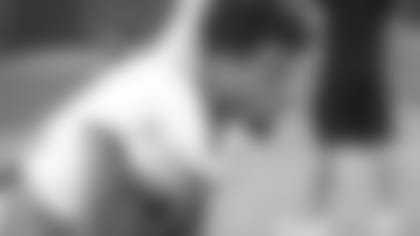 ---
Who was the one player on this you looked forward to facing the most in practice?
"(Devonta) Freeman. Just watching him move, he's so different, powerful. He's a running back who can run full speed and stop on a dime, and make a cut. You can't really teach that, what he has. So that's why he was always one guy I was always looking forward to playing against, because I know he was going to make me better."
---
Are you looking forward to finally playing against another jersey color on Thursday?
"Oh, of course. It's going to be a huge day for me, man, because it's my first NFL game – the day after my birthday – basically what I've worked for my whole life is finally here. Now it's basically like what do I have to do to stay here, what I've got to put in to stay here as long as I can. I've got to keep that intensity up because that's what made me who I am. That's why I'm here right now."
---
What's one thing that most people don't know about Duke Riley?
"I live through smiles. Sounds crazy, you know, but it's fun when we're winning and you look around and everyone's happy because they know that we're prepared, we're aware, we know what's going on, we put in so much work and we're just confident. It's fun. You should never be out here trying too hard because at the end of the day it's ball, we've done this our whole life. It's just so fun to make a play, high-five a guy or jump up with a guy and just see the smile. I live for joy, I love joy. I love seeing people's passion out there.
"To play in the NFL you have to be different, you have to be wired different to stay for many years. You can't get weak mentally. I live for smiles, man. I love making people smile, I love making my coach's job easier and being together, also. That's who I am. I live for people. I feel like that's my gift. I feel like me being in the NFL is a gift for me later on in life help people. That's my goal in life: to help as many people as I can."