FLOWERY BRANCH, Ga. -- Everyone knows the Falcons possess one of the NFL's best running back duos right now in Devonta Freeman and Tevin Coleman.
But one player who is competing for the No. 3 spot on the running back depth chart is rookie Brian Hill, a 6-foot-1, 219-pound do-it-all workhouse out of Wyoming. Hill could end up making an immediate impact on special teams and eventually provide the Falcons' offense with a change-of-pace back because of his more physical, straight-ahead running style. Hill ran for 4,287 yards and 35 touchdowns in three years at Wyoming.
But for now, he's just a rookie trying to find his way and make an impression on the coaching staff.
"He's really battling for it, Hill is," Falcons coach Dan Quinn said. "He's a bigger man. I think those type of backs show up a little more in the padded practices, so to speak. So you feel his size and you feel his strength, now we're trying to work him in on (special) teams as well and see what role he'll have.
"He'll get a significant amount of work in the preseason along with (Terron) Ward as we're going through. We're really trying to see where this battle goes as far as the third halfback plays out."
I asked Hill several questions after practice, including how that battle was shaking out so far. Here's what he had to say.
Q: What's your goal coming in as a rookie?
Hill: My goal is to win. I'm a competitor and as long as we're getting W's and I'm helping the team do that, then I'm happy. Right now, my role in my mind is to come in and do whatever they ask me 110 percent. We've got two of the best backs in the league – I know that, and the whole league knows that – and I'm going to use that to my advantage.
Q: What's the story behind changing your uniform number from 38 to 25?
Hill: I just didn't like 38. Akeem (King) was wearing 25 and we just had an agreement to switch numbers and that's about it. You know, you look good, you feel good, and you play good. … Thirty-eight is very ugly.
Q: What's it like playing behind Freeman and Coleman?
Hill: There's so much that I'm learning from those two right now, even (Terron) Ward. All three of the backs are teaching me so much about how to be a pro, how to handle myself, and how to carry myself. When I came in early, you know, (I had) a little bit of the jitters as a rookie. They calmed me down, settled me down, told me to just run the ball – something I've been doing my entire life.
Q: Has there been one player that's taken you under their wing?
Hill: All three of the running backs, yeah. It's a very close-knit room. We're very tight and whenever I'm messing up, they are the first ones to get on me before coach can even talk to me. I appreciate that so much. Just for them to be able to explain things to me in running backs terms, how a running back will see it, makes it so much easier to pick up a playbook.
Q: What's been the biggest adjustment you've had to make playing at this level?
Hill: The biggest adjustment is, of course, the speed. You need to be able to make your reads that much faster. You don't have the time to sit there and look and make sure the hole is there. You've got anticipate it. So, you've gotta know what your O-line is doing and you've got to be anticipate when the hole is going to open up because as soon as it opens up, you want to explode right through before it closes again.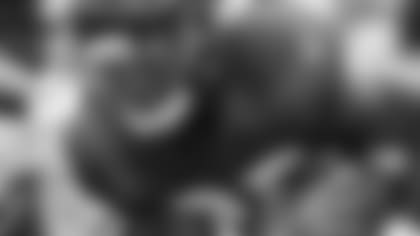 Q: What's the biggest lesson you've learned so far here as a rookie?
Hill: One of the biggest things I've learned is to let things go. You come in as a rookie and you're going to mess up. Coaches expect you to mess up. Just make sure that you don't keep messing up the same thing over and over. If you're going to mess something up make sure it's something different than it was yesterday. And when I mess something up I can't get down on myself, let it go, learn from it, move on to the next play like it never happened.
Q: What's been the coolest rookie moment for you so far?
Hill: It's all been a cool rookie moment. It's been a dream come true, I'm sure all of the rookies have told you. It's amazing waking up every morning and coming to this building. I've worked so hard all my life to get here and now I have to work really hard to stay here.
Q: Who was your favorite running back to watch growing up?
Hill: Growing up LaDainian Tomlinson was my idol. I'm very happy that he's going to be inducted into the Hall of Fame. Growing up that's all I watched. I was a (St. Louis) Rams fan who never missed a Chargers game because of L.T. I loved watching L.T. growing up. Every time he touched the field you know it was going to be a show and he definitely came out and put on a show.
Q: Who would you compare yourself to (as a running back)?
Hill: I'm one of those players who doesn't like to compare themselves to anyone. I want to be my own breed of running back. I'm at the level now where I need to make the things I do good great and the things I do well good. So that's all I'm focusing on now is being the best version of me.
Q: What do you think of Georgia so far and this heat?
Hill: It's definitely more humid than Wyoming, that's for sure. I'm just getting used to it. The first day I was battling cramps a little bit, but I feel like my body is getting more acclimated to the weather and I'm able to go out there and do what I need to do.
Q: Who was the first veteran on this team that you wanted to meet?
Hill: Me and Teco (Tevin Coleman) have the same agent so my agent told me about Tevin and how cool he was, so I was really excited to meet him. He didn't disappoint. Like I said the whole running back room – there's just a great vibe in there. No one's trying to sabotage anyone, we're all in there to help each other and you couldn't ask for anything better.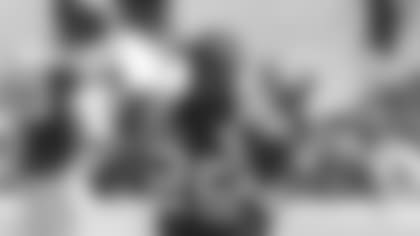 Q: What about the coaches here – what's it like playing for coach Dan Quinn?
Hill: They encourage you to battle. Last year four rookies started on defense. This is a team that if you come in and play, you will get on the field – if you show you can play. They've all been preaching the same thing: Show me you can make plays and you will get a chance to make plays. The best player plays. It's always nice playing for a time like that. A lot of places growing up, coaches kinda had their favorites picked out and then they tried to work around that. Here, it's talent. Talent wins, and I really respect that. And that's a great winning recipe.
Q: What's your biggest strengths as a runner?
Hill: I think it's my aggressiveness, my size, and my want-to, you know. When we're in the game, I want to get to the end zone. That's one thing I'm going to bring to this team starting next week in the preseason game – that's what I'm going to come out there and try to show.
Q: What's one area of your game that you want to work on the most?
Hill: I want to work on my pass catching and pass protection. I want to keep refining that all the way up to Week 1 so when I get there I'll be ready.
Q: If you had to give yourself a letter grade so far what would it be?
Hill: A letter grade so far? I'd say a B-minus. I haven't done bad, but I know I can do better and I want to push myself to do better each day.