The first of three days worth of Senior Bowl practices is set to begin today in Mobile, Ala., directly in front of the keen eyes of NFL general managers, coaches and scouts. While the players already have plenty of game film of their college careers, they'll look to use each practice this week and their game performance on Saturday to create more momentum, leading into further workouts such as the NFL Scouting Combine and pro days.
Throughout the next three days, we'll spotlight some players from the North and South teams to keep your eye on, leading into the 2015 NFL Draft, however, none of the previews are indicative of who the Atlanta Falcons plan to select April 30-May 2.
Ending his collegiate career remarkably, Smith entered this offseason on a phenomenal note. In the two games of the inaugural NCAA College Football Playoff, the talented wide receiver totaled three receptions for 132 yards and one touchdown, ending with a Buckeyes 42-20 defeat of the Oregon Ducks on Jan. 12.
Known for his game-breaking speed, Smith was a dual-sport athlete at Ohio State, also starring in track and field. He'll look to continue turning heads this week, facing more talented corners in Mobile. During his final regular season on campus, Smith caught 33 passes for 931 yards and 12 scores. He played extremely well in the biggest of games, including the Big Ten title matchup against Wisconsin, hauling in four catches for 137 yards and three scores.
A premier pass-rush specialist, Kikaha will use the Senior Bowl stage to continue showing why his bouts with knee injuries are a thing of the past. Among his many records at Washington, Kikaha totaled 35-career sacks, including a streak of 14 games in a row with sack. He also recorded school records in 2014 with 18 sacks, 24 tackles for loss and 129 tackles-for-loss yards.
Named the Midseason National Defensive Player of the Year by ESPN's Mel Kiper, Kikaha is driven to own each and every rep in practice this week, leading to a performance in Saturday's game that leaves no doubt he's ready to continue such pass-rush dominance in the NFL.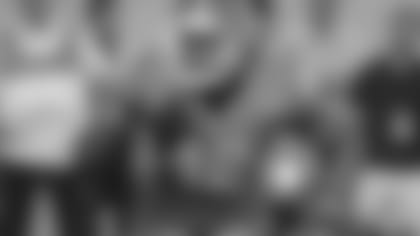 If you've ever been a standout player who is not quite as recognized as a fellow teammate, you can relate with Anthony. The star Clemson Tigers linebacker isn't projected to go as high as fellow Clemson linebacker Vic Beasley (first-round grade), but he'll use the Senior Bowl to maximize each rep he gets in front of Jacksonville Jaguars head coach Gus Bradley and his staff, throughout the week.
During his Clemson career, Anthony finished with 330 tackles, 34.5 tackles for loss, 9.5 sacks, three interceptions, 18 quarterback pressures, 13 pass breakups, five caused fumbles and one recovered fumble in 2,264 snaps over 52 games (35 starts).
According to Lance Zierlein, Anthony showcases good game speed and can get from sideline to sideline, while also possessing traits to be effective as a blitzer. Look for Anthony to show NFL execs that he is more than capable of earning a heavily-desired spot on an NFL roster.
While most offensive linemen aren't widely recognized for their continual run-blocking and pass-protecting efforts, Mason will do his part in Mobile to show he deserves attention. The 6-foot-1, 300-pound offensive guard is known for his powerful ability to drive defenders off their spot, finishing plays off with his strong hands and upper body.
Mason earned several honors during his successful campaign at Georgia Tech. He started all 14 games at right guard in 2014, named first-team All-America by USA TODAY. Mason anchored the Yellow Jackets O-line that blocked for Tech's Orange Bowl-record 452 yards of rushing vs. Mississippi State and allowed just 0.79 sacks per game (1st in ACC, 2nd nationally) this season. He earned ACC Offensive Lineman of the Week honors three times in 2014.