The NFL is back! That means these power rankings are, too. I'll let you decide which return to get more pumped about.
It was a wild Week 1, with unexpected results aplenty. That obviously includes the Monday night thriller, where the Jets lost Aaron Rodgers four plays in and still pulled out a victory over Buffalo with an overtime punt return for a touchdown. That prompted some last-second shuffling just before I hit publish, a tradition as old as time.
The Falcons are in the top half of the league after an impressive win over the Panthers, where they could've still played a lot better. There were some extreme punishments for terrible Week 1 performances -- we're lookin' at you, Giants (and Steelers and Bengals) -- and some teams that have earned a spot in the top 10 who aren't normally there.
If you hate what you see below (I'd prefer you give out a gold star instead), at least trust there will be some big swings in the pecking order as we really get to know these teams and how good (or bad) they can actually be.
And, in my annual disclaimer, don't take these rankings too seriously. Please. I cover the Falcons. I'm not a professional power ranker, though I'll admit that would look cool on a business card. While I consider asking for a title change, take a gander at this post-Week-1 list: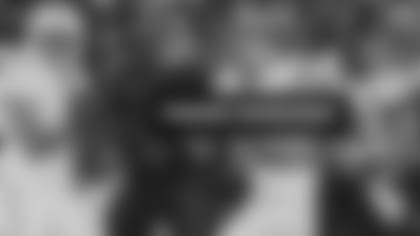 San Francisco 49ers
The 49ers are so deep and so talented — and, oh yeah, they have Nick Bosa.

Philadelphia Eagles
The Eagles do so much so well. Especially rush the passer.

Dallas Cowboys
That defense is ferocious. I mean, wow.

Kansas City Chiefs
Statement of the obvious: Travis Kelce is an important part of what the Chiefs do. Chris Jones, too.

Miami Dolphins
Can we stop this thing where we question whether Tua Tagovailoa is a good quarterback?

Detroit Lions
So much respect for what Dan Campbell is building up north.

Jacksonville Jaguars
Calvin Ridley had quite a return to action.

Baltimore Ravens
Todd Monken has some wrinkles to iron out.

Cleveland Browns
Browns defense looks like the real deal.

Buffalo Bills
Josh Allen has never won an overtime game. Wrap your brain around that.

Cincinnati Bengals
That loss to Cleveland was awful. They get a mini Giants/Steelers drop, but a team with Joe Burrow can't fall too far.

Los Angeles Chargers
Chargers blew a late lead to Miami. Yep, that's on brand.

New Orleans Saints
I'm sure Falcons fans hate the Saints being rated higher. The teams are close. Having a veteran QB gives them a little lift here. We'll see how things shake out in coming weeks.

Green Bay Packers
Jordan Love showed us something in the opener. Falcons will look to shut that down in Week 2.

Atlanta Falcons
Good start for the Falcons. Jessie Bates III was worthy every penny. Bijan Robinson was worth such a high pick. I'll hear no arguments to the contrary.

Las Vegas Raiders
Say what you want about Jimmy G (and people say a lot). The dude wins games.

New York Jets
A few things: 1. Injuries stink. Hoping for the best for Aaron Rodgers, although initial news seems bleak. 2. That Jets defense is resilient.

New England Patriots
Played the Eagles tough(-ish). Still fair to question whether the Pats can compete in the AFC East.

Tampa Bay Buccaneers
Baker Mayfield's off to a good start. Will it last?

Los Angeles Rams
The Rams did what without Cooper Kupp?!?

Minnesota Vikings
Maybe Dalvin Cook was more valuable than some thought.

Washington Commanders
Barely beat the Cardinals. Still counts as a win, but it doesn't mean they'll get a bunch more.

Seattle Seahawks
Did you see what Geno Smith said when Aaron Donald came in free? "Oh, my (gosh)." That's what we all said when we saw the Rams took it to Seattle.

Pittsburgh Steelers
Steelers getting a lighter version of the Giants treatment. They got decimated at home.

Carolina Panthers
Bryce Young will have some rookie QB moments, especially if Carolina can't protect him.

Tennessee Titans
No touchdowns and three picks from Ryan Tannehill. A few more like that and we might see Will Levis.

Denver Broncos
Question marks surrounding Russell Wilson haven't left.

Chicago Bears
Maybe the Bears are better. Not sure that makes them good just yet.

Houston Texans
I think C.J. Stroud is a good player. Will Anderson might be a great one.

Indianapolis Colts
Anthony Richardson has so much talent. He could use some around him, too.

New York Giants
Before Giant fan freaks out, Big Blue is only down here to prove a point. If you get beat like that, against a rival, on national TV, after making the playoffs the previous year, you sink like a stone.

Arizona Cardinals
It's gonna be a win drought in the desert.