Sunday's matchup between the Falcons and Saints will feature two of the best offenses in football. So, naturally, Madden 17 believes it'll be a low-scoring contest that includes just one touchdown from each side.
In our final regular-season simulation, Atlanta outgained New Orleans by one yard, 274 to 273, and, thanks to a last-minute turnover, came out on top, 13-10.
Mark Ingram broke the scoreless tie in the first quarter with a one-yard touchdown run, and a Will Lutz field goal in the second frame gave the Saints a 10-0 edge.
That two-possession lead wouldn't last long, however. A little more than a minute after Lutz's kick, Matt Ryan fired a pass down the left sideline to an open Julio Jones, who caught the ball and ran 59 yards for the touchdown.
Matt Bryant tied things up in the third with a 49-yard field goal, and with 5:40 remaining in the fourth, he tacked on another – this one from 24 yards out – to give the Falcons their first lead of the day.
That advantage was threatened when the Saints moved into Atlanta territory with just under a minute left in regulation. They were poised to enter Lutz's range with a long run up the middle by Tim Hightower, but before one of Hightower's knees hit the turf, Sharrod Neasman knocked the ball loose, and Robert Alford recovered – all but securing the Falcons' victory.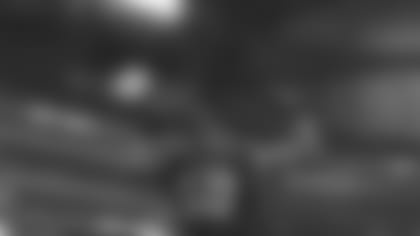 Julio Jones: 5 catches, 100 receiving yards, 1 TD
Jonathan Babineaux: 4 tackles, 2 sacks, 1 tackle for loss
Brooks Reed: 2 sacks, 2 tackles
Deion Jones: 6 tackles, 1 tackle for loss
Sharrod Neasman: 2 tackles, 1 forced fumble
Reed pummels Brees for a crucial sack.
Jones reels in a perfectly timed throw and sprints into the end zone.
Babineaux drags Brees down behind the line of scrimmage.
Neasman forces the fumble; Alford recovers.