*Editor's note: Following each Falcons game, head coach Dan Quinn will break down a key play from the game. *
FLOWERY BRACH, Ga. -- Falcons coach Dan Quinn chose to break down Keanu Neal's forced fumble on Panthers' running back Jonathan Stewart during Sunday's game in Charlotte. The Panthers held off the Falcons for a 20-17 win. Atlanta (4-4) has put a big emphasis on creating more takeaways, and Neal came through for Atlanta in that regard, twice.
Here's Quinn's breakdown of the play:
• Play: First-and-10 on Atlanta's 39-yard line
• Time: First quarter, 8:19 remaining
Dan Quinn: "On this play, Carolina lines up with a two tight end set. So everyone is playing regular gap control so really a heavy run formation. The defense goes from Deion Jones in the A gap, Dontari Poe in the B gap, Brooks Reed in the C gap, De'Vondre Campbell in the D gap and Keanu right there."
Above: Atlanta's defensive formation against Carolina's two tight end set.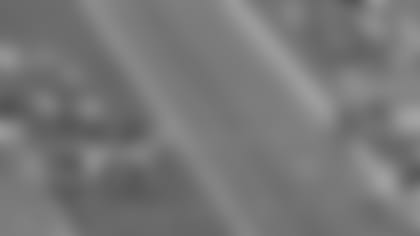 Above: Desmond Trufant and Ricardo tackling Jonathan Stewart to the ground. Keanu Neal (left) comes into the play.
Quinn: "We don't teach the first guy to go after the ball, we teach the second or third guy. On the tackle, Trufant starts it, Ricardo is going to get it. As the runner is fighting for extra yards, the second or third guy in can come be really aggressive. [Keanu] with his right hand, he puts it all the way in to grab the ball. He grabs part of the ball and then rips it out.
"There's two ways to cause a fumble, one you can punch it out or if he's really holding it tight, you can rip it out."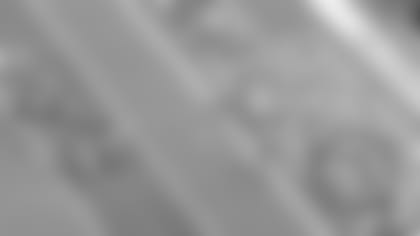 Above: Neal immediately goes to rip the ball out of Stewart's hands, causing a forced fumble.