LAST UPDATE: 4:34 p.m. — Welcome to AtlantaFalcons.com's coverage of the NFL Scouting Combine. I'm here in Indianapolis at Lucas Oil Field as the Combine gets underway today with offensive linemen, punters, kickers, long snappers and tight ends taking the field for drills. I'll be here with you all week, updating you constantly about what's happening here in Indy and what the Falcons are up to. Check back here throughout the day for plenty of Combine coverage. Be sure to also check out our Combine main page, that has some preview videos and helpful links that give you a better understanding of what happens here in Indy.
4:34 p.m. — Well, folks. That's going to do it for our live blog today here in Indianapolis. But our coverage doesn't stop. We've got a video interview with Steve Wyche
. Be sure to check back tomorrow as we'll be doing the same thing here from Lucas Oil Field.
4:20 p.m. — Interview with Steve Wyche went well. Steve said some very interesting things about the state of the Falcons right now, plus defensive end prospect Ryan Kerrigan, who is projected to end up in black and red by more than a couple of mock drafts. Video will be up shortly.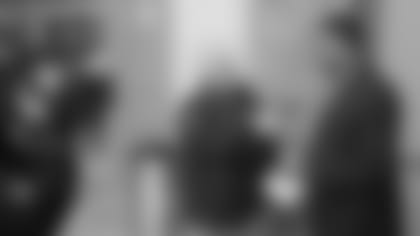 4:04 p.m. — We'll be wrapping up the day with a video interview with NFL.com's Steve Wyche. Things are slowing down here in Indianapolis for the day. The sound of clicking fills the air of this large room as intrepid reporters bang away at their keyboards to make their deadlines ... OK, I'm gonna can the poetic stuff. Off to find Wyche.
3:49 p.m. — The largest media throng belonged to Rex Ryan today, no doubt. A sizable number surrounded Ryan's podium to hear what the Jets head coach would say. He didn't disappoint. He came with a bunch of quick-witted comments and even spoke about his recent role on an episode of CSI. The highlights: Ryan's not sure when the Jets pick in the first round, and he's also unaware of how old quarterback Matt Sanchez is. Oh, and he also guaranteed a Jets Super Bowl win in 2011.
3:22 p.m. — The day is winding down, and I've begun quite an amusing game with Daniel Cox. Whenever a relatively unknown player is announced as being available, I elbow Daniel and tell him to go get him. Daniel's catching on to my little game, so it's becoming less and less exciting. Figured I would share.
3:06 p.m. — Considering the demographic of the room I'm currently sitting in, the NFL Combine is the last place I would expect to catch the scent of flowery hand lotion. Small wonders never cease.
2:57 p.m. — We've had players from LeHigh and Slippery Rock speak today. Hobart would like to know when a podium is free.
2:31 p.m. — Mississippi State tackle Derrick Sherrod has taken the podium. Sherrod is featured in our Mock Monitor, as one of the mock drafts we've sampled has the Falcons taking him with the 27th pick overall. Not many agree with that projection, but I'll tell you this, the shoulders on this kid are unreal. He's gigantic. Looks like he could be more than serviceable for an NFL team.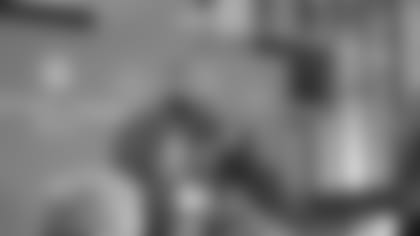 2:15 p.m.— Things are slowing down a bit as an afternoon lull has taken effect. Media members seem to be stirring with anticipation for when New York Jets head coach Rex Ryan takes the podium. In the underestimation of the year, I'll go ahead and guess that'll be an interesting news conference.
2:02 p.m. — Miami offensive lineman Orlando Frankin is using his opportunity to speak to the media as free advertising. "I'm a beast at guard," Franklin says.
1:49 p.m. — The room we're in here at the Combine is huge, but media members are everywhere, and we're not exactly known as the cleanest species out there. On our end of things, we could definitely use a little more space.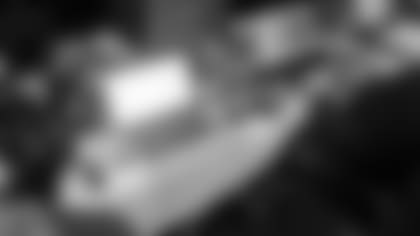 1:32 p.m. — Just spoke with Rick Gosselin of the Dallas Morning News. Rick's great with mock drafts and provides some insight into how things are shaping up so far. I put him on the spot and asked him who he thinks the Falcons could target, and while he wouldn't name names, he does see the defensive side of the ball as a strong consideration for the 27th overall pick.
1:06 p.m. — Georgia offensive lineman Clint Boling just got done speaking to the media. Clint says he can play any position on the line, including center, but he feels more comfortable playing tackle despite spending significant time on the inside part of the line in college. Here's a quick video I took of Boling speaking and a photo below.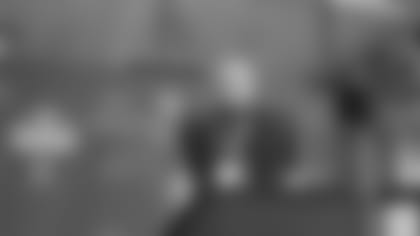 12:50 p.m. — Daniel Cox and I put together a short video, just saying hi to all the fans following along with our coverage today. As Daniel put it, we do awkward well. So true.
12:34 p.m. — Tampa Bay general manager Mark Dominik was just at the podium. He said he's extremely impressed with the draft class at the defensive end position, but he said he's also concerned about some of the juniors who are at the position. He's looking forward to the interview process where, he said, he can get a good feel of how these players have medically held up playing the game.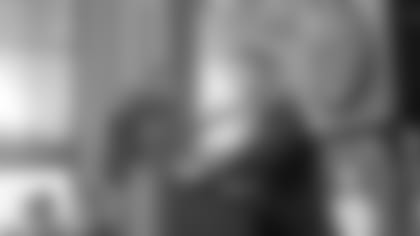 12:23 p.m. — Kickers and punters are speaking in the media room. Bet they'll never see this much attention again, unless it's for something bad.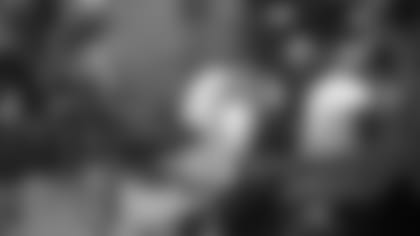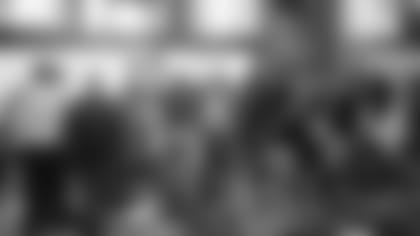 12:10 p.m. — Just grabbing a little lunch at the moment. Turkey sandwich and chips. As a somewhat picky eater (yes, you read that correctly), I have to question the assumption that everyone enjoys things like lettuce and tomato. Why do we assume such things? Isn't it easier for the people who want lettuce and tomato to just add them on themselves? I have to think that at least saves lettuce and tomato from being wasted. And these are the things I think about.
11:49 a.m.— Me, Daniel Cox, Matt Moore, the AJC's D. Orlando Ledbetter and NFL.com's Steve Wyche are all hanging out together at the moment. There's talk of a Jay Adams/D-Led/Steve Wyche interview. AtlantaFalcons.com may be responsible for, as D-Led put it, getting the band back together.
11:37 a.m. — Just got done interviewing ESPN's John Clayton. I'll link the video to this post as soon as it's up. John said a lot of great things about the Falcons, including that he thinks we'll be locks for the postseason for the next few years. He says there are still a lot of questions concerning the team that need to be addressed, so make sure to watch the interview when it's up. To whet your appetite, here's a photo of me interviewing John.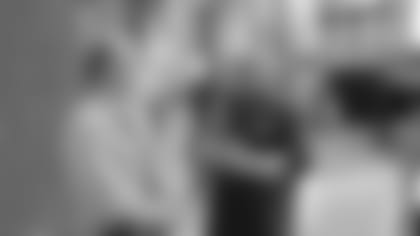 11:24 a.m.— Stepping away for a moment to get some interviews with national media members. I will return with information. I hope.
11:05 a.m.— New Denver head coach John Fox speaks to the media. From my limited contact with him, I can tell you Fox is good people. Nice to see him land on his feet with a new opportunity with the Broncos.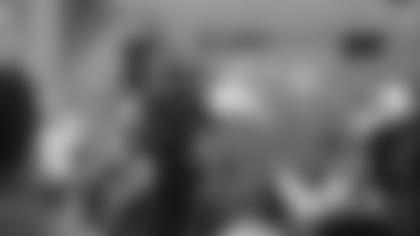 10:50 a.m. — Dolphins GM Jeff Ireland is at the podium right now. Word is, recently cut tight end Jeremy Shockey is interested in taking his talents to South Beach. Ireland will no doubt be asked about Shockey's comments. I'm just not so sure the fan interest here on the site is enough to merit the energy it would take to walk over to listen to Ireland address the situation.
10:42 a.m.— Rivera said he received a bit of advice from legendary NFL coach Jimmy Johnson, who told Rivera to, "Always do what you do best." That means Rivera will be very active on the defensive side of the ball for the Panthers. Interesting to see what kind of changes he can make. Some real beasts on that side of the ball for Carolina, including Pro Bowl LB Jon Beason and potentially breakout DE Charles Johnson, who is set to become a free agent.
10:35 a.m. — Rivera looks and sounds cool and confident at the podium. He has been a name mentioned for years for a head coach spot. You can tell he's ready for it.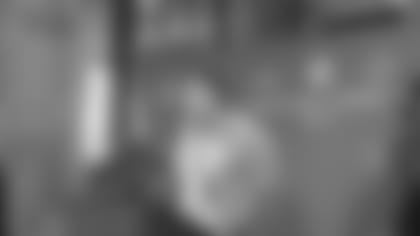 10:32 a.m. — Carolina head coach Ron Rivera says it's important to have a franchise quarterback. He's still evaluating whether that quarterback is already on the roster, available in the draft or in free agency. The Panthers started the season with Matt Moore and then went to rookie QB Jimmy Clausen.
10:29 a.m. — St. Louis head coach Steve Spagnuolo speaks to a large group of media members.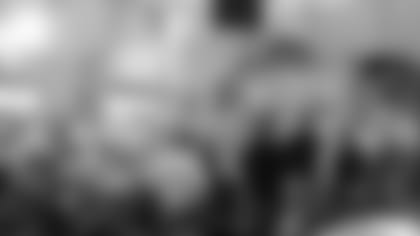 10:20 a.m. — The media room is packed here at Lucas Oil. Me, Matt Moore and Daniel Cox are sitting in a corner near one of the podiums, staring at a closed concession stand. Rams head coach Steve Spagnuolo is speaking down the way right now. It's amazing how much attention speakers get here, even from beat writers who don't normally cover those teams.
10:11 a.m. — Asked if he regrets not naming quarterback Ryan Fitzpatrick the starter after training camp, Gailey replied, "Shoot, ch'yeah!" That Southern twang has to be turning some heads in Western New York.
10:07 a.m. — Gailey says there's always the chance that Buffalo will trade up or down. That's likely true of all teams. As Gailey says, "We don't turn our phones off at night." You can bet the Falcons front office doesn't either.
10:03 a.m. — Buffalo head coach Chan Gailey likes the quarterback class in the Draft this year, but he says he's always concerned about how these players are going to react when they get on the field. The Bills are projected to be in the mix for Cam Newton's services with the No. 3 overall pick.
9:59 a.m. — About ready to kick things off with Buffalo head coach Chan Gailey. In related news, Daniel Cox and I have tracked down the whereabouts of former Georgia Tech quarterback Reggie Ball. He's doing well in Bricktown, in case you were wondering.
9:20 a.m. — Here's a look at the schedule of speakers today:
10 a.m.: Buffalo head coach Chan Gailey * 10:15 a.m.: St. Louis head coach Steve Spagnuolo * 10:30 a.m.: Carolina head coach Ron Rivera * 10:45 a.m.: Miami general manger Jeff Ireland * 11 a.m.: Denver head coach John Fox * 11:15 a.m.: San Francisco general manager Trent Baalke * 11:30 a.m.: Baltimore head coach John Harbaugh * 11:45 a.m.: Detroit head coach Jim Schwartz * Noon: Tampa Bay general manager Mark Dominik * 12:15 p.m.: Pittsburgh general manager Kevin Colbert * 12:30 p.m.: Minnesota general manager Rick Spielman * 12:45 p.m.: San Francisco head coach Jim Harbaugh * 1 p.m.: Oakland head coach Hue Jackson * 1:15 p.m.: Tennessee head coach Mike Munchak * 1:30 p.m.: NFL Network's Michael Lombardi * 3 p.m.: Philadelphia general manager Howie Roseman * 3:30 p.m.: New York Jets head coach Rex Ryan * 3:45 p.m.: New York Jets general manager Mike Tannenbaum * 4 p.m.: Dallas head coach Jason Garrett