LAST UPDATE: 4:30 p.m. — Welcome to AtlantaFalcons.com's coverage of the NFL Scouting Combine. I'm here in Indianapolis at Lucas Oil Stadium as the Combine continues today as the drills get going, starting with offensive linemen and tight ends running the 40. I'll be here with you all day, updating you constantly about what's happening here in Indy and what the Falcons are up to. Check back here throughout the day for plenty of Combine coverage. Be sure to also check out our Combine main page, that has some preview videos and helpful links that give you a better understanding of what happens here in Indy.
4:30 p.m. — Well, folks, not much more going on here in Indianapolis today. That concludes our coverage here from the Combine. We've got a couple more videos coming up tonight, but Matt and I are heading back to Atlanta in the morning. Daniel Cox will be here part of the morning and will live blog for a bit while he's here. I can't thank you enough for joining us this week as we covered the Combine. Really hope you enjoyed it.
4:19 p.m. — Daniel Cox came back from Wisconsin DE J.J. Watt's podium like a little school girl with a crush. He was flummoxed and flush in the face. Daniel is apparently a big fan of Watt ... because he uses Twitter. We'll let him explain it some time.
4:10 p.m. — Here's a photo of the crowd surrounding Newton's podium. Where's Waldo? (Pretend my name is Waldo).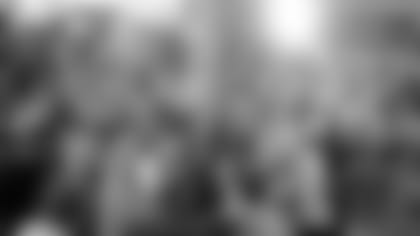 4:00 p.m. — Cam Newton just got down from the podium. Won't say too much about him because I'm sure coverage of his news conference will be abundant. I'll just say that I wonder how much of his confidence is mistaken for cockiness and how much of his confidence is actually cockiness.
3:35 p.m. — Just spoke with Miami defensive end Allen Bailey, who D-Led is projecting will be picked by the Falcons in the first round. I covered Bailey when he was in high school. It was like watching a pro player take on Pop Warner kids. Downright unfair in some cases. Bailey's high school head coach told me one time that Bailey hit his son so hard during practice one day that he thought his son was dead. Anyway, that was when Bailey was playing linebacker. Heading into college, he was projected to be a defensive end, but I remember him being very resistant to the change and wanting to find a school that would keep him at linebacker. That, obviously, didn't happen but the switch has paid off for him as he's expected to be a first or second rounder this year. Side note on Bailey: He grew up on Sapelo Island, Ga. — a very small island of about 60 people on the Georgia coast, near Brunswick. Bailey would have to take a ferry to school every morning. During the football season, he would stay with one of his coaches during the week and then return to the island for the weekend. He has a very interesting backstory.
3:13 p.m. — Arkansas quarterback Ryan Mallett just got done at the podium and was asked a slew of questions concerning allegations about his lifestyle. Mallett's stock answer for those questions was that he either was only discussing that with teams or that he can't control what people say about him. After a few too many questions about that aspect of his background, Mallett interrupted a question with, "Thanks, guys," and ended the conference. The i-con Cam Newton is up next.
2:49 p.m. — Picture time. The AP takes some fantastic pics of the drills occurring on the field right now. Here's Alabama offensive lineman James Carpenter: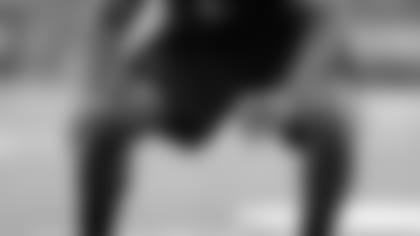 And this is LeHigh offensive lineman Will Rackley: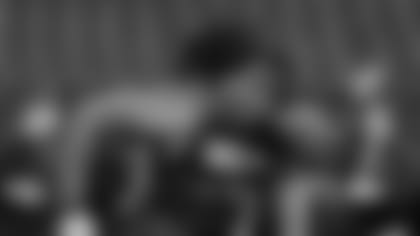 2:25 p.m. — Da'Quan Bowers, the DE from Clemson, speaks to the media. Bowers is projected to be a top 5 pick.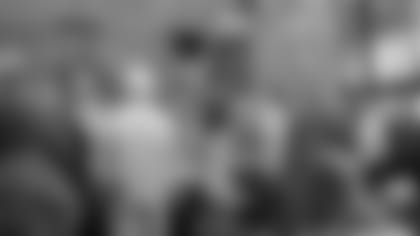 1:57 p.m. — Sorry about leaving, folks. Just had to run upstairs to the suites to interview Thomas Dimitroff. While we were gone, ChairGate came to an anticlimactic end. Apparently, D-Led knew the cat who stole his chair, so all ended amicably, which was disappointing to us. In the end, however, D-Led won and reclaimed his chair for the rest of the day.
1:51 p.m. — Whenever a player is announced there's a rush all around the room. At any given moment, three or four players can be on the stage. While Bowers was conducting his press conference, Missouri defensive end Aldon Smith was announced. Mass confusion began in the room as media members had to decide whether to stick with Bowers or pursue possibly the next best end in the draft. Smith thinks he's among the best defensive ends here, but he wisely said he watches them all and has tried to learn from them as well. One thing he's said that isn't heard much here among the pass-rushing madness is he thinks one of his strengths is stopping the run. He measured in at six-foot-four and 263 pounds. There's no consensus on where he fits best: 3-4 outside linebacker or 4-3 end.
1:35 p.m. — Daniel Cox here, manning the Live Blog while Jay Adams is away. Potential top overall pick Da'Quan Bowers from Clemson has taken the stage and he's drawn a huge crowd all around him. Bowers is sporting a knit cap and black-rim glasses. He's presenting himself well fielding questions with ease. He was just asked about his work ethic as a high-profile player. "It didn't matter whether you were an All-American or a walk on, I went hard every play."
1:20 p.m. — Not a whole lot going on here in Indy, at least in the media room. Players have been ushered in and out at a slower pace today, and there's easily fewer media members here today — surprising because of the actual drills going on today. We're still keeping our eye on the ChairGate, starting D-Led and Matt Moore.
1:12 p.m.— My interview with FoxSports.com's Alex Marvez is up. I highly recommend checking it out. Click the photo below.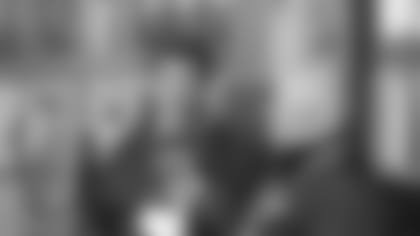 ](/media-lounge/videos/combine-confidential-foxsports-com-s-alex-marvez/5434e244-6a59-11e0-b52e-00144fe56e6c)
12:40 p.m. — Couple of things to note. First of all, there's currently an interesting situation brewing here at our table. The AJC's D. Orlando Ledbetter has been sitting with us all week. This morning, a rogue media member came by and jacked his seat. We tried to explain that someone was already sitting there, but he wasn't hearing that. So D-Led arrived a short time ago to discover his seat had been spoken for. Well, D-Led just took his seat back while the other guy is at lunch. To follow this situation more closely, follow Matt Moore on Twitter, who will be providing up-to-the-minute news as the story develops. In other news, we'll be again interviewing general manager Thomas Dimitroff today. Video as soon as it's available. Thirdly, there are a couple of videos that just hit the site: A few moments of Texas DE Sam Acho speaking to the media and we were lucky enough to capture the food frenzy in the media room when lunch was put out.
12:16 p.m. — Purdue defensive end Ryan Kerrigan had some time at the podium. He's the popular pick among the prognosticators we've sampled in the Mock Monitor to end up in Atlanta. After seeing him speak, I can say he looks like he's built more like an outside linebacker, almost in the mold of a Clay Matthews or a Brian Cushing. He's got a lot of speed and he's an excellent pass rusher. He played 4-3 defensive end at Purdue, and he said he's extremely comfortable in that defensive system. Coincidentally, the Falcons run the same system.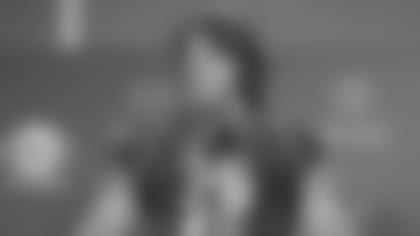 11:39 a.m. — Just finished up an interview with Alex Marvez of FoxSports.com. Seriously, he's one of my favorite people to interview. Alex is extremely knowledgeable about the NFL and all 32 teams in it, as well as unbelievably hilarious. I highly, highly recommend following him on Twitter and reading his columns on FoxSports.com. We'll have video of the interview up shortly.
11:21 a.m. — Texas defensive end Sam Acho took the podium and spoke about how he has the potential to play either 3-4 linebacker or 4-3 defensive end. He confirmed during his time at the podium that he has met with the Falcons. I'll have video shortly.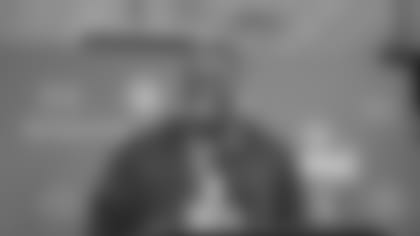 10:54 a.m. — Since drills are under way, the Associated Press is down on the field taking photographs of the action. Here's one of my favorites. Yes, there's an official time, but most scouts will hold their own stop watch to get an immediate idea of how a player performed.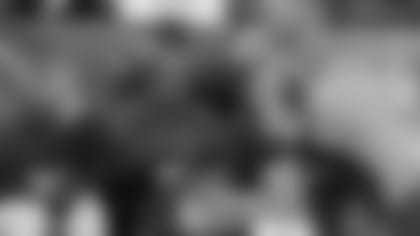 10:36 a.m. — Syracuse lineman Ryan Bartholomew is having one heck of a Combine today, and I'm not just saying that because I'm a Syracuse grad. Bart was tops for linemen in the bench press with 34 reps, tops in the 10-yard dash with 1.63 seconds and a 4.8 in the 40, which I have to imagine is near the top.
10:26 a.m. — We just had a hilarious conversation about the media and how they behave when free food is available. There was a very humorous situation yesterday afternoon around 4 p.m. when cookies were put out for the taking. This room is gigantic, but it's almost like there was an alarm that went off in everyone's head that free food was available. It was a stampede. Seriously. If that happens again today, we'll try our best to get it on film. To give you a better idea of how these things go, the room was about half full an hour ago and yet they ran out of bagels and muffins within minutes. It's never been more true than around the media: No fruit cup for the late.
10:08 a.m. — Just talked to Daniel Cox. He won't be put into the league's concussion protocol and I'm listing him as probable for today's coverage.
9:53 a.m. — Daniel Cox is missing and this is the tweet from him I see:
"I may need one of the league drs to check me for a concussion. slipped and fell and hit my head"
I'm more than a little concerned.
9:42 a.m. — Discovering Twitter isn't working properly is like discovering I can't have lunch: Devastated. Oh, wait. I discovered I couldn't have lunch yesterday because they ran out of food. This trip is starting to become a problem.
9:28 a.m. — The big guys, offensive linemen, are running the 40 right now. If watching large fellas do things they probably shouldn't, then this morning's coverage is for you. I sit here and watch as they seem to slowly lumber 40 yards down the field and I think to myself, "I'm faster than him." Then, I see times of 5.25 and 5.4 and remember that last week, I ran a 6.53. So much to my chagrin, I'm much, much slower than what I'm currently seeing on TV right now.
9:14 a.m. — Day Three at the Combine begins here in Indianapolis with a welcome change. There's live coverage of the drills happening on the field on NFL Network and every TV in the media room is showing the action. Today's the first day where players are running the 40 and doing other various on-field drills. Keep it locked here all day as I blog live throughout the day.