LAST UPDATE: 4:34 p.m. — Welcome to AtlantaFalcons.com's coverage of the NFL Scouting Combine. I'm here in Indianapolis at Lucas Oil Field as the Combine continues today with quarterbacks, running backs and wide receivers. I'll be here with you all week, updating you constantly about what's happening here in Indy and what the Falcons are up to. Check back here throughout the day for plenty of Combine coverage. Be sure to also check out our Combine main page, that has some preview videos and helpful links that give you a better understanding of what happens here in Indy.
4:10 p.m.— Just finished up at the Mike Pouncey news conference. Boy, spend a few minutes listening to that and you'd assume Pittsburgh already drafted him. The Florida C/G is a highly touted lineman in this year's draft, but his twin brother, Maurkice, was drafted by the Steelers last year. Lots of talk of a possible reunion here at the Combine, but a big question is whether he'll even be around when Pittsburgh picks at the No. 31 spot. Mike Pouncey is definitely first-round talent and could go a number of places. ESPN Draft guru Todd McShay seems to think Pouncey ends up in Atlanta at No. 27 overall.
4:08 p.m. — The day is certainly winding down here in Indianapolis. Players from more obscure schools keep getting ushered through the media gauntlet. We had Slippery Rock and Lehigh represented yesterday. Today, we've got Walsh College and Fort Valley State. But don't sleep on the small schools. Eric Weems went to Bethune-Cookman and Brent Grimes went to Shippensburg — and both are Pro Bowlers.
3:38 p.m. — OK, I'm going to get a little artistic here. I noticed this when I was walking around the media room. Below is a photo of the silhouette of Super Bowl head coach Mike McCarthy holding a press huddle in the hallway. Don't ever say I don't notice things.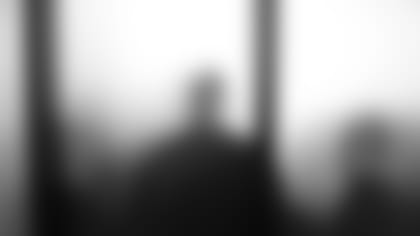 3:04 p.m. — NFL Network analyst Charles Davis took the podium earlier this afternoon and I had the opportunity to ask him his thoughts on the Falcons' needs this offseason. Here's what he had to say:
"To me, they want to continue to get faster on defense. When you look at what they've done — John Abraham had a renaissance year again this year, but that was a bounce-back from the year before, so are they going to continue to get the same production? You've got to start grooming guys for him to come behind him as a pass rusher. They're not huge about rushing linebackers, but Sean Weatherspoon demonstrates more speed at the linebacker position when healthy. Mike Peterson's getting up there a little bit. They've got to think about that position also. And then, of course, in the secondary Brent Grimes had a breakout year. I was a huge fan of his. I thought he should have been on the Pro Bowl team even before he was actually selected. Dunta Robinson, they expect better play out of him. I love William Moore in the secondary. But I think they want to continue to increase the speed on defense, and then I think it would not hurt them at all to find another threat out wide to go with Roddy White. I love Michael Jenkins, I love Brian Finneran and I think they could get some more speed. Harry Douglas, after another year with the knee (could be better). But I think it would not hurt them at all."
Definitely some food for thought.
2:55 p.m. — Here's a photo of my interview with Smitty. We got some great stuff from him. Really informative interview.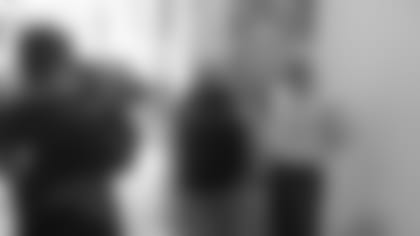 2:50 p.m. — Apologies for the delay in updating. I've been running around for almost an hour getting interviews and information for you. I just spoke to head coach Mike Smith. We were granted one of the few interviews he's doing here in Indianapolis and that'll be up on the site later tonight. Also, I just spoke to legendary sports writer John McClain of the Houston Chronicle, who had some great things to say about the Falcons. That interview will be on the site shortly. You won't want to miss that one.
2:03 p.m. — Just listened to Notre Dame tight end Kyle Rudolph for a few minutes. Asked what his strength is at the tight end position, he said he brings a complete game. He says he can catch — which is evidenced by him finishing fourth in Notre Dame history in catches and receiving yards for a career — and he can block, which may or may not be one of his bigger question marks heading into the draft. Posting video shortly.
2:01 p.m. — Scouring the web, we found a photo of us ... well, sort of. In the photo below of Rex Ryan's news conference yesterday, you can see me to the left holding up a camera and then Matt Moore is a few people to my left. Yeah, we're famous.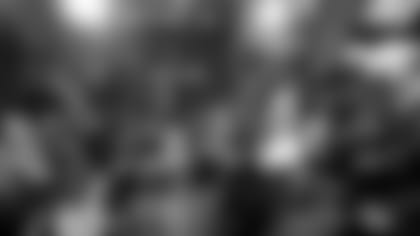 1:40 p.m.— Took a spin down Radio Row a couple of times today. It's like a who's who of sports journalism. ESPN's Rachel Nichols, Adam Schefter, John Clayton and Chris Mortensen are hanging out there, and SI's Peter King (pictured below) was doing radio there a little earlier.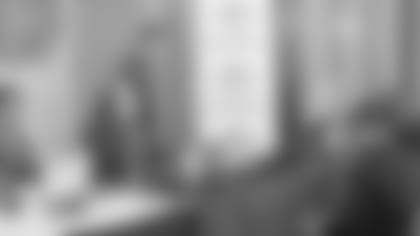 1:19 p.m. — After leaving the podium, Thomas Dimitroff was surrounded by media in the hallway. Photo below. I had a chance to get a one-on-one with Thomas and it'll be up on the site very shortly. Really good stuff from Thomas that I think you'll all enjoy.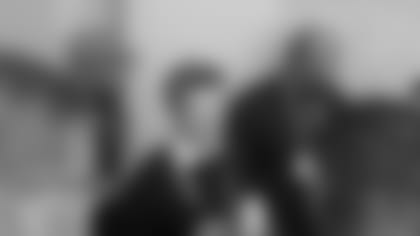 1:09 p.m. — Jay Adams, back at the helm folks. Daniel Cox and I are sitting down to some lunch. Cheesesteaks. Looks good. Be back in a few.
1:02 p.m. — Many of the players here are asked who they pattern their game after or who they've watched and looked up to as they worked their way to the NFL. As I get older I expect wide receivers to say names like Jerry Rice and Michael Irvin. I'm reminded that those are players I watched when I hear the modern-day wide receiver prospect say he watches Larry Fitzgerald, a player I remember very clearly entering the league. One other interesting thing is many of the players cite players from their college as influential. For Pittsburgh wide receiver Jon Baldwin, it's—you guessed it—Larry Fitzgerald, from Pittsburgh. For South Carolina wideout Tori Gurley, the player is Sidney Rice, a former Gamecock drafted in 2007. Leonard Hankerson from Miami said former Hurricanes star Andre Johnson was the biggest influence on his game.
12:44 p.m. — Georgia wide receiver A.J. Green was just introduced as "A.C. Green". That was of course corrected, but a good chuckle came up from the room. There's a large contingent of media gathered around the podium for Green, regarded as the potential top receiver in the draft. Green describes himself as a "student of the game" and thinks his work ethic is one of the strengths he's bringing with him to the NFL. UGA fans will appreciate his comments about the Bulldogs 2010 squad: "We had ups and downs, but one thing about that team is we had family."
12:40 p.m. — There are three seats assumed by AtlantaFalcons.com this week at the Combine and right now two of them are empty. Jay Adams and Matt Moore are conducting some interviews at the moment so I'm assuming command of the live updates. I'm Daniel Cox and everyone should know that we are working through lunch. The sandwiches are gone and none of us have had anything to eat. How's that for dedication?
12:15 p.m. — Thomas says for certain teams, Cam Newton's comments about being an icon aren't a red flag. For some teams, they are. Outside of that, Thomas is getting a whole lot of questions about the Patriots and folks he worked with in New England. He's said some great things about Matt Ryan, and we'll have full video of his news conference coming up on AtlantaFalcons.com.
12:07 p.m. — Dimitroff: Mike Smith's record speaks for itself. He's old-school and tough, but he's got some new-school levity about him.
12:05 p.m. — Dimitroff says he has told owner and CEO Arthur Blank that we shouldn't make decisions based on emotion. Throughout his time in Atlanta, Thomas says they've been very good about that. They have a systematic way of going through this process right now, as opposed to making decisions off emotion.
12:03 p.m. — Thomas says this is a very good defensive line class and he knows that well. He's looking forward to having a lot of production out of the front of the defense.
12 p.m. — Thomas has taken the podium. He just said he doesn't like to be characterized as a draft guy or a free agency guy; he says both sides are important to building a good football team.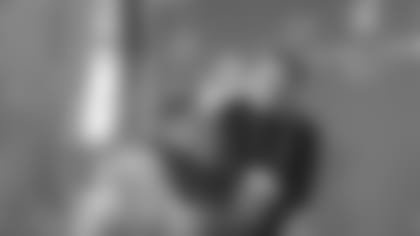 11:45 a.m. — We're about 15 minutes away from general manager Thomas Dimitroff taking the podium. I'll keep you updated here.
11:38 a.m.— Daniel, Matt and I are currently in the middle of a thrilling conversation about Randall Cobb. No, not the receiver from Kentucky here at the Combine. We're discussing the career of Randall "Tex" Cobb, who you may remember from such moves as Naked Gun 33 1/3, Ace Ventura: Pet Detective and Ernest Goes To Jail. The Kentucky version of Randall Cobb says he gets asked about the Hollywood version of Randall Cobb all the time. That, right there, is an amazing fact considering Randall Cobb's filmography.
11:22 a.m. — I just got done speaking to Fort Valley State WR/TE Ricardo Lockette, who said earlier this week that he's planning to beat the Combine record in the 40, which is currently held by Rondel Melendez — a wide receiver drafted in the seventh round by the Falcons in 1999 — and Tennessee running back Chris Johnson at 4.24 seconds. I had a chance to cover Lockette in football and track during his junior and senior years at high school, as well as his sophomore year at Fort Valley State. The kid is a total athlete. I'd be surprised if he has two percent body fat. He went to high school in Albany, Ga., at Monroe, which is the same high school of Patriots WR Deion Branch. Lockette said he hasn't talked to Branch recently.
10:57 a.m.— A very large contingent of media members listened to Green Bay GM Ted Thompson speak at the podium. Most of those members followed him outside the media room and surrounded him in the concourse for another 10-15 minutes. Another big news conference going on right now is with a doctor discussion a new concussion assessment tool for players. We've seen recently that the league has taken a very tough stance on concussions and brain health, so the doctor's comments should be interesting.
10:26 a.m. — Things seem quieter here this morning. I know I'm a little sleepy because of a fight that occurred outside of my hotel room late last night. No idea what it was about, but I heard someone yelling, "It's embarrassing!" over and over about whatever situation was being improperly discussed. Umm, I beg to differ, sir. What's embarrassing is that you're screaming in the hallway of a Marriott at midnight like a jilted prom date.
10:04 a.m. — Bears head coach Lovie Smith leads off the speakers today. There will be more rapid succession throughout the day, much like Thursday. It's amazing. This room is set up so that there can be three news conferences going on at one time (podiums) and then there are eight tables designated for interviews. So, really, there could be as many as 11 different interviews happening at any one time here. Exhaustion at the end of the day has more to do with mentally trying to keep track of everything as opposed to running around to find everything.
9:49 a.m. — Here's a photo list of speakers today. Again, of note is that general manager Thomas Dimitroff will take questions from the media at noon.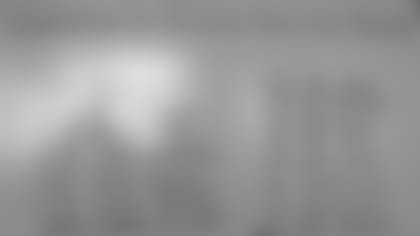 9:40 a.m. — Well, here's a photo you won't see often. Yes, it's snow being cleared with a leaf blower. I watched this guy for a few minutes and it's a highly efficient and effective way of clearing unwanted snow. Perhaps the city of Atlanta should ditch its eight snow plows and just get a whole mess of leaf blowers in case of emergency.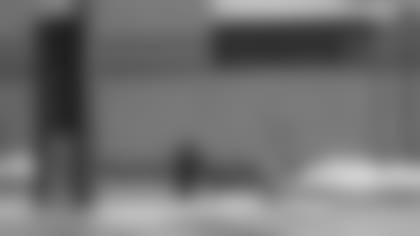 9:13 a.m. — We just got to the media room after a cold trek to Lucas Oil from our hotel. We're lucky because we're able to spend most of our walk inside, cutting through the Indiana Convention Center, but there's a portion where we have to step outside. Since it snowed about three or four inches here last night, that portion was particularly awful. Anyway, we'll get to it today and bring you a lot of coverage throughout the day. General manager Thomas Dimitroff speaks to the media today at noon, and we'll have coverage of that for sure.