Adversity can do one of two things to someone: It can define or destroy them.
For rookie linebacker Deion Jones, a New Orleans native and victim of Hurricane Katrina, the tragic experience has shaped who he is today.
The Category 3 hurricane caused the deaths of an estimated 1,800 people and more than $100 billion in damage as it came barreling through Louisiana when Jones was 10 years old.
Jones vividly remembers the moment when he was told what was about to happen to his hometown, and how his life was going to change.
"I remember one morning waking up my mom was like, 'Come on, pack your stuff. We are going to live with your grandmother,'" Jones said.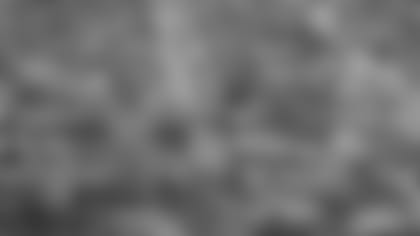 A trip from New Orleans to Magnolia, Mississippi – where Jones' grandmother lived – would usually take around an hour and a half door to door.
This trip was completely different, though.
Jones and his family were some of the thousands fleeing their homes, and four hours later, they finally arrived in Mississippi.
As Katrina continued to wreak havoc throughout the Gulf Coast, power was lost and cities shut down.
"I used to have to crunch up ice and put [it] in the deep freezer by my grandmother's house because the power was out so the meat could stay cold," Jones said. "I pretty much had to put on my hard face because I didn't want my parents to think that I was suffering from everything that was going on so they would be able to function."
For Jones, there was no other option than to accept the circumstances and adjust accordingly.
"You're asked to grow up quicker than you want to," Jones said as he reflected on the magnitude of the disaster. "A lot of responsibility becomes on you to help withstand everything."
Eighty percent of the city of New Orleans flooded, leaving Jones unsure if he would ever be able to return home.
When the time came and it was safe for people to return to New Orleans, Jones and his family left Mississippi with heavy hearts and so many questions regarding the state of their home, their city and their lives.
As the family pulled up to their house, they were missing their roof, and when they walked inside, they were overwhelmed by the abundance of mold that had accumulated from all of the rain.
"It was crazy seeing the devastation, I couldn't believe it," Jones said.
The hits kept coming as Jones also learned he would be attending a new elementary school.
While Jones could have spent days wallowing away in self-pity, he did the exact opposite.
When Jones returns to New Orleans Monday night to take on the Saints on the 10th anniversary of the Mercedes-Benz Superdome reopening, it will be the first time Jones has ever set foot in the Superdome.
And when asked what he's most proud of after living through Hurricane Katrina?
"Resiliency," Jones said.
*Image courtesy of NOLA.com