Grady Jarrett is a dad now. That'll change perspectives in a hurry, and the Falcons defensive tackle has no problem admitting that has happened to him. So will playing seven NFL seasons at an elite level, with the Pro Bowls and hefty contract to show for it.
That's why I wanted to catch up with the Falcons defensive leader with seven games left for his team to crawl back into contention, to discuss how his life has changed, how he evaluates success and why his "why" hasn't changed one bit.
Jarrett talked a bit about football, a lot more about life and using his platform for good in a Thursday one-on-one interview with AtlantaFalcons.com:
Question: While trying to end this two-game losing streak, have you seen the type of response you're looking for as a leader on this defense? If so, what signs are you seeing in practice that this team's doing the right things?
Answer: We're controlling what we can and getting better through hard work. We're trying to get back on the right track, trying to remember the good things we've done in the season so far. Those are things we've been focusing on while trying to fix our mistakes.
It's all about responding. We did some things during the two-game losing streak that we didn't like very much. I know we have better football ahead of us and I feel like we're responding well. I can't wait to get on the field Sunday.
Q: You all have done this before, rebounding well after two losses to start the season. Does that give the younger guys confidence that the team can do so again?
A: Without a doubt. It's a long season with seven games left. This is a competitive year in the NFL and records are really close right now. We're focusing in-house and on what we can do. We feel like we have the ability to put some wins on the field and get going in the right direction.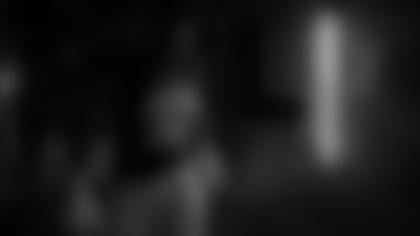 Q: It's Thanksgiving, so here comes the standard question for this holiday. What are you thankful for? Do you put any thought into that during this time of year?
A: I definitely do. I'm thankful for being in this position and for the things that come with it. That includes the good and the bad, with challenges left to overcome. I'm thankful for being a new father and for my son. The list goes on forever.
Q: Congratulations on your first-born. Do you think becoming a father has changed your perspective on things?
A: There's this feeling you get, one that's really hard to explain, when you look into your child's eyes. It has changed my perspective, for sure. The things you think are important, the people you think are important, definitely shifts. It's about creating a legacy and opportunities for this next generation. It gives you so much peace, and it takes all the in-between B.S. that comes with this job and makes it a lot less meaningful. You focus on what's really, really important.
Q: Starting with your mom, you've always had a big crowd, a big support system behind you. How important was that to you, and how important is it to make sure your kid has the same experience?
A: Having a family's support was always huge for me, but having a child of my own is just different. I always appreciate what my family has and continues to support me through, but every day ain't always peaches and rainbows. Nothing's perfect. I'm just thankful to have breath and be able to do some good things in this life.
Q: No matter where you were playing, you'd probably give back to the community. That said, does it mean more to be able to do so right where you grew up?
A: It means a lot. Wherever I ended up, I was going to do things like this. But, for me to be here, as an Atlanta Falcon, giving back and touching lives in the Atlanta area, it means the world. It's all about your legacy. You want to leave things better than how you found them, especially where you come from. It's about inspiring the next generation to be better or helping somebody in need. Using your platform to make someone else's life better, that's what it's all about.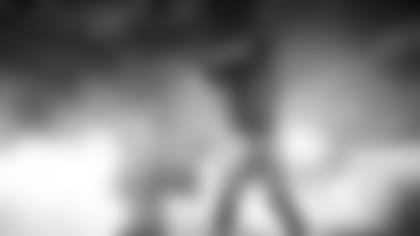 Q: What do you enjoy about those interactions with the community?
A: The gratification comes from this: doing good makes me feel good. It's the most genuine feeling you can have, knowing that you made someone's life better in a way that they'll remember for the rest of their lives. For me, it means the world to see how an interaction with me really means something to a kid. It hasn't always been like that. It's the small things, even talking to someone after getting recognized in the grocery store or something, that I never take for granted. It's not about my ego, but if I can inspire them or take some time to make their day, I'm going to do it because I know what that could've meant to me as a young kid.
Q: I listened to s few podcasts and interviews that you've done over the years leading up to this interview and there were a few things you've said that really struck me. The first one was this: "Adversity is thrilling." I think a lot of people would disagree with that. They would look at it as an obstacle.
A: Adversity is inevitable. When it comes, it just means that something better's on the way. When you're going through the dark and the ugly, what's coming is going to be that much more beautiful. You have to go through it. A lot of people don't like to go through their pain and the hurt, but those moments make you. They make you appreciate the good times. When things don't go your way, you have to trust the process and trust that you can work your way through it by working hard.
Q: You've said you don't do all this for the recognition. Do you do it for the respect? Those things seem similar but separate to me.
A: The respect comes from hard work. Whether hundreds or thousands of people know about what you're doing, whether it's the things I've done that nobody knows about, the act itself means the most to me. It's not about the recognition. What matters is that I fulfilled the purpose God has for me. That's what gives me a feeling.
Q: You play a position where you won't always load up the stat sheet, but a trained eye can see it on film.
A: Absolutely. Some years are different than others. Some might be solid statistical years but you look like trash on film. Others might be you helping other people make plays. As a competitor, you always want to do the best you can, to get these stats, to get this and get that. When you know you're giving your all, making plays when they're there, you're doing your job.
When you play a team and afterward an offensive line coach or an offensive lineman comes up to me and says how much respect they have for my game, that means the world to me because it isn't smoke and mirrors. It's all real.
Q: One last quote for you. 'It's not about proving people wrong. It's about proving your supporters right.' It's cliché to talk about a chip on the shoulder, and you have lots of reasons to have one, whether it was getting taken in the fifth round or being called too small for the position, or being a three-star recruit out of high school. That's not it for you, is it?
A: No way. I'll never give people the gratification. It isn't about proving critics wrong. It's about proving the few people who always backed me right. It's about proving myself right.
Everybody gets so caught up in proving people wrong and showing them what you can do. It isn't about them. I don't worry about what the next man has going on or why they didn't believe in me. Those people don't hold power over me. I will never give them that power.
Q: Your 'why,' your motivation for doing this job, has that changed for you in some way as your career has progressed?
A: I don't think it has, because it's simple. It has always been about being the best me I can be. I strive for that every day, in everything I do. That's my why as a player, as a father and a son and a brother. I'm going to do my part and give my whole self to the effort.
That's how I sleep well every night. I'm human and things do get to me sometimes, but I'm confident knowing that I'm doing everything I can to put my best foot forward.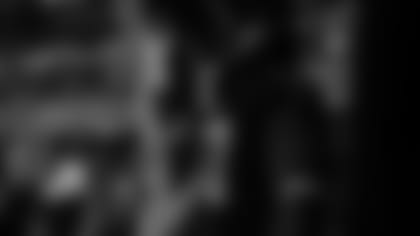 Falcons Final Whistle | A Postgame Podcast
Break down the hottest topics surrounding the Atlanta Falcons and how they can impact the team's success with Atlanta Falcons Insiders Scott Bair, Tori McElhaney and Kris Rhim. Like and subscribe to join us for the lively debate on Falcons Final Whistle.
Welcome to Falcons Final Whistle – an Atlanta Falcons football postgame podcast during the season that shifts gears in the offseason to answer a pressing question about the team's future each week through free agency, the NFL Draft and the offseason program.