FLOWERY BRANCH, Ga. – Takkarist McKinley realized quickly just how small of a window he has to get to the passer in the NFL.
One step in the wrong direction, and the opportunity is gone.
While it could take some rookies a year or two to fully comprehend that notion, it's apparently not going to be the case for McKinley.
The biggest reason why is Dan Quinn. The Falcons head coach obsesses over details, and it's why he's been so successful in developing players throughout his coaching career. Quinn, a defensive line coach at heart, has a proven ability for enhancing the play of his pass rushers.
Upon his arrival in Atlanta after being drafted in the first round of the 2017 NFL Draft, one of the first things McKinley was told by his peers was how involved Quinn would be in his development as a pass-rusher.
Look no further than Vic Beasley's production in the 2016 season to see the type of progression a player is able to make under Quinn's guidance. Beasley went from tallying four sacks in 2015 to a league-best 15.5 last season.
The Falcons have a specific style of how they want their defensive lineman to play and Quinn spends a significant amount of his time with the defensive linemen at the beginning of practice. Often he's spotted working with the unit during the individual period of practice and when the offensive and defensive lines are matched up against one another for line-of-scrimmage.
And even though he's only been able to work hands-on with Quinn for less than a month, McKinley says it's already paying dividends.
"The techniques that he teaches me and just how to rush as a passer, [he's taught me] a lot of things I didn't know," McKinley said of Quinn. "Having that education of pass rushing has been helping, a lot."
McKinley recorded 16 sacks in his three seasons at UCLA. In the Bruins' defensive scheme, McKinley operated under a "read-and-react" approach where his speed and athleticism allowed him to get pressure on the passer despite a lot stopping at the line of scrimmage.
This isn't the case with Atlanta's scheme. Quinn trains his defensive lineman to attack all the time – all gas, no breaks.
"It's a big jump from the schemes that some of the colleges play and certainly in the Pac-12 where they use lots of zone-read and lots of stopping at the line of scrimmage," Quinn said. "It suits them to play square because there are so many zone-read plays in college."
One of the specific areas Quinn has worked with McKinley on is his angle of departure.
"At UCLA, I rushed straight, instead of rushing at the angle," McKinley said. "If you rush at an angle, you attack an offensive lineman. That forces him to turn his hips and be vertical. That little thing right there, a split second is a difference between getting a sack and not getting a sack."
Here's an example of how McKinley went about engaging with Stanford's right tackle, where the tackle cuts off McKinley's direct angle to the quarterback.
McKinley lined up towards the outside of the Stanford tackle's right shoulder.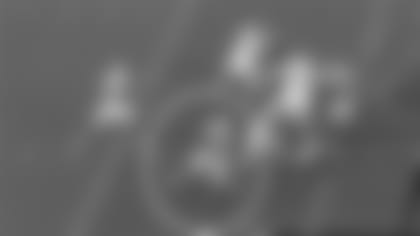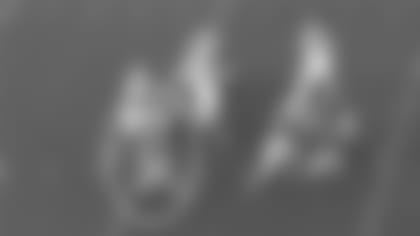 Quinn often talks about the importance of the "get off" for his pass-rushers. And he's confident McKinley has the tools to be successful in that aspect.
"Our first objective is north and south, and going after it," Quinn said. "We knew he had good speed. He's stronger than we thought. He has more power than maybe we had imagined. Having that angle just correct where you can really use your momentum to knock a guy back. He's got that part of his game for sure."
In the images below, you can see the difference in the approach McKinley takes at the line of scrimmage.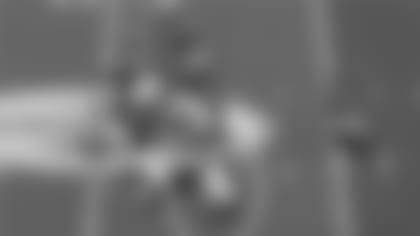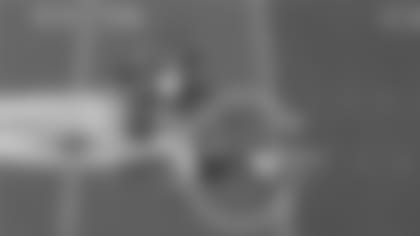 The way the Falcons featured McKinley in this play was by lining up him wider than he was in the other play show. Moving him further outside set him up to be able to use speed to get around the outside of the left tackle.
Against Pittsburgh, McKinley was stretched so far outside that if the Steelers had a tight end lined up across from him, he would be outside of him, essentially a full gap wider than he was in the UCLA clips.
Despite the limited snaps he saw in his debut, McKinley showed the potential he has in this defense under Quinn's guidance.
"We're encouraged by what we saw," Quinn said. "It was just his first game, and we feel like he's going to keep progressing as we're going."