FLOWERY BRANCH, Ga. – When the Falcons and Bengals square off on Sunday, it'll be the first time receiver Mohamed Sanu will face his former team since signing a five-year deal with Atlanta in March of 2016.
And while everyone here in Atlanta is well aware of what Sanu has done for the Falcons offense during the last two-plus seasons, the receiver also had quite a run in Cincinnati.
In four seasons with the Bengals (from 2012-2015), Sanu started just 34 of 57 games and had 152 receptions for 1,793 yards and 11 touchdowns. In 2014, Sanu caught 56 balls for a career-best 790 yards and five touchdowns. Counting the first three weeks of this season, Sanu has hauled in 136 catches for 1,429 yards and 10 scores in 33 games with the Falcons.
Those are solid stats, but it gets better.
Sanu has attempted six passes in his six-year NFL career, completing all of them, including three for at least 50 yards, and three touchdowns. But perhaps the coolest stat of all is the fact that Sanu has tossed touchdown passes to both A.J. Green and Julio Jones.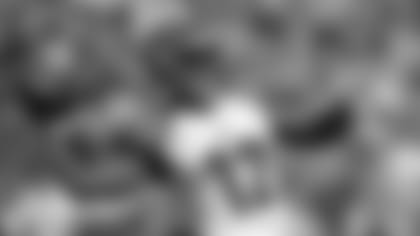 On his first attempt (pictured above on Sept. 23, 2012), Sanu tossed a 73-yard touchdown strike to Green. According to the Elias Sports Bureau, Sanu is the only non-quarterback with two or more touchdown passes of at least 50 yards over the past 35 years.
That's something that the two starting quarterbacks in this matchup – Matt Ryan and Andy Dalton – can't even boast.