Tyler Allgeier is gradually coming into his own as an NFL running back.
On Monday, head coach Arthur Smith said "he's ahead of where I'd thought he'd be as a rookie running back, certainly in the protection aspect," which has been perceptible through the first half of his rookie season.
Atlanta's rushing attack has already surpassed its season total from year ago (1,451 yards) compared to its current 1,466 yards through the first nine games.
A key reason why: Allgeier's overall offensive production. On Sunday against the Chargers, he rushed for a career-high 99 yards on 10 carries, averaging 9.9 a carry, while snagging a 24-yard reception.
On his first carry of the game, Allgeier sprinted right, found an open lane and shook off a few tackles that led to a 44-yard gain, which was the longest single run by a Falcons player in the last two seasons, according to ESPN Stats & Info, via ESPN's Michael Rothstein.
"I've always had a goal of being an all-around back," Allgeier said after Sunday's game. "I'm still striving to be that and there's still stuff to learn. Just grateful to get back to work."
The rookie leads the Falcons in rushing with 423 yards on 94 carries and has one touchdown, along with six catches for 95 yards and a receiving touchdown. If he rushes for 77 yards or more against the Carolina Panthers on Thursday, per the team, he will accumulate 500 rushing yards through nine career games becoming the second-fastest player to do so in team history.
"I think the patience as a runner is continuing to get better week-to-week," running backs coach Michael Pitre said on Oct. 26.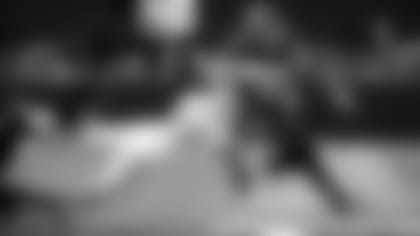 The BYU product has been efficient for the Falcons offense in multiple areas.
Smith has seen consistent progression in Allgeier's third-down protection, something you don't see on the stat sheet and you don't also see from rookies.
"All the different looks that you get in the NFL and the speed that you get, a lot of times for rookies it takes a minute to adapt," he said. "Tyler's certainly made a lot of improvements there which I think is hard for young backs, that's why we don't see a ton of young backs in there on third down, and I think Tyler's done a nice job there."
For an offense that struggled on the ground last season, that narrative has completely shifted. The Falcons currently rank fourth in rushing yards per game (162.9) in comparison to the 85.4 rushing yards per game average they had in 2021.
According to the Nerdy Birds report, Atlanta is the first team to have four players eclipse over 250-plus rushing yards with Allgeier, Caleb Huntley, Cordarrelle Patterson, and Marcus Mariota, through eight games in NFL history. Those runners have also scored 11 touchdowns in the red zone. And having Patterson back in the fold -- he returned off injured reserve last week -- provides even more leverage.
"Allgeier is hard to tackle, Huntley is hard to tackle," Smith said, "but happy [Patterson's] back and we'll continue to find ways to make sure we're being effective down in the red zone and find unique ways to get him the ball as well."
Smith also noted Allgeier's instinctual awareness as a pass protector, in a passing game that's been fluid throughout the course of this season.
"In the passing game, his awareness, understanding where to settle down in zones -- he's got what I call good spatial awareness," Smith said.
These first eight games for Allgeier have shown just how multidimensional he can be and that he's trending towards his goal of being an all-around NFL running back.
The rookie could soon emerge as the Falcons' primary back in the future as he continues to make progress.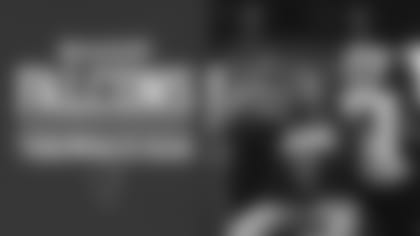 Swaggin' Since 1966
Takin' it back to 1966! Shop the Red Helmet Collection today online or in-store at Atlantic Station.