Editor's Note: _This is the first in a series of stories highlighting causes important to Falcons players, which will be featured on footwear during Sunday's contest against Tampa Bay, this year's annual "My Cause, My Cleats" contest. A story Chris Lindstrom's work with the Best Buddies organization ran Thursday, with the impact Boys and Girls Clubs had on Kyle Pitts on Friday and Grady Jarrett on Saturday:
FLOWERY BRANCH, Ga. -- Grady Jarrett picked up the tablet before him, highlighted a video and hit play. A 10-year old boy started talking back to the Falcons defensive tackle, clearly nervous to be filming a video eventually seen by such a popular player.
"My name is Bentley and I'm a big Falcons fan. I like to make art," he said. "I made some cleats for the Falcons and that makes me feel like I'm part of the team."
Bentley helped design the footwear Jarrett will don Sunday against the Tampa Bay Buccaneers during the annual "My Cause, My Cleats" game, representing Children's Healthcare of Atlanta.
He didn't earn the right by winning a contest. Hospital staffers got to see his talent firsthand.
Bentley Nation was rushed to Children's Healthcare of Atlanta Heart Center this summer after doctors discovered he was in congestive heart failure. He was eventually healthy enough to undergo surgery for a heart transplant in early October and has since been discharged. Bentley made artwork for doctors and nurses at the hospital during an extended hospital stay prior to successful surgery.
That made Bentley a natural fit to design artwork for the My Cause, My Cleats game, including those worn by Jarrett.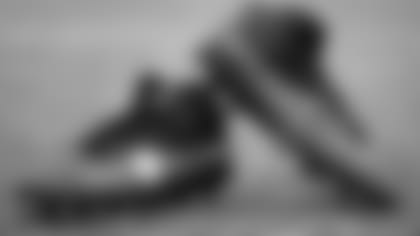 Jarrett was clearly moved by the video message and by Bentley's story.
"To see him put that effort into it, making the different designs to I could choose the cleats I'm going to wear, that's awesome," Jarrett said. "That shows that Bentley is a part of the team and that he's going to have an impact on Sunday. The work he put in is going to touch that field. I'm going to proudly represent it and make him proud. I want to let him know that he is part of the team. This is something he'll always be remembered for. And I'm forever grateful to rock his art because I know he worked hard on it. I'm excited. That video was awesome."
Jarrett has worked with Children's Healthcare Atlanta for a while now and has been to their facilities to visit young patients. He knows the good work done there. And that's why he chose to highlight their efforts despite involvement with several charitable organizations throughout the Atlanta area.
"That experience of reaching out to kids in the hospital, or those going through something hard is definitely something that means a lot to them," Jarrett said. "Wherever you can provide them with encouragement or motivation, or just give them a simple smile, it means the world to them. They don't choose to be there. They don't want to be there. Anything I can do to make their visit a little more light, and take a moment to give some time, to talk to them or throw a football or dress up in a Halloween costume to go see them, whatever it is, I'll do."
Jarrett does a ton around here, recognizing the opportunity to use his platform as a local product – he's from Conyers, Ga. – to make a significant impact on the community where he was raised.
"I'm in a rare moment and place in time where I am playing where I'm from," Jarrett said. "It means that much more to me and it's that much more important to me to make sure I make a positive impact in this community that's forever lasting. I want to be part of that story, one that made Atlanta and the surrounding area better."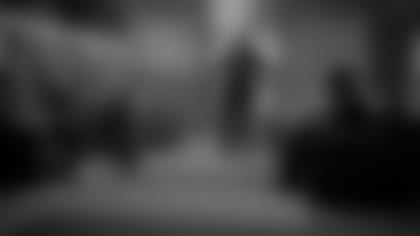 Part 1 | The Attitude
Chapter One in the story of the 1991 Falcons explores the attitude that made them the 'rudest team' in sports.