FLOWERY BRANCH, Ga. – Brenda Johnston has a fascinating story to tell. After spending 39 years in the Atlanta Falcons organization, "Mrs. B," as she is affectionately called by her friends and co-workers, retired on Tuesday, but not after touching the lives of countless people along the way.
Mrs. B began her journey before the 1978 season, working at the newly-acquired Falcon Inn with her husband, who served as the first general manager of the motel.
"When Mr. [Rankin] Smith Sr. knew that he was going to build the training facility in Suwanee, there was an existing [motel], I think it was built as a Ramada," she recalled. "So, he bought that existing motel, and it was later named the Falcon Inn. But we housed the players, and this was like in '78. I really got to know the players then because some of them lived year-round with us. You're there all the time with them – we fed them, we housed them. It had a humongous big banquet room that we named The Falcon Room, and that's where they ate."
Over the next several years, Mrs. B held a variety of titles at the Falcon Inn – conference manager, assistant to the GM and operations manager. What she really wanted to do, however, was work for the football club, not the team's motel.
After not getting serious consideration from those on the football side, Mrs. B left the organization for the 1984 season. It turned out that leaving granted her exactly the type of opportunity she was hoping for.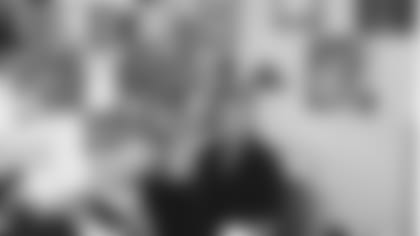 "Coach [Dan] Henning had some of the girls call me to see if I would consider coming back because his secretary had a baby," Mrs. B said. "So, I did. I came back. And that's what I wanted to begin with, but I had to completely leave [to get that opportunity]."
The NFL was a different place when Mrs. B first began working as an assistant to the head coach. Technology has shaped business across the country over the past several decades, and Mrs. B still recalls how it made her job just a bit easier.
"When I first started working, we had Mimeograph machines – which, you don't even know what they are," she said. "It was a drum, and you'd crank it out and it would make the copies. And the manual typewriters that I probably couldn't – I'm so weak – I probably couldn't even punch those buttons today. But computers, I had never been on one.
"But when I first started, and that was really before we had the player personnel department, we had scouts but the coaches, believe it or not, hand wrote and gave to me – and I enjoyed this part – the scouting reports on who we were playing. I loved typing all of that stuff, it was fun. I knew what it meant. But, otherwise, if they had a period, I put a period because I thought that might mean something. So, whatever they would put, I would type.
"And I'll never ever forget [when] Rod Dowhower was the offensive coordinator. And now, I'm still using typewriters – and [they had] no memory. So, coach Dowhower would change the game plan every day, and I would sit with my back to people. I would sit looking out the window crying as I retyped the game plan, because there was no memory and you have to retype the whole thing. He would change it every day.
"When we did get computers, that was fabulous."
Mrs. B wasn't just present for the introduction of computers into the Falcons organization, she became close with some of the most memorable people to join the team, including coach Jerry Glanville and Hall of Famer Deion Sanders.
The 1991 season is considered one of the most memorable in Falcons history. With celebrities like MC Hammer, Evander Holyfield and James Brown spending time with the team, and a player nicknamed "Primetime" creating highlights every weekend, the Falcons became an incredibly fun team to watch.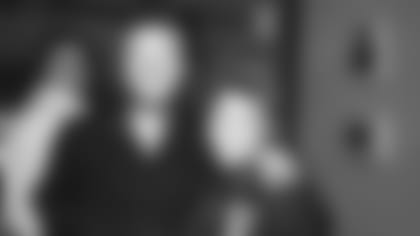 From the very beginning of it all, Mrs. B had a front row seat – quite literally.
"To get to the head coach's office – here or in Suwanee – you had to go through mine," she said. "And so, Deion's first day there, he's sitting right [across from me] in a chair. So, I'm trying to make conversation, and he was 'Yes, ma'am. No, ma'am.' His manners were just fabulous.
"That was also when he and Andre Rison and M.C. Hammer, this was the day of all of that. Especially after coach Glanville came. That was fun.
"What was hysterical was when coach Glanville [was part of the '2 Legit 2 Quit' music video]. They shot it right outside and our office faced the football field, it was in the back of the building. But I thought coach Glanville would never learn the hand signals, because you had to do the too legit and all of that. But it was funny. He would have James Brown come. It was fun, I mean fun. It was crazy times."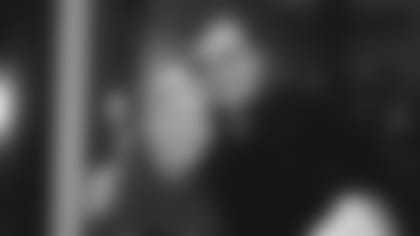 Once the craziness died down and new head coach Dan Reeves took over, the Falcons enjoyed their first run at a Super Bowl.
While they didn't defeat the Denver Broncos to win the Lombardi Trophy, the staff did receive a gift to remember their 1998 season. A gift that Mrs. B still carries with her and wore at her retirement party.
"We got the choice of 'do you want a ring or a pendant?'" she explained. "Well we all had pendants; I've had pendants since Day 1. So, we wanted a ring. And then we went to camp that year. The players and coaches got the opportunity to buy pendants for their wives and girlfriends, so I called my husband and said, 'You're buying me a pendant.'"
For nearly 30 years, Mrs. B served in the same role for the Falcons. She was there for many of the memorable coaches who have guided the team, and she maintains a close relationship with most of them.
"With the exception of Bobby Petrino, I have remained in contact with all of my former head coaches. And with June Jones, he was a player and for whatever reason his family – and I only have the one son – but my husband and son, we just clicked [with them]. And so, we were friends when he was a player and then when he became my boss, it was wonderful. And like coach Glanville, we're real real close. And coach Reeves. Now coach Reeves, he's still in Atlanta and I still keep his dog when they go out of town. I've made wonderful friends and will always have them."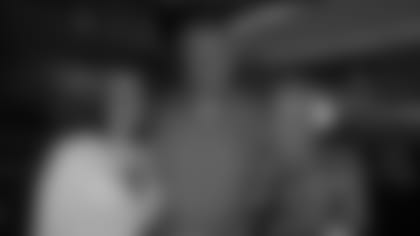 Once coach Mike Smith took over in 2008, Mrs. B began another journey in her career with the organization. She had been in the same role since rejoining the Falcons after taking a one-year hiatus in 1984, and although her title had changed, her job had not.
"It's funny, I have been called a secretary to the head coach, an assistant to the head coach, but my duties stayed the same. It didn't matter what my title was. But I will never forget, when coach [Jerry] Glanville was head coach – and you know he was racing at that time, too – he came in and he'd been up here to Road Atlanta, and he said, 'Come in the office, you've got a new title. No more money, but you've got a new title.' I said, 'Okay.' And he had to pull out a business card, so I knew he had to have met someone, and he said, 'You are now the Executive Assistant to the Head Coach.' So, from then until coach Smith let me start retiring, that was my role. But, yet, I did the same thing as when I first started."
When she did start retiring, Mrs. B moved into her role as alumni coordinator. Working with vice president of player affairs Kevin Winston, Mrs. B helped the Falcons develop one of the league's best alumni networks.
"10 years ago, her and I took over the alumni," Winston said. "True stat, we used to have only like 15-20 guys show up at our events. But under her leadership, we now have over 120-130 guys show up to our alumni weekend. The reason why is because she can find email on any alumni in the country. She tracks down email, phone numbers, addresses, updates, connects through people, connects through other former Falcons guys. Seriously, we've grown our alumni department – I just came from Arizona – and we're considered one of the better alumni departments in the league, and it's because of her efforts."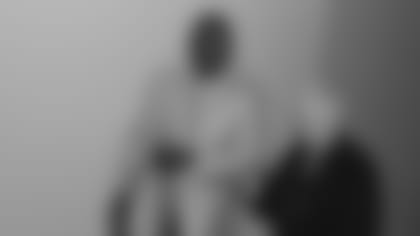 Like a master detective, Mrs. B tracked down email addresses, which are the main form of communication with alumni, and she's rekindled relationships from her days at the Falcon Inn. As she explains it, some of the most active alumni are from the teams in the late 70s and early 80s.
Of course, this role hasn't allowed her to work for current head coach Dan Quinn, something she regrets not having the opportunity to have done.
"What I really hate is that I did not get to work for coach Quinn, because I think he is awesome," Mrs. B said. "But he blessed what coach Smith had let me do because if he hadn't, I would not have been here. But he said that was fine with him to let me do the alumni. But I really miss not working with him like I have for the other coaches, but I just think he is wonderful. And, of course, I think Thomas is too, that's obvious.
"I think this is what is so fabulous about coach Quinn. All of the changes he has made, he has the players in mind. That's the reason we're here. It's for them."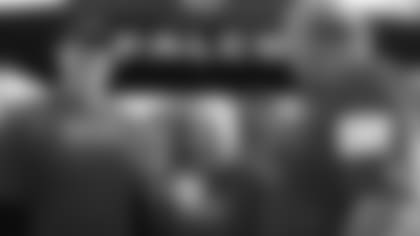 Throughout her career with the Falcons, Mrs. B has looked to impact those around her. As Winston explained, she is the type of person who will remember every detail about a person and be genuinely interested in those details.
It's no wonder then that one of her favorite pet projects was the Coach's Kids Group, which she's been a part of for nearly three decades.
"Coach Glanville started it, and it was called the Coach's Kids Group, and it's still going," she said. "Coach Quinn continued it, and every head coach has said yes to keeping it going [since coach Glanville]. It was six tickets, two parking passes and it was for terminally ill, special ed kids or along those lines. And most of them had never been to professional football game.
"We would meet them, take them down on the field pre-game, and they would meet the head coach. Then, I would get some cheerleaders to come and then if there were any alumni. Tony Gonzalez, I'll never forget this, he asked me one day, 'Who are the kids that you're always with?' And I told him. He started stopping by there; he would stop and sign their gameday programs. Coach Quinn, they still do that."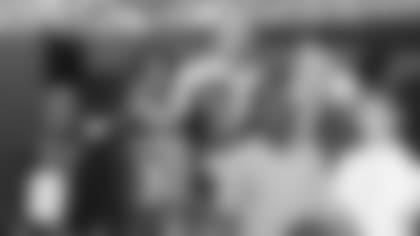 Working in the NFL is not an easy life. With constant turnover, long hours and the urgency required for success, there are many challenges to face in such a career. The one constant in Flower Branch over the years, however, has been Mrs. B's smiling face as she walks through the hallway greeting those who pass.
Her secret is actually an extremely simple one, but one that is too often forgotten. It's also part of the reason she has stayed with the Falcons for nearly 40 years, and will be remember for many more yet to come. "I've always said, 'When this job stops being fun, I'm out of here.' And it never stopped being fun."