FLOWERY BRANCH, Ga. -- The Minnesota Vikings are every bit as good as their 9-2 record would suggest, and they are capable of beating the NFL's best teams, including the Falcons.
Although they haven't gained as much national attention as a team like Philadelphia or New Orleans, the Vikings are as well-rounded a group as any in the league.
Minnesota is among the top 10 in total and scoring offense, averaging 375.5 yards and 24.6 points per game, respectively. The Vikings are second in third-down offense, converting 45.64 percent of the time, they give up a sack on just 3.2 percent of dropbacks, second in the league, and they have the third-best time of possession at 32 minutes and five seconds.
As good as their offense is, their defense is even better. Here is a list of where the Vikings' defense ranks in several key areas.
Yards per game allowed: 290.4 (NFL rank: 5th)
Rushing yards per game allowed: 75.5 (2nd)
Passing yards per game allowed: 214.9 (11th)
Third-down percentage allowed: 28.47% (1st)
Red-zone touchdown percentage allowed: 40% (2nd)
Sacks: 30 (9th)
Points per game allowed: 17.7 (5th)
There's a good reason Minnesota has lost just two games this season and has won seven in a row entering Sunday's matchup: They are a balanced team with no glaring weaknesses. The Vikings unit that is most likely to take a game over, however, is their defense.
1. Zimmer is a defensive mastermind
Vikings head coach Mike Zimmer has earned the reputation of being one of the best defensive minds in the NFL. He began his NFL coaching career as a defensive backs coach with the Dallas Cowboys in 1994 under Barry Switzer before getting promoted to defensive coordinator in 2000 and working under Bill Parcells from 2003-06. After stops as the defensive coordinator in Atlanta and Cincinnati, Zimmer took the head job in Minnesota in 2014.
Zimmer quickly improved a defense that was dead last in points allowed per game (30.0) and 31st in yards allowed per game (397.6) in 2013, helping them finish 11th in points allowed (21.4) and 14th in yards allowed (344.7).
Suffice it to say, Zimmer is among the elite defensive coaches in the league. But what exactly is his defense?
The Vikings run a base 4-3 scheme with four down linemen and three linebackers. They have an attacking mentality and seek to first shut down an opponent's run game, often moving a safety down into the box to help accomplish that. Minnesota utilizes a variety of coverage schemes, but it does often employ press-man concepts.
2. The Vikings are really good at disguising looks
What really sets Zimmer's defense apart, however, is the exotic blitzes they run and the confusion they generate prior to and after the snap. While the Vikings don't have many different pre-snap looks like some defenses, they do a multitude of things out of their standard looks so an offense doesn't know what to expect.
Patriots coach Bill Belichick explained Zimmer's defense this way prior to a Week 2 matchup in 2014:
"I'd say that's one of their real strengths is they give you a bunch of, not so much different looks but different combinations off similar looks," Belichick said. "You have to be ready for everybody … Sometimes it's strong side, sometimes it's weak side, sometimes it's up the middle, sometimes it's man, sometimes it's zone, sometimes it's blitz zone, sometimes it's all-out blitz, sometimes it's just max coverage and they drop everybody off but off that same look."
The most notable among the Vikings' pressure schemes is the "double A-gap blitz." In this look, most often used on third downs and out of the nickel package, they will move both linebackers up to the line of scrimmage directly on either side of a team's center.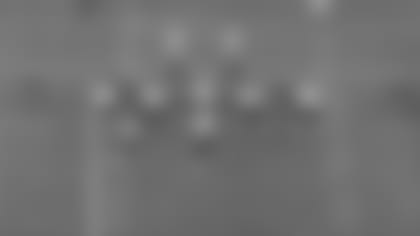 In addition to the two linebackers, Minnesota will also roll up a safety to the line of scrimmage, creating a situation in which the offense must account for seven possible rushers. Blocking schemes start from the inside out for offenses, and by overloading the middle of the line, the Vikings not only confuse a team's assignments but they are also taking the shortest possible distance to a quarterback.
All of this happens before the snap, but there is no guarantee Minnesota will bring seven rushers, or even a single additional blitzer. A quarterback may adjust the called play anticipating pressure only to see the linebackers back out and drop into coverage after the snap. The Vikings attack an offense mentally as much as they do mentally.
On that play shown above against the Rams, Anthony Barr, the linebacker to the right of the center, backs out once the ball is snapped while Eric Kendricks rushes from the center's left side.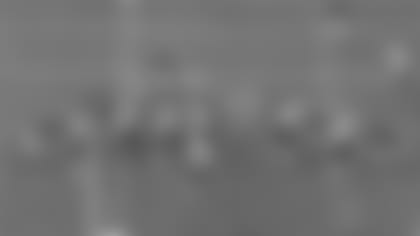 Lining up with six players at the line of scrimmage forces the Rams' running back to stay in as a pass blocker and forces a 1-on-1 matchup with every other Vikings' pass rusher. Defensive tackle Tom Johnson beats the Rams' right guard and forces quarterback Jared Goff into making a bad pass.
Minnesota doesn't show the double A-gap blitz often, but it's Zimmer's limited use of it and his keen sense of when to deploy it that makes it so effective.
When the Falcons and Vikings last played in 2015, Minnesota showed double A-gap pressure four separate times. Matt Ryan was 2-of-3 for 15 yards on his three passes against that look, and the Falcons also had a run that ended as a 4-yard loss.
The main difference in this game for Atlanta is center Alex Mack, who has been one of the league's best since joining the team last season. Having a player like Mack who can process and understand everything happening around him is a major asset for the Falcons.
"You have to be sound in terms of getting [the defenders] identified and knowing what the front is," Mack said of what's important against this type of pressure. "If everyone is on the same page and you know what your scheme is, how you're going to block things, you can be organized and you can have everyone understand what's going on, where they fit, what their responsibility is and really do what you practice on the field."
Of course, the Vikings don't just pressure out of that look. Part of the difficulty of playing Zimmer's defense is that his team may line up with several blitzers and bring no extra pressure, or they may show no blitz and send seven players after the quarterback.
The ability to blitz anybody from anywhere on the field was apparent in the Vikings' win against the Rams. On the first third down of the game, Minnesota lined up with six apparent rushers and one-on-one coverage against the receivers.
This is what the Rams saw when they came to the line: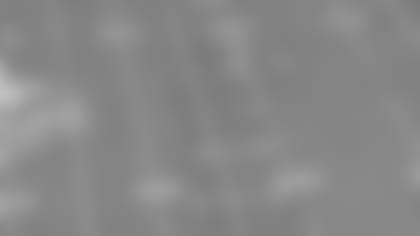 This is what the Vikings' defense ended up doing: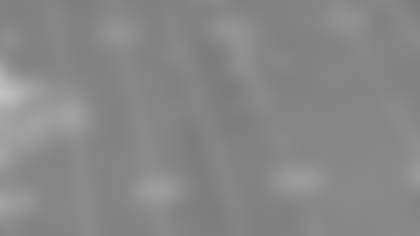 Of the six players who looked like rushers before the snap, only four came. The two linebackers dropped into coverage, but the Vikings still ended up with six players going after the quarterback as the slot cornerback, Mackensie Alexander, runs a stunt with right defensive end Everson Griffen.
When facing constant misdirection like the Vikings' defense creates, the running back becomes a key figure in pass protection. He has to identify where the possible extra pressure is coming from and make a block in the span of seconds or the quarterback may take a big hit.
"It's difficult," Falcons running back Terron Ward said of protecting against a chaotic defense like Minnesota's. "That's why they're so successful when they do it, because it creates confusion. I think we've just got to play assignment football – read Step 1 to Step 2 to Step 3. Don't try to go to Step 2 before you go to Step 1.
"The confusion is, 'OK, I think he's coming but he not might be coming, but that guy is coming.' So now you're thinking a step before the play even happens, and now you're already confused."
3. The Vikings' defense is loaded with playmakers
While Zimmer's scheme has been successful nearly everywhere he's been, it's his ability to adjust his approach to fit the skill sets of the players at his disposal. In Minnesota, he has a deep and talented defensive roster to work with.
The Vikings have at least one Pro Bowler at every level of their defense and five total on their starting unit.
Everson Griffen and defensive tackle Linval Joseph are the Pro Bowlers along the defensive line, and third-year defensive end Danielle Hunter is coming off a 12.5-sack season and already has six sacks this year.
At linebacker, Minnesota has a pair of 25-year-old playmakers. Anthony Barr made the Pro Bowl in two of his first three seasons and is currently rated the 10th-best linebacker by Pro Football Focus. Next to him is Eric Kendricks, who finished with 109 total tackles in 2016, his second season in the NFL, and can make plays like this:
In the secondary, the Vikings have another pair of stars in safety Harrison Smith and cornerback Xavier Rhodes.
Smith, a two-time Pro Bowler and PFF's top-rated safety this season, has been a versatile game changer since coming into the league in 2012. He's a sound tackler and strong run defender who also has a nose for the football and can make plays in coverage. Now in his sixth season, Smith has 15 interceptions, which is tied for the sixth-most among safeties since 2012, nine sacks, the most among safeties in that time, and 461 tackles.
Rhodes has earned his status as one of the league's top cornerbacks and someone who can matchup against a No. 1 receiver with little additional help. In his first three games this season, Rhodes lined up against Michael Thomas, Mike Evans and Antonio Brown, a trio that would prove difficult for any NFL corner. In those three games, Rhodes allowed 11 receptions for 113 yards and no touchdowns on the 21 passes thrown into his coverage.
The Vikings' top cornerback will likely have the unenviable task of covering Julio Jones for much of the afternoon on Sunday, but in his two previous games against the Falcons, Rhodes surrendered just four catches for 45 yards to Jones when matched up against him.
The marriage of scheme and personnel has created one of the league's best defenses in Minnesota. Zimmer knows how to put his players in the best position to make plays, and they execute their assignment at a very high level.
"They've got a pass rush, the ability to create turnovers, the physical style of the safeties, their corners can run and tackle, so I think just front to back they play very good, fundamental ball," Falcons coach Dan Quinn said. "They've got a good pressure package to add into it, so I think it's a combination of those things that makes it why they year in and year out perform well."
*4. A great litmus test for the Falcons offense *
Currently slotted into the No. 2 seed in the NFC playoff picture, the Vikings present the Falcons with their toughest challenge to date. Minnesota is a sound team in every facet of the game, and the Vikings rarely beat themselves with penalties or costly mistakes.
Atlanta appears to be playing its best football of the season right now, and it is in the thick of the playoff hunt. This weekend's game won't make or break the Falcons' postseason hopes, but it does provide an opportunity to measure themselves against one of the most complete teams in the NFL. At this point in the season, the Vikings provide the perfect test.