It was a day of reunion and recognition for former Falcons linebackers, Dewey McClain and "Mr. Falcon" Tommy Nobis, who took center stage Friday at the Georgia State Capitol in the House of Representatives. McClain, who is currently a representative for the Georgia House of Representatives, presented a resolution on behalf of the entire House of Representatives and the people of the state of Georgia to recognize the accomplishments, both on and off the field, of Nobis, his former teammate in 1976.
"I am a former Falcon," McClain said. "He (Nobis) is "Mr. Falcon". There will only be one "Mr. Falcon". I was looking forward to this day, because he was more my mentor (in the league). I watched him. I understood what he was doing. Almost 40 years later, I get a chance to say thank you and watch the people say thank you."
As McClain stood alongside Nobis in front of the many captivated listeners, each watching the former linebackers and other former Falcons players, including Jeff Van Note, Lou Kirouac and Jessie Tuggle, he praised Nobis' efforts in the community, including his work with the Tommy Nobis Center, a vocational training center for men and women with disabilities.
Beyond appreciative of the honor to be in such prestigious company Friday, Nobis reflected on the special day.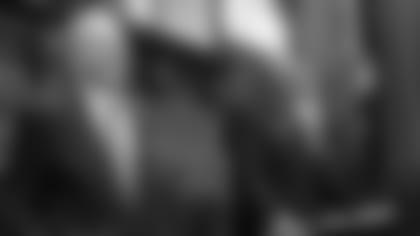 "Whenever anybody remembers something you did that was positive and then wants to honor you in regards to that, it's pretty special," Nobis said. "It also allows us as former teammates to reflect on memories of things that we shared."
McClain recalled Nobis being "one of the best linebackers of his day", while "Mr. Falcon", who was joined by his wife, Lynn, on Friday, offered similar praise about his fellow linebacker.
"I remember I got credit for a lot of his tackles," Nobis said. "I'd come on the pile late, and they'd get my number without seeing his. Dewey was a great player and a fantastic teammate."