Jay Adams: So, Jessie, what have you been up to in retirement? How's it treating you?
Jessie Tuggle: Retirement hasn't been bad at all. The biggest thing is, most people think you have a ton of free time and you find out that you stay busier now than you've ever been. I've been doing a lot of traveling back and forth, visiting my kids who are both in college now. My wife and I are empty-nesters, and my son's at Kansas State and my daughter's at Valdosta State and they're both on athletic scholarships. My son's obviously a football player and my daughter's a tennis player, so that gives me and my wife the opportunity to travel a lot, so that's what I do. I go to Kansas more times than you can count, and I go down and watch my daughter at Valdosta State — that's my alma mater there, and they love to see me come and spend time there.
JA: How much do you follow the current Falcons, and what do you think of the roster?
JT: I like it. I follow them pretty closely. Last year, it was fun watching the guys do what they had to do. I've always been a big supporter of the Falcons since I retired. They're part of your blood, man. You're a big part of the family, so I'm always pulling for them. Right now, I just can't wait for them to start back playing again, and that's the biggest thing.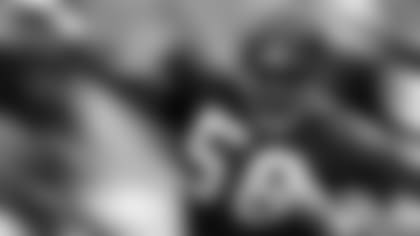 JT: Man, that was awesome. First of all, it was an honor that the Falcons decided that they chose me to go and announce their second-round pick, which turned out to be the third-round pick. But it was an awesome honor to fly up to New York and spend some time with a few Hall of Famers up there and guys I played with. We got to reminisce a little bit. But being on that stage in that big setting, choosing the third-rounder, Akeem Dent from Georgia, it just turned out for the good. A Georgia guy picking a Georgia guy, a linebacker picking a linebacker, so that was pretty awesome, man. It was a good experience.
JT: I got the opportunity to watch him a little bit. He was at (UGA) and I'm right here in the state of Georgia watching. He's a good player. He's a guy who can go out there and give it everything that he has, a guy who probably will want to start out on special teams first and earn a starting position later on. He's one of those types of guys that works hard. He works extremely hard. He's hungry, he's a disciplined kid who wants to get better and he's a high-character kid. You need those types of guys that want to get better, not just happy because they finally made it to the NFL. They want to come into the league and make a difference.
JA: How has the linebacker position changed since you retired?
JT: The biggest thing, you've got to be more elusive in the open field, meaning that you have to have good footwork and be able to change direction, move back and forth to cover the backside of the backfield and, at times, be able to cover tight ends and, believe it or not, sometimes wide receivers. You've got to be more of a hard-nosed, physical linebacker, but you have to have that agility to be able to cover. I think that's the biggest thing, because this is a pass-happy league and it's not that two-back, I-formation with the fullback and you're just nailing the fullback like we did in the early '90s. Everyone had two backs and you had to knock out the fullback to get to the running back. There's more of a skill level now where, not only do you have to stop the run and take care of gap responsibilities, but you have to be able to get into pass defense and defend.