FLOWERY BRANCH -- While it's exciting to see NFL teams going head-to-head once again, preseason games are much more about internal evaluations than external competition.
When the Falcons play the Dolphins at Hard Rock Stadium on Thursday at 7 p.m. ET, there will be some immediate takeaways in the aftermath, but this game is just one small step in the preparation process for the regular season.
Atlanta's depth should be on display, and there are some exciting players for fans to watch once the starters exit. As this isn't a regular season game, however, the matchups aren't as important as how the Falcons perform individual and as a team.
Still, knowing what Atlanta is up against will help set a point of comparison when judging a player's overall execution. Let's dive into some of the key matchups for the Falcons' first preseason game.
Falcons linebackers vs. Dolphins running backs
Atlanta has made big strides at the linebacker spot since Dan Quinn's arrival. With the emergence of Deion Jones (below) and De'Vondre Campbell last season, coupled with the depth provided by players like LaRoy Reynolds and rookie Duke Riley, the Falcons are in good shape.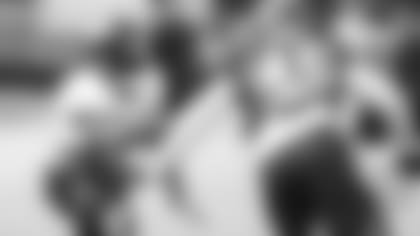 Kenyan Drake and Damien Williams should both have larger roles this season, and they've reportedly looked good during training camp. They will provide a good test for the Falcons' linebackers, and this matchup will be one of The Home Depot Tools to the Game.
Falcons receivers vs. Dolphins secondary
Although they won't have Julio Jones or Taylor Gabriel available on Thursday, the Falcons will have several intriguing players to watch on the perimeter. Mohamed Sanu has been a major standout so far in training camp, and Justin Hardy looks very consistent. There is a competition further down the depth chart involving some dynamic players, including Marvin Hall and Josh Magee.
Miami has a solid starting unit in the secondary that includes Byron Maxwell and Xavien Howard at cornerback and Reshad Jones and Nate Allen at safety. Howard and Jones are two players who have drawn especially good review so far in camp. Behind them, Bobby McCain, Tony Lippett and Alterraun Verner will try to contain Atlanta's receivers.
Falcons defensive line vs. Dolphins offensive line
One area where the Falcons have increased their depth is along the defensive line. Dontari Poe and Grady Jarrett should give Atlanta a fearsome defensive tackle duo on the interior, and Vic Beasley is the reigning NFL sack leader. The defensive line is far more than those three players, though. Courtney Upshaw, Brooks Reed, Adrian Clayborn, Jack Crawford, Ra'Shede Hageman, Derrick Shelby and Takkarist McKinley provide an incredible amount of talent and depth.
Rolling out those types of players on Thursday should give Atlanta the advantage against a Miami offensive line that is missing a few pieces. Starting center Mike Pouncey is not expected to play, and starting left guard Ted Larson will also miss the game. The Dolphins have some nice players on the two-deep depth chart, however, including Anthony Steen, Isaac Asiata and Kraig Urbik.
For Atlanta, it's less about putting up big sack numbers and more about showing consistent technique and generating a push at the line of scrimmage. If those things happen, the big defensive plays should follow.
Five things to know 1. Dolphins receivers have stood out during practices
If the reports coming out of Miami are to be believed, the team has some dangerous weapons in the passing game. DeVante Parker, who is entering his third year in the NFL, has had a very good training camp, according to the Sun Sentinel, and looks ready for a breakout year. Jarvis Landry and Kenny Stills are known commodities who round out Miami's receiving corps.
One player to watch on Thursday may be Jakeem Grant. Now entering his second season, Grant will reportedly drop some passes, but Joe Schad of PalmBeachPost.com believes he has looked like a much better playmaker than his did as a rookie. 2. Depth in the secondary is solid for Atlanta
Quinn has noted on a few occasions how improved looks entering his second season playing cornerback. The former receiver has made some big plays in practice, and his development is encouraging. Deji Olatoye, Blidi Wreh-Wilson and Sharrod Neasman have also performed well in their reps on the field, and rookie Damontae Kazee has made a couple of nice interceptions.
3. Newly-signed running back Kelvin Taylor may play
Atlanta signed Kelvin Taylor before Tuesday's practice, and he managed to get a little time in with the team a bit later during their indoor practice session. Although he just joined the team, it's possible that Taylor may see a few snaps against the Dolphins.
"Let's see where he goes tomorrow, and if we can get him into Thursday, in for the game and have some plays that we would feel comfortable with him, we'll let him do it," Quinn said on Tuesday. 4. Garland will start, but the right guard battle is ongoing
Don't let the fact that Ben Garland will get that first nod at right guard on Thursday fool you; the competition at that position is still very much active. Garland's spot on the depth chart was more a nod to his experience, according to Quinn, and Wes Schweitzer is expected to see "about the equal amount of time." 5. Sarkisian in the box, Manuel on the field
The players won't be the only ones trying to find their game rhythm in Miami. New offensive and defensive coordinators Steve Sarkisian and Marquand Manuel will move around a bit during the preseason to find where they are most comfortable coaching from during games.
Some coaches prefer to be down on the field among their players to provide hands-on direction and tap into their emotion, while others feel they are more effective in the coaches' box, where they have a better view of the unfolding action down below.
Against the Dolphins, Sarkisian will coach from the box and Manuel will be down on the sideline, according to Quinn.
"Sark will be up, and Marquand will be down," Quinn said. "And then we'll probably flip (them), maybe even in the next game. It's a good opportunity. We've got some new guys, a new staff, and (we'll figure out) how they fit in that role on game day."