The Atlanta Falcons kick off their 2020 season Sunday against the Seattle Seahawks. Together, the Falcons and Seahawks will celebrate and honor the life of the late Congressman John Lewis by wearing white armbands featuring his initials and logos of each team.
As the Falcons and the player-led social justice committee continue their RISE UP & Vote initiative, Falcons players will wear shirts that feature a quote from Congressman Lewis on the front and the RISE UP & VOTE logo on the back during pregame warmups.
"The vote is the most powerful, non-violent change agent you have in a democratic society." – Congressman John Lewis
"We're taking this moment and making it a movement, not just as a race, a community or a team, but as a nation ... it's time to standup, rise up and vote," Falcons defensive end Steven Means said.
To further support the RISE UP & VOTE initiative and honor Congressman Lewis's legacy of fighting against systemic racism and discriminatory practices in our nation, the Falcons have named him an Honorary Captain and will feature members of his family virtually during the game.
"With everything going on right now in the world, we thought it would be best to start it off with somebody as legendary as John Lewis, he's done so much for one of our biggest things that we want to stay connected with, one of our main topics as a team that we're always hitting on: voting rights and the Voting Act.
"We know John Lewis is a big part and a big reason that [Voting Rights Act] is part of the world today. So to be able to tie that in with our team and be able to do it with such a great man like John Lewis -- someone that I've been blessed enough to go down and do the Selma walk with myself" Falcons safety Ricardo Allen said.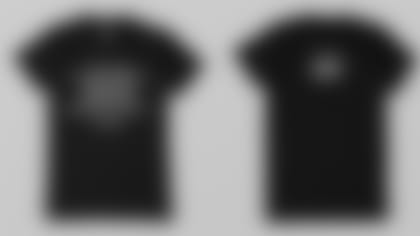 As part of the NFL's commitment to standing up and speaking out against social injustice, Falcons players will also honor victims of systematic injustice on their helmets during the 2020 NFL season. More information can be found here.
Atlanta Falcons players have the option to wear a helmet decal representing a victim of systemic racism or one of four phrases provided by the NFL. Here are a few of the helmets being worn on Sunday against the Seahawks.