PITTSBURGH, Pa. -- For the second-straight preseason game, the Falcons' starters looked impressive. Atlanta's offense marched 76 yards on 10 plays to score on its opening possession against the Steelers, while the defense forced three-and-outs on both of Pittsburgh's first-quarter drives.
As comforting as it is to see the starters performing at a high level, the preseason is much more important for the players who are on the field in the second half. Coach Dan Quinn is focused on evaluating his team, and the second half can provide players with the opportunity to leave an impression.
"So Thomas (Dimitroff) and I, on the flight back, are going to dig right into the second half before we even watch the first half," Quinn said after the game. "There are so many guys that we are evaluating and looking to see who can battle and make an impact for this team. We cannot wait to go."
There are plenty of intriguing competitions taking place further down the depth chart. Several wide receivers are battling to make the squad, including former Georgia receiver Reggie Davis, who led the team for the second week in a row with 74 yards on three catches. The third running back spot is up for grabs, with Terron Ward and rookie Brian Hill considered to be the primary contenders.
Two of the big standouts in the second half came from the defensive line, however, highlighting the depth in that unit. J'Terius Jones finished the game with three tackles, including one for a loss, and several nice quarterback pressures. The only player so far in the preseason to get a quarterback on the ground is Chris Odom (below), who recorded two tackles to go along with his sack.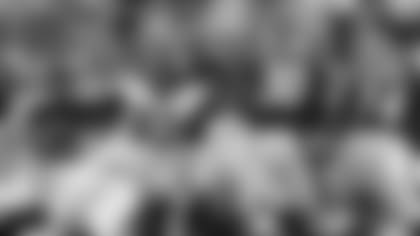 "We are excited about those two guys and where it could lead too," Quinn said of his young defensive linemen. "JT has edged speed in pass rush ability. Those are guys you want to try and work and develop. The great thing for us is that they are great type of guys. They want it, they are going for it, they are battling for it, and they are competitors."
Jones and Odom are two players who have flashed at practice. A rookie out of Miami (Ohio), Jones is often seen sprinting ahead of his teammates to and from defensive line drills, and his speed off the edge is a tool he can use in the NFL. Odom is in his first year out of Arkansas State, and his sack is sure to stand out on film.
The two rookies have shown improvement throughout camp, benefitting from the experience the Falcons have along the defensive line. Working with players like Grady Jarrett, Vic Beasley and Adrian Clayborn every day should have a positive impact.
"The whole group, they have some great guys to show how it can be done," Quinn said. "Not saying, just do what he does, but there are models of the work that has to be with guys like Adrian Clayborn, and Brooks Reed. In practice, they grind. The young guys want what they have and they are putting in the work." With two games left to play, Jones and Odom are far from finished. When Quinn and Dimitroff turn on the film from Sunday's second half, they may like what they see from the rookie defensive line duo.