MACON, Ga. – On Saturday evening at the Historic Macon City Auditorium, Atlanta Falcons and Atlanta United owner Arthur Blank became the eighth and final member of the 2018 Class to be inducted into the Georgia Sports Hall of Fame, a recognition of his ongoing generous contributions and profound impact on the community.
"I was not born and raised in Georgia, but I've spent the majority of my life here," Blank told the large crowd seated among the 80-plus tables to celebrate the inductees. "And, as [Master of Ceremonies Tony Barnhart] said, I co-founded The Home Depot here 40 years ago. This is a tremendous honor to be inducted tonight into our state's sports hall of fame."
Joining Blank in the Georgia Sports Hall of Fame Class of 2018 were former Kentucky and New York Knicks star Kenny "Sky" Walker; Olympic Gold Medalist Angelo Taylor; former Auburn All-American defensive lineman Tracy Rocker; women's golf pioneer Terri Moody Hancock; illustrious University of Georgia golf coach Chris Haack; real estate icon and Atlanta sports pioneer Tom Cousins and former UGA All-American and future NFL Hall of Famer Champ Bailey.
As a preface to Blank's induction, a short video was shown that highlighted his personal and professional achievements. In each of those aspects, Blank's legacy is superlative.
In the sports arena, Blank owns a first-class organization in both the NFL and MLS. After purchasing the Falcons in 2002, Blank has led the franchise to new heights and more consistent success than at any other time in the team's history. He's also been a staunch supporter of his players, helping them develop as men off the field and encouraging them to better the community by giving back.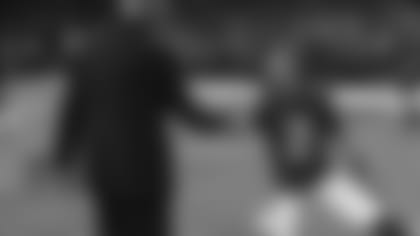 In 2017, Atlanta United FC took to the pitch for the first time as MLS' newest expansion club and quickly set the standard for what can be achieved. The city of Atlanta rallied around their new soccer team, twice shattering the single-game attendance record and setting the highest total attendance number for a season in MLS history with over 886,625 tickets purchased.
Also in 2017, Mercedes-Benz Stadium, a unique feat of engineering and design, opened its doors for the first time. Featuring fan-first pricing that includes the lowest concession prices in major sports and becoming the first professional sports stadium in North America to achieve LEED Platinum certification for its environment-first focus, Mercedes-Benz Stadium is a testament to Blank's leadership and ingenuity as a sports owner.
"Sports has always been an important part of my life," Blank said. "Some of my earliest memories of my family – my father passed when I was only 15, he was 44 – was playing baseball with him. I played football in high school on a very good team. I was probably an average player, but on a very good team. My mother would come to the game, she'd watch me play; she'd just wait until I got hurt. I was a skinny kid, and I had no regard for my body and only knew about doing the things I had to do."
Off the field, Blank is among the most philanthropic businessmen in America. A signatory of The Giving Pledge, Blank has committed to donate over 50 percent of his wealth to charitable causes. Through his own Arthur M. Blank Family Foundation, which he founded in 1995, Blank has already granted more than $300 million to charitable organizations.
Much of Blank's life has been dedicated to helping others, and that selfless attitude was apparent during his speech on Saturday night.
After recognizing the honor bestowed upon him, Blank spent a minute lauding fellow-inductee Tom Cousins, a premier real estate developer in Atlanta who is responsible for much of the city's skyline and bringing the Atlanta Hawks over from St. Louis.
During his time of recognition on stage and with all eyes on him, Blank opted to discuss the importance of a man who was unable to be in attendance.
Once he did return to talking about himself, Blank continued to illustrate how he views his role in the community and as a sports owner.
"There's a very subtle, but powerful, difference in words," Blank said. "I really don't consider myself to be the owner of the Atlanta Falcons or Atlanta United. I consider myself to be a steward for the Falcons and a steward for Atlanta United, and a steward to represent our fans and to represent their vision, their passion, their energy. All of what they give to these teams and these players. I'm forever appreciative of our fans, and, as their steward, try to always make the right decision for the right reasons."
Blank ended his speech with a quote he felt captured the meaning behind what sports embodies. A meaning that carries with it a lesson that applies not just to athletes competing with and against one another on the field but to the interactions of everyone within a society.
In his closing moments on stage, Blank again expressed his belief in the impact that placing others first can have. "Not too long ago, I finished reading a book by a gentleman named Michael Mandelbaum… His book on 'The Meaning of Sports,' I'll conclude my comments by sharing of what he summarizes the view of the higher purpose of sports today in America. And I quote: 'And the most successful teams, groups selected purely on merit and drawn from different regions, different age groups, and different ethnic and racial backgrounds who cooperate for the successful achievement of a common goal, symbolize one of the highest American social ideals, which is expressed in the national motto of our country e pluribus unum: *Out of many, one.*' Out of many, one. Could there ever be a better message for the issues we face in this country today than that theme and that message? Thank you all very much, I'm honored and grateful to be here tonight with friends and family and all of the honorees that have been honored here in the past. Thank you so much."