FLOWERY BRANCH, Ga. – The Falcons kicked off this year's rookie minicamp on Friday afternoon, giving the coaching staff their first chance to work with the 2018 rookie class out on the practice fields.
Although the players were only in shorts and helmets, the newest Falcons had the opportunity to showcase their specific physical skills as well as demonstrate how quickly they can learn an NFL playbook. During the up-tempo practice session, the coaches stressed fundamentals to the players and taking advantage of the opportunity in front of them.
Falcons head coach Dan Quinn was very much involved in coaching his new players, saying after practice that he enjoyed the opportunity to teach football at this time of year.
Following the first practice, wide receiver Calvin Ridley, cornerback Isaiah Oliver and defensive tackle Deadrin Senat spoke with the media about their first taste of on-field life in the NFL.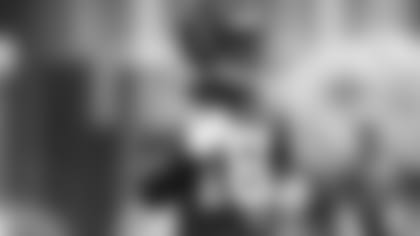 Calvin Ridley can play fast, but he wants to take things a little slower
The Falcons' first-round draft pick showed off his smooth route-running ability on Friday, breaking open for several impressive catches. When critiquing his own performance, however, Ridley says he has to remember to not play overly fast.
"I was playing fast, but I've got to be more patient," Ridley said. "Learn the system and know my deal. It's a lot, so I've got to take my time learning and play fast.
"I've just got to get it, and I'm going to get it. I'm going to go fast, and I'm going to play good."
Ridley, who sported long sleeves in the hot afternoon sun, because, as he puts it, he wasn't allowed to wear long sleeves during practice at Alabama, said he learned a few lessons from the coaching staff in his first session with the Falcons. Namely, confidence is important and that it's alright to make a mistake as long as you do so at full speed.
Aside from his work with the Falcons, Ridley said he spent time this offseason doing plenty of work on his own in preparation for his shot in the NFL.
"I was working on footwork," Ridley said. "Working out, getting stronger, faster. Pretty much the basic stuff – catching, running routes. Just preparing myself for football."
Now that he's back on the field working with a team, Ridley is learning as much as he can to be prepared for when the veterans return for mandatory minicamp on June 12. He believes this experience will serve him well for that moment.
"Yeah, you get somewhere and know some information so you can be a part of the practice with them and know a little bit," he said. "Shake off the nervousness and all of that. It's very, very helpful."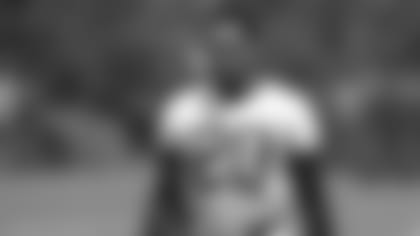 Isaiah Oliver knows the NFL is different and is preparing that way
Oliver is listed at 6 feet, 201 pounds, and he looked every bit that size on the field Friday. Using his long arms to press receivers at the line, Oliver showed why he could be a great fit for the Falcons' secondary.
He also appears to have the demeanor and presence about him that Quinn wants to add to the brotherhood. When asked if the high-volume passing in the Pac-12 would mean he's better prepared to succeed as a cornerback in the NFL, Oliver explained that he knows he's facing a tougher challenge and is working hard to be ready for the quality of competition ahead.
"I wouldn't say it necessarily," Oliver said of the Pac-12 making his learning curve smaller. "You're right, in the Pac-12 we do throw the ball around a lot. But the NFL is a whole different ball game than college football. You really have to recognize what it is at this level. So, being able to learn as much as I can from these coaches that have been here in the NFL for as many years as they have along with the veteran guys that have been playing in the league, you can't learn enough from them. Just kind of taking what I have from college, as much as I can use in the NFL would be great, but I know that the NFL is different."
Oliver seems as focused on the mental aspect of the game as the physical, which, at this point, is arguably the toughest part of the job for the rookies.
While it's much harder to judge the mental aspect of a performance on the first day, Oliver's athletic skills were apparent. He displayed smooth coverage ability and stayed with nearly every receiver he lined up against. From a learning standpoint, Oliver acknowledged that there were a few mistakes but that they would work to get them cleaned up.
"It was good," he said. "I had a lot of fun out here, learned a lot. Worked with these guys just kind of taking everything we got from the meeting room out to the field. Playing fast, play the best you can, that's all we came out here to do."
"I felt like we did a pretty good job in terms of bringing our meeting room out to the field. Obviously, there are some mistakes on the first day, playing everything for the first time. We expect to have a much better day tomorrow."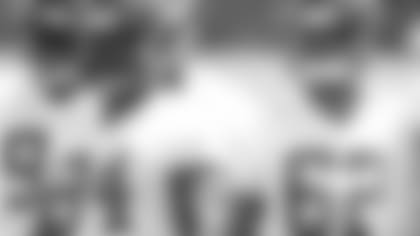 It's going to be hard to out-work Deadrin Senat
Defensive tackle was a spot many expected the Falcons to address early in the draft, and they found their guy in the third round by selecting Deadrin Senat.
After his first day on the field, two things are clear: Senat loves the game of football, and he's going to put in as much work as it takes to succeed.
"Working is what got me here," Senat said. "Working is what got me here, working is what's going to keep me here. Even though I got drafted, it's a blessing but it just means I've got to compete that much harder. I believe that everybody is working, and if I want to help this team, I've got to continue working. And I've got to learn from the veteran guys that are here and just continue working and whatever they do, I've got to adjust to what they do and just learn. Watch their practice film and see what made them great, what makes them great. It's an opportunity, I have to seize it."
The 6-foot, 314-pound defensive tackle certainly has the size of an NFL player, and he's eager to learn as much as he can in hopes of making an impact. Having been a defensive line coach for many years, Quinn is hands-on with that aspect of the Falcons' defense, and he spent some time sharing advice with the unit on Friday.
"He was just saying 'embrace this,'" Senat said. "One thing he told everybody was 'one thing at a time, one moment at a time.' We were just embracing today, embracing today's practice, embracing the first day out here. He loves the group we've got. He preaches brotherhood, he preaches getting after the ball. That's some of the things we did at our college. He just loves being out here."
Quinn isn't the only person who loved being out there. Senat's enthusiasm for the game was apparent while he spoke with the media, and he was right up there at the front of the line for many of the individual drills.
Senat may have achieved his goal of reaching the NFL, but the third-round pick out of South Florida doesn't seem satisfied at all. After his first taste of practice with the Falcons, Senat says he's right where he belongs and is focused on getting better.
"I felt like I was at home, everybody welcomed me," Senat said. "It was a great environment today, coaches, they loved it. Great coaching, great teaching. I had a lot of fun playing today. I felt great, I just felt so great being out here. It's a blessing to be here. "I feel like I'm doing things the right way. I'm getting close to some of the guys who have already been here. I'm learning from the coaches, soaking every [bit] of knowledge that I can get in from the head coach on down. It's mind-blowing. You've got a once-in-a-lifetime opportunity, many guys don't get this. I'm just soaking in but then again, I'm learning. I'm learning everything possible so once we actually put on pads or whenever my time is, I can just show it out."