FLOWERY BRANCH, Ga. -- Falcons quarterback addressed a number of topics following Tuesday's mandatory minicamp practice including retirement, Roddy White and his diet.
Ryan was among of number of former and current Falcons players who attended the special retirement ceremony Monday for Michael Vick and Roddy White. Ryan was asked about White's impact on his career and if he's given any thought as to how much longer he wanted to play in the NFL.
"I still feel pretty young," said Ryan, who is 32 and about to enter his 10th season. "It puts things into perspective, for sure. I had eight (seasons) together with Rod and I've never had a better teammate. He was such a great player, a warrior, unbelievable in the locker room, such a good leader by example, brought energy to the facility, to the practice fields, to the games every week.
"And probably no one has meant more to my career than him."
Chew on that for a minute.
And how much longer does Ryan plan to play?
"I still feel really good," Ryan said. "I still feel like I got a lot of football in front of me, and hopefully I can play for a long time. … You hope for one of those 15- or 20-year careers for sure – that's what the hope is. With the one thing that I've found during my time in this league is that if you project too far out, it's tough to do that because things change constantly."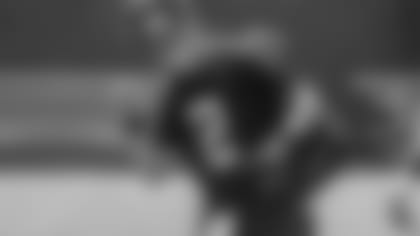 Ryan is eating healthier and giving up … sweets?
Ryan added that he feels healthy, and that he's also taken advantage of the nutritionist the Falcons have brought in during the offseason, Marie Spano.
"Marie's been great," Ryan said. "It's little things here and there. I think for me one of the biggest things is trying to limit inflammation."
"I mean sweets are kind of out the window now," Ryan said. "Sugar is not real good for inflammation, so that's one of the harder things to get rid of."
So, what exactly is the goal after three days of camp?
With just three days of practice – with no live contact and all in shorts – Ryan talked about some of the things he'd like to accomplish in such a short window.
"I think this time of year it's about cleaning up the things we've worked on in OTAs," Ryan said. "There's always things that pop up during, well usually we've got 10, during the seven practices that we had this year – specific detail-type things that even if you look out now, we've still got guys working on it.
"We're trying to find ways to get a little bit better before we get this break and it's about finishing off the offseason portion of what we've done the right way."