FLOWERY BRANCH, Ga. – At this year's NFL combine, Falcons general manager Thomas Dimitroff sat down with Cynthia Frelund for her podcast, "Game Theory and Money."
During their conversation, Dimitroff went deep into how the Falcons use analytics to help achieve success throughout the season. He also explained how their approach to statistics and analytics helped in their evaluation process of Julio Jones and Takkarist McKinley prior to selecting them in the draft.
You can watch the full video of the interview, above, or read Dimitroff's quotes on some of the topics, below.
How the NFL's use of analytics has changed over the years
"I've seen this league over 25, 26, 27 years change drastically at a lot of levels. As a GM – so this is going into my 11th year – when I first got in as a GM and we started working our world with the Falcons, we were using statistics and we were talking about minor analytics, but we were never thinking about putting together an analytics group. But we have a staff now of four, plus about ready to have two more added to our analytics department. So, we definitely realized the benefits.
"We have some very adept people within that department - one in Karl Pierburg, who has just got such a great understanding of football as well as the analytics side of things. And we are hiring the right people who continue to feed us with more and more ideas and more information, which I think is fascinating."
How the Falcons view the value of analytics
"I've always said, from a general manager perspective and a coaching perspective, I understand the importance of it all; I understand it's a supplement to what we do. So, you never want to assume a coach is relying solely on analytics to call the game, or from an acquisition standpoint, as a co-team builder of this team, that I am relying all on the analytics and the statistical side of signing a player or going after a player. That's ridiculous. But to be able to supplement a very good coach, as Dan [Quinn] is, with analytics is fantastic. I think our department is very adept at picking players, both pro and college. I think being able to utilize statistics a lot of times will confirm what we know or what we don't know or will sometimes confirm the idea that we're going to move on from a potential move. So, I love where we're going with it.
"I've been around certain high-level meetings within the NFL where you have half the people in the meetings avoiding the idea. They're thinking, 'Eh, it's too much. I don't want to talk about the analytics of everything, I want to just stay strictly with football and what I know.' I think that's unfortunate, because I think we all need to understand the benefits of being able to dabble at high levels in the analytics side of assessing."
The different ways in which the Falcons use analytics
"I would break it down like this for us. We use analytics for acquisitions, so pre-acquisition – i.e., where we are right now at the combine. Post-acquisition – once we get the players, we continue to analyze them at so many levels. Whether it is their abilities on the field. Whether it is maybe their sleep patterns. Whether it is rest and rehab, which is another part of the analytics element. So, along with post-acquisition is rest and rehab, where we are with that, as well as opposition analysis. So we've basically broken it down into four different buckets within our organization, at least from the football operations side."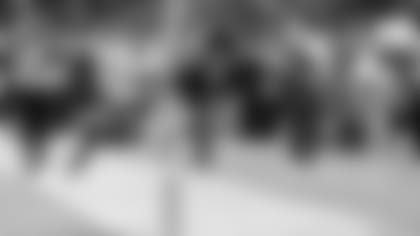 (AP photo by Logan Bowles)
The role analytics played in selecting Julio Jones
"That was a complicated process, as you can imagine. It was an historical move, basically 21 spots to move up for him. We were an organization, interestingly enough if I go back a little bit, I remember in those earlier years before Julio came in and Matt came in in '08 – so [2008], [2009] and [2010] – we were always thinking about how are we going to get these defenses on their heels? We needed a stud in there, whether he caught four balls or whether he caught 14 balls in a game, that he was going to have defenses in the league spun around. That was our goal.
"We used a number of different receivers in the league, looking at those type of players. Players that weren't even, physically, anywhere near where Julio is. Guys that were at the opposite end of the spectrum as far as size. Guys like DeSean Jackson, who was incredibly difficult to play against when he was at Philly, and we were thinking, 'Oh my God, how are we going to deal with this?' So we spent a lot of time talking about why we would do it. We knew that it would be a big deal as far as trying to cultivate a deal and trying to parlay all of our studies and everything into a deal. It ended up we worked with Cleveland of course, which is a whole other topic of conversation.
"We did so much background work on Julio from an analytics standpoint as well, even though that was [in 2011]. I thought we were ahead of the curve in a lot of ways then. Without getting into the specifics of it, I look at where we were then, however, and where we are now and I'm thinking, 'We didn't even scratch the surface.' I think back then we felt we did. It was a very big part of what we were doing from a statistical analysis from, interestingly enough, after we did take him how we kept him on the field from the rest and rehab side of the injuries that we had.
"We actually spent time up at the University of North Carolina in Chapel Hill, and we spent time with him in a lab and really analyzed him at so many statistical and analytical levels. We were trying to determine where he was with the power outage and how he was moving, what would potentially add to more stresses on his body, because he was just one of the most incredibly powerful people we had ever seen pound-for-pound. So, that was our post-acquisition element. We're continuing to work a lot from an analytical standpoint on our post-acquisition to keep him on the field as much as we can. As you know, he's such a hard-working guy on the field, and unfortunately, he takes a beating. So, we have to keep him on the field as much as possible."
On whether or not Dimitroff was nervous to move up in the draft
"People had told me, and even coach [Bill] Belichick – we had a talk before – you're going to be associated with that trade the rest of your career. I knew that … I knew was something that I was going to be judged off of. And, as you know, when we made the pick, the critics out there thought I'd lost my mind. I remember when it came up on the screen, we were all in the draft room – Arthur [Blank] was standing beside me – we were excited about it, we make the move. And ESPN starts ripping on Julio for missing every ball. There were like 10 balls dropped, and Arthur kind of looked at me.
"The simple fact is, there was just so much critique about going up and going after a receiver, which wasn't common. I think that's one of the things that has definitely changed, and I was talking about this the other day. We have a lot of general managers that are in their early 40s – completely different group than there was 20 years ago. So some of what people always deemed as 'You wouldn't go up for a receiver' or 'You wouldn't go after a guard early,' [is no longer the case]. It is all about how those players can affect your team now because we all know this is a 'Not For Long' league. We all know, my contemporaries in the league, we all believe you better capitalize now – you and your head coach – or you may not be around in three years. Things are moving fast."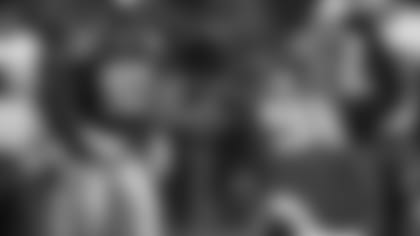 (AP photo by David Goldman)
Analytics continues to play a draft role for Falcons
"Really excited about Takk McKinley, of course. We were aggressive with that as well. We knew that we were going to have move up. Interestingly enough, through that whole process – for months, probably – we were trying to run all these different scenarios, trying to figure out how far up we would have to go to get certain players. Of course, you never know, because it's not an exact science. And we had a number of rushers that we were looking at, and we were very fortunate at that point to go after Takk … And the probability and the potential for where he is right now, we're really excited. But, again, there were elements to his play that we knew that we were taking a little bit of a chance on, and [personality-wise] he was maturing, of course. He had a fine year last year, and he really matured."
The Falcons' mindset in researching and getting their guy "We've been very aggressive about going up to get players, and it comes back to what we believe. I don't want to use the snowboard line, but the 'Go big or go home' thing, I do believe in that. As a team, you have to go after what you think is going to help your organization. And by making sure you do your research, as long as you've done your research and you haven't flippantly made a decision on someone, I think you can hold your head high and you hope that it all works out."