Good morning and welcome to Straight from the 'Beek – a place where you can ask questions about the Falcons and receive honest answers in return. The Falcons are days away from a big NFC showdown with the Minnesota Vikings – and my inbox is full of submissions, So let's jump right in. Just remember that all opinions you see in this space are mine, unless otherwise noted.
We begin with the topic of home-field advantage.
Hi Matt, love reading the Q&A in SFTB. My question is this. Is our home-field advantage gone? Everyone says that Mercedes-Benz Stadium is packed for the games but the fans just aren't in their seats. I contracted to a game there and found that to be true for the Cowboys game and it was loud also. However, if the fans aren't in their seats where the players can see them is that really a home-field advantage? What do you think?
Matt: Hey, Ron. Glad you enjoy the format – and thanks for writing in. No, I do not think the Falcons' home-field advantage is gone by any means. Has the brand-new stadium been jam-packed for every single game? No, but the crowds have been pretty good. Have some of those empty seats been noticeable though? Yes. It's been a topic of conversation throughout the season – and I've received dozens of stadium-related questions, including ones about the one-of-a-kind roof, the restaurants, the no-smoking policy and the empty seats. It's true, there are lots of things for fans to do in the Mercedes-Benz Stadium – and fans do watch the game from other places other than their seats. But I do not have the answers as to why some of those seats are empty. Yet I suspect that will change now that we're heading into homestretch of the season and the team is sitting at 7-4 with everything on the table, including a shot at the division title and a postseason berth. At least I hope it does. This Sunday's game against the 9-2 Vikings is a huge one with down-the-road ramifications – and it would be a shame if that stadium isn't rocking. And, oh by the way, the Saints come to town on a short week for a Thursday night clash on national television on Dec. 7. Plus, it's a Color Rush game – I'm hoping it's a sea of fans decked out in red (and black). But the fans bring the energy and the noise and without them, Ron, there is no home-field advantage. And, yes, the players and coaches see it and feel it.
---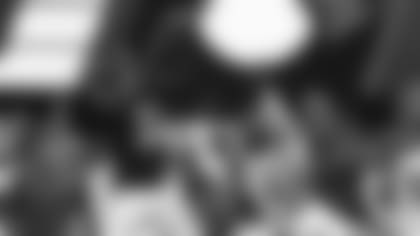 Gus from Gaithersburg, MD
Hi Beek. I was off by one game with my prediction of Julio Jones having a big game when I last wrote to your column (Seattle game). My two cents for the Mercedes-Benz Stadium empty seats buzz is that we have to consider the flip side to that coin; though it hurts some on home games, it helps prepare the team for road games come January. Beek, my question is: being that Minnesota is probably the most complete team the Falcons have faced this year, do you predict an offensive battle with high scores on both sides, or a defensive one with both QBs having a long, hard day. Keep up the good work Beek.
Matt: Thanks, Gus. Appreciate it. Yes, it was nice to see that breakout game from Julio Jones. I've watched and covered some great games and some spectacular individual performances in person, but that one ranks right up there. I'm glad I was there to witness it in person. Regarding your thoughts empty seats remark … c'mon, Gus, it's not like being at an away game! That's crazy talk. Now, if a bunch of a Saints fans show up on Thursday and overtake the place, then we can have that conversation. But I don't see it happening. Falcons fans are savvy enough to understand the importance of having an intimidating home-field advantage. Let's hope that place is rocking. I expect it will be. As far as the game itself, if I had to lean one way right now, I'd go with the latter – a lower-scoring game for three quarters before giving way to some late scores. (Watch it end up being a track meet!)
---
I've been watching a lot of football and, of course, the Falcons are my team. Every expert in football that I watch on TV says the Eagles and Vikings are the best teams in the NFC, but it's not how you start but how you finish. Sometimes from week to week, the power rankings change. I know if you look at the losses earlier in the season, we played poorly -- it was about how we changed offensive coordinators -- people have to understand it takes time. I think teams better beware that we are coming. The Eagles, I know they are 10-1 … but three out of our four defeats, we had a chance to win. But the past is the past. I know we've got a tough schedule but we are peaking at the right time. Do you see the same thing?
Matt: Yes, Chris. The Falcons appear to be coming together, especially in some of the key areas you want to see – their third-down and red-zone conversions on offense. And on defense, they're getting stops in those areas, too. This is the time of year to get hot, with five games remaining. All the Falcons need to do is get that postseason berth – and it's right in front of them for the taking. They control their own destiny. As a fan, that's all you can hope for at this point.
---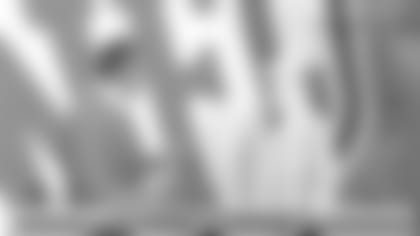 Matt, to caveat on the Brian from Marietta, GA post on 11/28/2017, I can tell you that Sunday's pregame show on NFL Network is one of the shows that has been on the Falcons a bit. Especially Kurt Warner. Before the season began, he predicted (although it's just his opinion) that the Falcons would miss the playoffs and the Cardinals would be the team that replaces them. Then on this past Sunday's show, he said that the Falcons would eat "humble pie" and that they would still miss the playoffs (do the research). So not only am I hoping they make it back from a fan standpoint, hopefully someone in the Brotherhood tweets him and asks him to eat "humble pie" because I don't do social media. Hope this helps.
Matt: Hey, Percy. Haha – yes, I saw the humble pie segment on NFL Network and Warner's comments prior to the Bucs game (picture above). I'm kind of surprised some other teams weren't picked, to be honest. Time will tell, but I like the Falcons' chances of making it in. On a side note, I wish that guy wearing the turkey mask had tossed a pie at one of the analysts!
---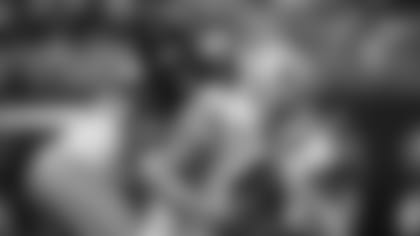 Craig from Fort Lauderdale, FL
Hi, Matt. Nice win against the Buccaneers, but are you concerned at all with the lack of pass rush? With a not-so-great O-line for Tampa and two starters leaving with injury, it took almost until the end of the game to get any pass rush on Fitzpatrick. The pressure did come when we needed it most at the end, but a little bit more throughout the game and it wouldn't have been as close as it was. I think against Minnesota this will be critical, especially if our corners are still banged up. Any chance of re-signing Dwight Freeney now that Seattle released him? His presence and vet experience last year allowed Vic Beasley to come into his own with help on the other side. Just a thought, but take away Adrian Clayborn's huge game and the stats for pressure on the QB don't look that great.
Matt: Hi, Craig. Yes, having a pass rush – putting pressure on a QB as well as hitting and sacking a QB – are important. The Jacksonville Jaguars (7-4) lead the league with 41 total sacks. The Falcons (7-4) are tied at No. 10 with 30. (The Vikings also have 30, for what it's worth.) I think that stat is one piece of the picture, Craig. Some put a high value on total yards given up when it comes to evaluating a defense. Again, it's part of the picture. For me, since you asked, I think total points is the most important category to consider. The Falcons have surrendered 230 points (or 20.9 per game), which is No. 13 in the league. The Jaguars are, again, tops with 168 (or 15.3 per game). Interestingly enough, the Vikings are fifth (17.7 per game), the Panthers are eighth (18.8), and the Saints are 12th (20.2).
---
Steven from Doncaster, Yorkshire, England
Matt: Yessir, Steve. Let's hope it gets some strong consideration for a return down the road. Thanks for reading and writing in.
---
Kayvon from Charlotte, NC
What's upppppp Beek! Love your work man and more importantly love your knowledge of football and the Falcons. A lot of people are talking about the Minnesota D against our offense and I think that's a good topic of conversation. But what I'm looking at is the way our defense matchup with the Vikings offense. The Vikings offensive line is much improved from last year and they have two very good receivers in Adam Thielen and Stefon Diggs. How do you see us matching up with that offense? Do you see it being a shootout or more of a defensive grinded out game? I believe our pass rusher has the strength and speed to make Case Keenum uncomfortable. What worries me is if we're gonna be able to stop the run. What are your thoughts on all this? Thanks for always giving me something to read while I'm bored in class!
Matt: First, if you haven't read Will McFadden's piece on why the Vikings defense poses the toughest challenge for the Falcons this year, check it out here. Yes, all three phases of the game are always key, but I do think that battle – the Vikings defense vs. the Falcons offense – will go a long way in deciding this one. Despite all of the offensive talent in this one, I think it might end up being a chess match for the first three quarters without a lot of big plays given up by either defense. So I think it'll be low scoring, until the end. I think the Falcons defense will have more success containing the Vikings offense than Minnesota's defense against all of Atlanta's weapons – and it'll show in the fourth quarter. I think getting Devonta Freeman and his fresh legs back will help wear down that Vikings front, too. Geeting him back is huge.