Welcome to Straight from the 'Beek! If you've got Falcons-related questions, I'll give you honest answers (but I can't promise you'll always like my response). The 2017 season is officially in the books and just like the Falcons, we're onto 2018. So, let's get to today's questions, shall we? Just remember, all opinions you see in this space are mine, unless otherwise noted.
First, let's recap Tuesday's SFTB Question of the Day:
The majority of you who voted don't think the Falcons should even use a late-round pick on a running back. Interesting, especially considering this class is fairly deep on running backs. I tend to side with picking one on Day 3 of the draft. We'll see what happens.
---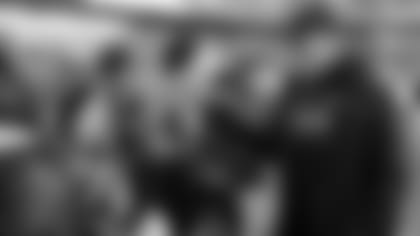 Matt Ryan does his part of the Brotherhood by practicing with his teammates before practices, trying his hardest and doing his best on and off the field. What is the best way we, as Atlanta Falcons fans, can help out in the Brotherhood?
Matt: Show up, whenever you can, and be loud, proud and positive. Seriously, just show up and support the team. And stay till the end. Maybe it's a trip to training camp in August or showing up on Sundays at Mercedes-Benz Stadium for home games. And if you don't live in Atlanta, try to catch them at an away game. Believe me, the players and coaches notice - and they feed off of your energy and enthusiasm.
---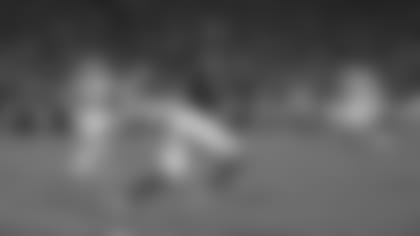 Shannon from College Park, GA
What is your opinion when it comes to special teams? It seems like Andre Roberts wasn't that effective as a kickoff and punt returner.
Matt: I think special teams play often decides the outcome of games, so I think it is incredibly important. Andre Roberts was the Falcons' primary returner last season, just in case some of you out there weren't aware. As far as how he performed, the Falcons averaged 22.3 yards per return on kickoffs - which was 11th best in the league. It would have been higher if some of Roberts' better return hadn't been negated by penalties. The Falcons' season-long kickoff return was 61 yards, which tied the Broncos and Cowboys at No. 10. The Ravens led the league by averaging 27.5 yards on kickoff returns. On punt returns, the Falcons didn't do quite as well, averaging 7.4 yards per return - which was 20th overall in the league. The Lions, who were dead last on kickoff returns (18.2 average), led the league with 14.0 yards per punt return. Is it an area where the Falcons can improve? For sure, and thanks for the question, Shannon!
---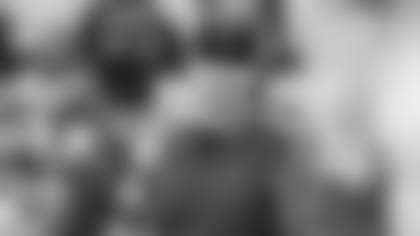 Connor from Charlottesville, VA
Hey, Beek! First off, I just want to say I still think Steve Sarkisian will be a lot better in Year 2. I didn't like a couple of his play calls, but overall it was just an unlucky season with so many tipped and butt-fumble interceptions. But I do think some adjustments need to be made, especially on the offensive line. Do you think the Falcons will address this early in the draft or free agency? Also do you think the tight end situation will look the same next year or will they make a move for a big playmaker.
Matt: Hey, Connor. I'm glad you framed your question the way you did because let's be honest here about something - how many NFL fans complain over at least some play calls during the course of a season? I mean, that's what fans do. But I think fans (and the media) went a tad overboard this season with their criticisms. And you're right, too, pointing out that it wasn't always about the play calls - it's the execution. The tipped balls, deflected passes, dropped balls, fumbles, missed blocks, hurried throws … they all contribute. There were some injuries up front and, as a result, the Falcons had to make some adjustments throughout the season - something they didn't have to do so much in 2016. Regardless, I do think (and hope) that the Falcons bolster their offensive line through free agency or the NFL Draft, and it wouldn't surprise me at all if they do so earlier versus later. Regarding tight end, I like what Austin Hooper has shown in his first two seasons - he's gotten better in just about every category. That said, if they have a chance at landing a proven playmaker who fits their offense for the right price, I guess they could go that route, but it would surprise me some. I'd like to see them get stronger in the trenches - on both sides of the ball. It sounds cliché, but that's where games are won and lost.
---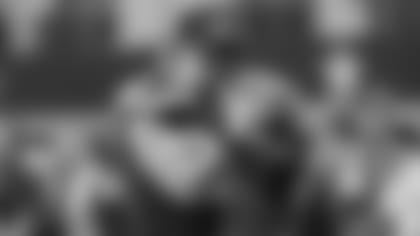 Hey, Beek. Love the column! Enjoy reading everyone's input! With that said, I know a lot of Falcons fans are talking about Jimmy Graham. What all have you heard about this, what do you think the odds of this happening are and do you think it would be a beneficial move? Appreciate you and hope you keep it coming!
Matt: Hey, Ryan. And thanks, glad you're enjoying it! Here's is what I am hearing about soon-to-be free agent Jimmy Graham coming to the Falcons: Zilch. Nada. Now, there's been tons of speculation by fans on message boards and even Mike Florio of Pro Football Talk wrote a short post about how the Falcons might want to consider taking a look at Graham, but I haven't heard anything.
---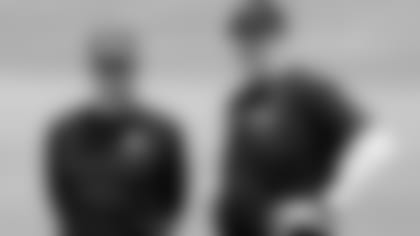 Beek, great column! With the buzz building for the 2018 NFL Draft, I did some research on every Falcons' draft since 1966. As a Falcons fan at their birth in 1966, I listened on the radio as a kid to news that the Falcons had selected Tommy Nobis and Randy Johnson. After reviewing all the Falcons' draft picks, I found that, outside of the No. 1 pick, players selected in the fourth and fifth rounds turned out to be very good players. Examples include Ken Reaves, fourth round, 1966; Jim Mitchell, fourth round, 1969; Joe Hawley, fourth round, 2010; and more recently, Devonta Freeman, fourth round, 2014 and Grady Jarrett, fifth round, 2015. My question: How are the Falcons organized to execute the draft? And how much attention is paid to the later rounds? What are the measures of success for the scouting team, players making the team or the player being a contributor in one or two years? Thanks again for a great column. Go Falcons!
Matt: Wow, that's some dedication right there, Jim, and I love it. Every single draft pick matters. And every single undrafted college free agent that is eventually signed matters. Every player that the Falcons bring into their facility and put in that locker room matters. The Falcons scouts have a blueprint of the ideal player for each position - and they're on the same page with coaches as to characteristics, skills and intangibles they're looking for in rookies and veteran players. In case you missed it, I wrote a series of profiles on the Falcons scouting department, which includes an overview piece with general manager Thomas Dimitroff. Give it a read and go through the all of the individual scouts' profiles. There's a lot of insight there on the Falcons' philosophy and process. The Falcons are looking for players to contribute. If they're dressed on Sundays, they're contributing - or should be ready to at any moment.
---
Hey Matt, I've been reading for a while now as I've evolved from a Dec-Jan fan, to a Sept-Jan fan and now to my final form as a 24/7/365 fan. Since a lot of people have been asking you about the fans lately (this is your fault, Gregory from Louisville), what do you think that we can do in the offseason? This was a goofy question, but hey, at least I'm not asking about Sark or trading/drafting O-line players. :)
Matt: First of all, I'm loving all the questions from fans about what they can do more to help the support the team. And the responses here (and in my inbox) have been great, too. As far as during the season, I think it's pretty clear. I noted above in my response to Jonathan from Tacoma that simply showing up, being loud and bringing tons of energy to games is huge - and the players really do feed off it (and opponents notice too). But during the offseason, it gets tricky. I started this column back in August and some regular readers - like Jerry from Statesboro - have suggested meeting up at a sports bar to simply talk Falcons football (and I'd be totally down for that). Or maybe we could get an area restaurant to let me hold a Q&A session with you guys town hall style. When I was the sports editor at The Cincinnati Enquirer, we produced a show called Beyond the Stripes, it was a roundtable discussion with the writers at a local sports bar for the fans - and there was a former or current player booked for it as well. They still do it and there's always a great turnout. One reader suggested a gold outing for all of the Beekers here - and that would be fun as well. We could talk about the draft, free agency, the coming season - whatever you wanted. It's all about coming together because we have a common interest - to support the Falcons. So let's do it, guys. Throw some ideas my way - email me - and send your ideas and maybe we can announce something here in this space in the future. What do you think? And thanks for your question, Ashleigh!
---
More of a suggestion: Maybe you could put a warning above your votes that you must belong to Twitter. Not all of us care for Twitter.
Matt: I hear ya, Gary. I respect your restraint! But if you do join, just follow the Atlanta Falcons and yours truly - you can block out the rest of the nonsense! Plus you'd get to vote the SFTB Questions of the Day! On a side note, Gary, I keep telling myself that one day I'll delete all of social media accounts and go "dark." We'll see if that ever happens.
---
Adonnis from Ballston Spa, NY
Hey Beek, really enjoy reading this column and I'm loving the responses. I am a Georgia native born and raised and I can't wait to see my Dirty Birds raise that Lombardi Trophy! Prayerfully that happens next year! RISE UP!! But here's my question: Alongside of getting Matt Ryan's new deal done, which is the next priority? And do you think the Falcons should pursue a deal for Rob Gronkowski (or best available TE) for the No. 1 TE and keep Austin Hooper, but have him No. 2 TE - and maybe cut one or two receivers or cornerback? Or focus on the OL/DL?
Matt: Hey, Adonnis. I think as we move closer to the NFL Draft (and get through free agency), it'll be even more apparent what the Falcons are focusing on. But to answer your question, the Falcons need some flexibility (cap space) and will get creative, as general manager Thomas Dimitroff put it, with some of their contracts. After getting a new contract in Matt Ryan's hands, they'll determine which of their own free agents they'll want to keep (they have 15 unrestricted free agents) while identifying areas of need. If players should leave via agency, there will be some obvious/additional holes to fill - either through free agency or the draft. So it's not as easy and clear-cut once Ryan's deal is done. I'm not going to get into the specific scenarios you've mentioned though -- it just doesn't work that way. I think addressing the defensive and offensive lines will be a priority though. HAVE A QUESTION?