Welcome to Straight from the 'Beek! The Falcons are coming off their third-straight win and improved to 7-4 with a win over the Buccaneers on Sunday at Mercedes-Benz Stadium. And, apparently, the victory has most of you speechless because I've barely received any questions since. I'll answer them, as I always do, but just remember that all opinions you see in this space are mine, unless otherwise noted.
Jerry from Statesboro, GA
Hey, Beek. Great win! I want to talk a little bit about the empty seats. I think Mr. Blank went a little over the top with the restaurants and amenities. To me, I think this is a distraction to why the fans are really there. I loved the Georgia Dome, Mercedes-Benz Stadium ... not so much. Anyhow, I think our offense is in sync now however, there's a tough purple team coming to town next week. Should we be worried about them little because some of our starters got a little banged up today? Trufant, Poole, Alford? The Vikes are on fire with their receiving core. So, I'm concerned.
Matt: Hey, Jerry. The Vikings are definitely on a roll. They're currently sitting atop the NFC North with a 9-2 mark and have reeled off seven straight games since a 14-7 home loss to Detroit, the same game they lost their top draft pick – running back Dalvin Cook – for the season. That's extremely impressive when you think about what they've also overcome losing their starting quarterback for the second consecutive season. If you've taken a look at the NFC playoff picture – you should bookmark this one here – the Vikings come into Atlanta as the projected No. 2 seed. The Falcons are currently the No. 6 seed, a wild-card spot, but own some important head-to-head tiebreakers over the Seahawks, Lions, Packers and Cowboys. A win over Minnesota would not only help the Falcons close the gap in the NFC South – they currently trail the Saints (8-3) and Panthers (8-3) – but it would also improve their conference record to 7-1.
Yes, Atlanta suffered some injuries in the secondary against the Bucs, as you noted, and we should find out more about them today. One of the big surprises this year has been the emergence of Vikings receiver Adam Thielen – he has 70 catches for 1,005 yards and three touchdowns. Paired with Stefon Diggs, those two will be a handful for the Falcons, even at full strength. Regarding your comments on Mercedes-Benz Stadium, I think it's an awesome venue and a fun place to watch a game. My wife and kids have been to every home game, sit in their seats during the action and choose to walk around before the game and during halftime some. Others choose to stand and watch the game from other places – and that's their prerogative. I have no problem with it and wouldn't sweat it, Jerry. This is just my opinion/guess, but I think more and more people will be staying in their seats moving forward, especially if this team keeps playing like it has been.
---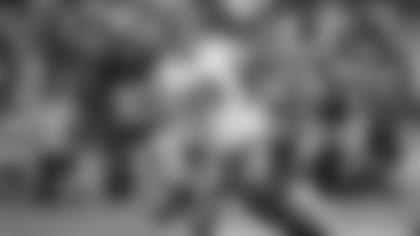 Hi, Beek. Another great win for the Falcons! Julio Jones finally had the breakout game we were knowing and hoping he would have this season! Hats off to the offensive and defensive lines. Steve Sarkisian's play calling was spot on! Matty Ice got plenty of protection and the Bucs' running game was shut down. Marquand Manuel made adjustments when we had injuries in the secondary. Are we going to look internally or externally for help in the secondary until our starters come back? As it was said on 92.9, let's hope we have the "coming out party" against the Vikes! Thanks again for your response and for all of my fellow fans' comments and questions.
Matt: Hey, Ray. Yes, Julio Jones put on an incredible performance, finishing with 12 catches for 253 yards and two touchdowns. Through his first 90 games, Jones has caught more passes (563) and gained more yards (8,649) than any other player in NFL history. Against the Bucs, he surpassed Lance Alworth's record for receiving yards and Anquan Boldin's record for receptions. For more about Julio Jones's record-setting day, you can read Will McFadden's story here as well as Dave Archer's take right here. I think Steve Sarkisian's play calling has been solid all season long, and now the players are executing and hitting on all cylinders. It was fun to watch on Sunday, that's for sure. I do think the Vikings, especially that defense and those receivers on offense, will be a handful (as I noted above in my response to Jerry). We should know more about the Falcons injuries today and throughout the week, so stay tuned.
---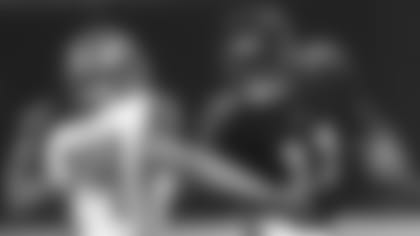 Chris from Villa Rica, GA
Hello, Beek! Hope you and the family had a great Thanksgiving. I'm starting to see continuity with this team finally. Like they are playing with a chip on their shoulders. Question is, do you think the players are starting to believe in the new coordinators' scheme? I've been a Falcons fan forever. There's always haters and doubters about this team. Your thoughts?
Matt: Hey there, Chris. And thank you, yes, we had a great Thanksgiving. I hope you did as well. I've said all season long that this is a marathon and all that matters is getting into the postseason – it doesn't matter how it looks. And the Falcons are putting themselves right where they need to be as we head into the critical month of December. To your question, as far as we can tell and based on all the interviews and press conferences all season long, the players have always believed in their coordinators – and never once articulated a word to make anything think otherwise.
---
First I'll say I enjoy your column. I love the Falcons and happy we've won the games we won. But what does it take for this team to get a killer instinct? They have good spurts, but haven't put together a full four quarters of good football. We continually get leads and the game always ends with a dramatic finish, win or lose. Why can't they dominate?
Matt: Thanks, Kedric. Appreciate it! Serious question: Was Sunday's win over the Buccaneers dominant enough? Did stopping them on fourth down and then driving the ball down the field for the final touchdown show enough killer instinct? Hit me back with your thoughts. I get a lot of questions about "killer instinct" and want to know how you, the readers, define it. For me, hitting a team with big plays throughout the game and then finishing them off with a game-ending drive qualifies as killer instinct.
Okay, if not be shirts then maybe a poster or a handwritten note from you. I have a feeling that this is going to be a very special year and would love to have something to commemorate Straight from the 'Beek.
Matt: I've said this from the very beginning: This place is really about you, the fans. Heck this entire website is for the fans, first and foremost. To your point, it certainly has been an interesting ride so far, James – and those highs and lows are definitely reflected in Straight from the 'Beek every day! Hey, if it ends up being a really special season – who knows – maybe I will do something with all of the SFTBs at the end of the year. If anyone has any ideas, send them my way. And thanks again for the support, James.
---
Why haven't the NFC championship and South division champ banners the Falcons won haven't been placed in the Mercedes-Benz Stadium still? I think that they should display them on Sundays game now that the Georgia Dome has been imploded.
Matt: I've been asked about the banners a number of times since August. There will not be traditional banners hanging at Mercedes-Benz Stadium like in the past. In the home opener against the Packers, the team displayed digital NFC South Champions banners, but not the physical banners. Part of the reason why is because the stadium is also home to the Atlanta United FC and a number of other events are played there – like the Chick-fil-A Kickoff Game, the SEC Championship game and the Chick-fil-A Peach Bowl – and the idea is make those experiences for the home teams and their fans as personal as possible. Personally, I like the old-fashioned banners hanging, too. Maybe that'll change in the future, especially if the Falcons were to win the Super Bowl. But, for now, they're digital.
---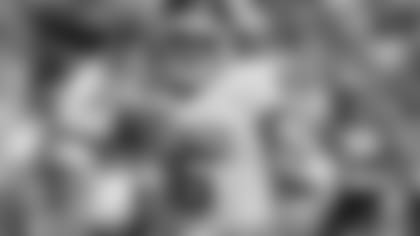 Beek, this is not Falcons-related, but what are your predictions for the College Playoff Rankings on Tuesday? Who you got as top four?
Matt: I think this could easily change, but as of right now I'd have to go with Clemson, Oklahoma, Georgia and Wisconsin (in order). And since you brought it up, Mark, I'm going to go out on a limb and predict Oklahoma wins it all.