Happy Wednesday and welcome to Straight from the 'Beek! Members of the Falcons' front office, coaches and scouting personnel have arrived in Indianapolis for the NFL combine - and you've got plenty of questions about free agency, the draft and more. So let's jump right in. Just remember, all opinions you see in this space are mine, unless otherwise noted.
Before we get too deep into the questions, I just wanted to drop in the results from yesterday's poll question. While I expected most of you and Twitter followers to vote no on drafting a quarterback, I am a little surprised that 34 percent still voted in favor of it.
---
Kevin from Sierra Madre, CA
Hi Beek. Do you think Thomas Dimitroff and Dan Quinn would trade up for Vita Vea if he is there at No. 18, the Seahawks pick? Or do you think we should stay at 26 and get Taven Bryan?
Matt: First, I think the Falcons would only consider trading up for a player if he was their No. 1 prospect - the guy who they felt checked all of the boxes. Second, in order to make a trade you need a willing dance partner and, in this case, it would be the Seahawks at No. 18. Would they want to trade down? How much would the Falcons surrender to jump from 26 to 18? Would the defensive tackle from Washington be worth it? There's a lot to consider in a relatively short amount of time. As far as Taven Bryan goes, I like the defensive tackle from Florida a lot. Now he's built differently than Vita Vea, but I like his motor and think he's more versatile as far as where you can line him up. I'm watching more and more video on those two guys, and I really like Bryan.
---
Can we please never again talk about Jimmy Graham? He is old and decrepit. He would only slow the Falcons offense down. Go Hooooop!
Matt: In case you missed my response from Tuesday, here it is. I'm with you, Joey. I'm having a hard time seeing the upside to signing a player like Jimmy Graham. I'd much prefer to bolster the offensive line and stick with Austin Hooper at tight end, a player entering his third year who I think is only getting better.
---
Thanks for answering my last question about Matt Ryan. Hopefully his contract is good for the team and Matt. Keeping the core group together is so important because the arrow is pointing up! I mean, yah, a free agent player like Jimmy Graham would be great at the right price, but I would hate to lose players like Taylor Gabriel or Dontari Poe in the process. My question is about the offensive line. Most pundits have us drafting one early. Our biggest lineman is Ty Sambrailo who weighs 315 pounds. Most of our linemen weigh between 290 and 315, so does Thomas Dimitroff have a cut-off on weight on a top prospect? It appears our preference is agile, quick linemen over big hefty brutes in our outside zone blocking scheme. So, do you think a top guard like Quenton Nelson from Notre Dame, who weighs 330, would be off our draft board? Same with the guard from UTEP, who weighs 340?
Matt: John, if you watched Quenton Nelson play (and I'm assuming you have), would you knock him off your board because he weighs 329 pounds? He's 6-foot-5 and, as one draft profile put it, can forklift defenders out of the gap and create massive running lanes. So, to answer your question, I'd take that all day, every day. But, Nelson is projected to go in the first 10 picks of this draft, maybe in the top five.
To answer another part of your question, though, I do believe offensive linemen in the Falcons' scheme need to be athletic and be able to move into the second level. There are some big men who can move, but they're special players who are in high demand. I'll never forget this play from a Saints-Cowboys game. New Orleans linebacker Darion Conner - who played three seasons for the Falcons - should have turned this interception off Troy Aikman into a pick-six. Instead all anyone could talk about was how this rookie left guard named Larry Allen (who weighed 324 pounds) ran him down from behind (watch below). That's incredible. So it's not all about the weight, John. It's what they do with it, and how they use it. Some players are gifted. I do think the Falcons will either sign an offensive lineman in free agency or draft one or two in the draft.
---
Matt, now that the combine is upon us, what skill events would you recommend we pay the most attention to when evaluating potential offensive linemen for the system the Falcons run? It's always fun to watch the bench press and how fast guys run the 40, but not certain those are the most important for evaluating guys for our team.
Matt: Yes, those are two events I like to watch with the linemen for sure. People sometimes say, "Why does it matter how fast a lineman runs in the 40?" Well, take note of the answer above. When a lineman can move into the second level and get downfield for blocks, that's like a runaway freight train - defensive backs want no part of that. Another event I like to watch with linemen, Gary, is the three-cone drill, which measures quickness and agility.
---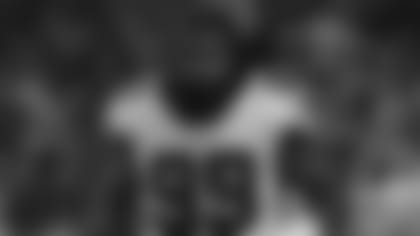 Taylor from Nashville, TN
Hi Beek, two-part question from me. 1) Are you hiring? 2) Assuming the Falcons sign Matt Ryan to a team-friendly deal, which one of our pending free agents is the most important to sign for continued success?
Matt: Ha! Well, Taylor, you should always keep your eyes open for opportunities, depending on what your skill sets may be. To answer your Falcons-related question, I think the three biggest names who are set to become unrestricted free agents are Dontari Poe, Adrian Clayborn and Matt Bryant. Altogether, there are 15 players who are set to become unrestricted free agents come March 14.
---
In theory, a team could give out signing bonus and have little counting against the cap and sign more players. What is the max signing bonus you can give a player?
Matt: Steve, I'm no salary cap expert but I do understand the basics. A signing bonus isn't off the books - it is guaranteed money, which still counts against the cap. If a player receives a $15 million signing bonus with a five-year deal, for example, that money is spread out over the deal. So instead of $15 million counting in the first year, it would count $3 million each year for five years. If a player receives an extension, and previous signing bonus would still count for the years under the previous contract. And if that player ends up being cut or traded, the remaining cap hit is pushed to the next season. Hope that helps answer your question.
---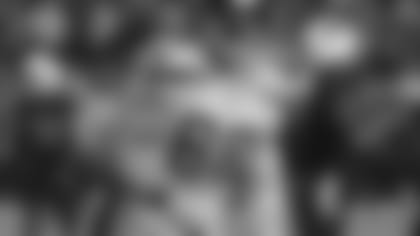 How on earth can you say Jimmy Graham couldn't help? 10 touchdowns would be nice to plug into our lineup. Our red-zone offense is awful and for some reason we never ever go to 11 there. It would be nice to have a safety net for Matt Ryan in that area like in the good old days of No. 88.
Matt: First, Jimmy Graham is no Tony Gonzalez. Let's get that much straight. Second, as I said on Tuesday, it makes no sense to pay for a 31-year-old tight end when you have a 23-year-old player entering his third year (already under contract) who is putting up better or comparable numbers. Why would you stall his growth? Do you think you're getting the Graham who played in New Orleans for five seasons? He hasn't put up those numbers in Seattle, so what makes you think he'll be able to replicate that in Atlanta at 31? The team has more pressing needs - and, in my opinion, should address them before signing an older tight end who is on the downside of his career.