Welcome to Straight from the 'Beek! We're inching closer to the NFL combine, free agency and the NFL Draft - and you've got lots of questions about the Falcons. So, let's get to them. Just remember, all opinions you see in this space are mine, unless otherwise noted.
Jeremiah from McDonough, GA
With all the talented offensive players on our team, the only position on the offense that needs to be worked on is the guard position. Regardless of what anyone has to say, our tight ends are great! Between Austin Hooper, Eric Saubert and Levine Toilolo, why on earth are people asking for new tight ends? Our tight ends are fantastic and are very clearly working on their craft and getting better every season. We should be focusing more on defense and our offensive line. Personally, I think we need more cornerbacks and another safety to help complement Keanu Neal and Ricardo Allen. What do you think?
Matt: I think it makes complete sense, Jeremiah. In fact, I've been saying it since the season ended. I would love to see the Falcons bolster the offensive and defensive lines in free agency and the draft first. As far as the tight end position goes, the numbers show that Austin Hooper has only gotten better during his first two seasons here. Could we use depth and more competition at the position? Yes, you can say that for almost every position. But I agree with you.
---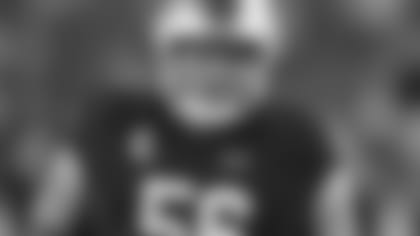 Hey Beek, I enjoy your column. Notre Dame guard Quenton Nelson is a beast and I think the Falcons should try to get him even though it may cost a few extra draft picks. He is projected to go in the first round and we would have to trade up. However, with Alex Mack, Nelson and a good fullback, we should be able to punch the rock in from goal-to-goal situations instead of kicking field goals. He could also assure that we move the chains on third down. I have read that he could be drafted in the first 15 picks. We are so close; let's go for the gold. What do you think?
Matt: I absolutely love Quenton Nelson. In case you haven't figured it out yet, he's my favorite player in this draft class right now (and I could change my mind). But, seriously, what's not to love about the player? He's dominant and could be a difference-maker for the right NFL team. But you're right - he probably won't last very long and if a team slated to pick late in the first round wanted a chance at drafting Nelson, they'd likely have to give up a lot to move up into the top 10. In case some of you are not familiar with his work, here's an example:
And his guy ending up in the back of the end zone …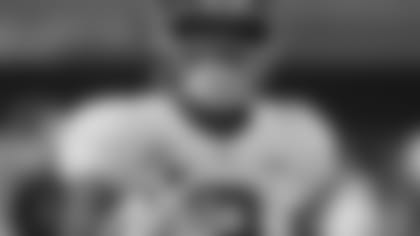 Hey, Beek! I have been watching the Falcons for three years now, and I have always loved this team. I think that in the upcoming draft we should draft Calvin Ridley. He would be a great addition to our offense, and he would also complement Julio Jones. Our offense would flow and be better than the 2016 season. What do you think?
Matt: Hey, Rohan. Three thoughts on that one. Based on some of the draft projections I've read, Ridley might not be around when the Falcons pick at No. 26. Sure, they could always move up, but I do not see them doing that. Which brings me to my next thought - the Falcons have more pressing needs than wide receiver, in my opinion. Offensive and defensive line for starters. If they were to take a receiver, I think it would be on Day 3 of the draft - and again, that's just my opinion. And then my final thought is on the last point you made - that the Falcons offense would be better than it was in 2016. Is there a chance? While anything is possible, don't count on it. I won't even get into all the reasons why those type of numbers won't be replicated any time soon by any team. Ridley is a solid receiver, but some draft analysts who I have a lot of respect for don't think he'll be anything more than a solid No. 2 in the NFL. That's the beauty of the draft, and it'll be interesting to see where he goes (and how he fits in).
Speaking of the NFL Draft and the combine, here is the Straight from the 'Beek Question of the Day: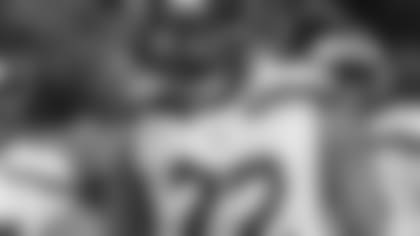 Wassup, Beek. I heard a rumor that we might be making moves towards Michael Bennett. If true, how would this affect our roster moving forward and our defense of the future? I'm serving in the US Navy, btw (just in case you were wondering about the country).
Matt: Hey, Mike. There are always going to be rumors and speculation, especially during this time of year. And some outlets just throw scenarios because, admit it, you guys - the fans - love talking about "what if" scenarios. And it's easy to see why some would throw Michael Bennett's name out there in one of those scenarios, even though he's under contract. Never mind that Bennett and Quinn know each other well from their days together in Seattle - and that the two have mutual respect for one another. Defensive tackle could also be a position of need for the Falcons, depending on what happens in free agency. Plus there were rumors before that turned out to be false, which you may or may not recall. Remember this tweet back in 2015?
Look, they're just rumors and pure speculation. Plain and simple. I'm not going to go into explaining how a player who is under contract with another team would fit into the current rotation when we don't even know what that will look like as of now. The Falcons are focused on getting Matt Ryan a new deal right now. Once that's done, it will allow the team to focus in their own soon-to-be free agents as well as players they want to keep in the future. There's a solid core here on offense and defense - and the Falcons have drafted well under general manager Thomas Dimitroff. Thanks for your question and for your service, Mike!
---
Timmy Mac from Powder Springs, GA
Please give me your honest opinion on how this offense looks in Year 2 under Steve Sarkisian.
Matt: Hey, Timmy. I know I sound like a skipping record player here, but it all depends on what happens in free agency and the NFL Draft. Should the Falcons bolster their offensive line and head into the 2018 season stronger and more dominant up front, this offense will be even more dangerous. If that line can get to a point where it can impose its will on opponents - shove the ball down their throats, pick up the tough yards in key moments and also allow Matt Ryan to sit back there and pick apart teams - then I expect an even better year in Sarkisian's second season as offensive coordinator. You win games in the trenches, Timmy. I'd like to see them get stronger up there - bolster what they have now. If they can, coupled with the weapons they already have … that would be fun to watch. For now, we'll just have to wait and see what happens. Hope that answers your question.
---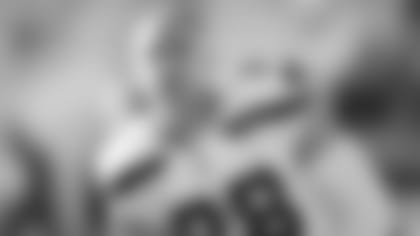 Peace and blessings. Born and raised in the city. I'm a certified DSGB (Down South Georgia Boy). My question is, will the Dirty Birds go ahead and pursue Jimmy Graham from Seattle? And do you think we will be the first team to host the Super Bowl?
Matt: I've been asked about Jimmy Graham and my feeling right now is still the same: I'd be surprised. I think Austin Hooper's arrow is pointing up and think the team has more pressing needs. Hooper actually put up better numbers than Graham - except when it came to touchdowns. Would Graham help the Falcons there in the red zone if he were to come available? Maybe, yes. But that would have to be a cap-friendly, incentive-laden deal. And that's if the Falcons believed Graham would be a fit - on and off the field. Again, there's a lot of speculating there. As far as the second part of your question goes, yes, the Falcons have an opportunity to be the first team to play the Super Bowl on their home field in the coming year. But as you all know, there's a lot of work to be done. The focus right now is getting Matt Ryan a new deal and improving this roster. One day at a time.
---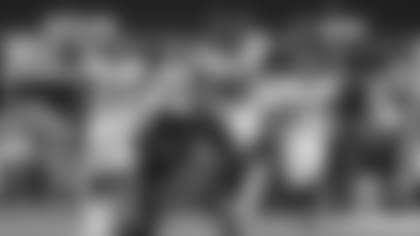 Cliff from Powder Springs, GA
Hi Matt, I read your column all the time and great job!! I've been a Falcons fan and season ticket holder for 28 years now after relocating here. I empathize with the rest of my fellow Falcons fans because I know we're very, very close to winning the Super Bowl. Being in Houston for the Super Bowl was both a great experience and a great disappointment that is hard to explain. It felt like a dream to watch it unfold in person. We need to fortify both the offensive and defensive lines, add depth, across the board and a ball-hawking corner or safety. I study the team and potential fits all year long. DQ and the staff have done a great job of transforming the defense the last few drafts. Do you foresee Duke Riley and Damontae Kazee taking that next step that Debo did in year two? If we get the offense back close to what it was in 2016, get the defensive line more depth to rotate about eight players in and out to put continuous pressure on the opponents QB, and - last but not least - stay healthy, we have a solid shot to make history and bring home what we all want, a championship. You mentioned the Cincinnati Enquirer in a post, are you from Cincy? As always in closing, RISE UP!!!!
Matt: I appreciate the kind words, Cliff, and I'm glad you stop by here often. The NFL is so competitive, as you know after following it for decades. The teams are loaded with talent and the coaching staffs are all so very familiar with one another. In the end, it's the little things that separate the winners from the losers. Health, as you noted, is obviously key. But so is discipline, execution, preparation and making the right adjustments. That all said, I agree with you, Cliff. I think the Falcons are very close. This offseason will be key - and if they're able to get the right players to address their needs, they should contend for the NFC South and a playoff spot once again. I hope they fortify the lines, as you put it. Coach Dan Quinn always talks about the jump players make from Year 1 to Year 2 and then the jump from Year 2 to Year 3. If they don't show improvement in those windows, there's a good chance they might not ever. To answer your question, I think Riley and Kazee will be better in 2018, especially as they play/react more and think less because they're more comfortable in the system. Regarding Cincinnati, I used to be the sports editor at the Enquirer. I am originally from Upstate New York and have lived in a number of places of the years, including Michigan, New Jersey, West Virginia, North Carolina, Ohio and Florida. Before I came to Atlanta last spring, I oversaw all of the NFL content at CBSSports.com. Thanks for reading! HAVE A QUESTION?