FLOWERY BRANCH, Ga. – The Atlanta Falcons will face the Philadelphia Eagles in the 2018 NFL Kickoff on Thursday night in a game that features two of the most talented teams in the league.
The Falcons have 19 of their 22 starters from 2017 returning, and the Eagles will once again be facing backup quarterback Nick Foles, who threw for 246 yards in last year's playoff game between these two teams. Carson Wentz was listed as limited in Tuesday's injury report.
While Foles' play will undoubtedly impact the outcome of this game, there are a number of key matchups for Thursday night. Among them is the battle at the line of scrimmage between both offensive and defensive lines but we've already covered that a bit in this week's After Further Review, so we'll be focusing on three other important matchups.
Takk McKinley vs. Jason Peters
Takk McKinley came on strong late in his rookie season, registering four of his six sacks in the Falcons' final seven games. He continued that streak into the postseason, where he recorded one sack in each playoff game, including the Falcons' loss to the Eagles. Philadelphia was without its Pro Bowl left tackle Jason Peters for the second half of the 2017 season and all of the playoffs last year, but "The Bodyguard," as he's known to Eagles fans is back for Week 1.
Falcons coach Dan Quinn said the team didn't affect the quarterback enough the last time they played the Eagles. McKinley had the Falcons' only sack in that game, and he will be a big factor in whether or not Atlanta improves in that aspect of the game this time around. Peters is a tough assignment for any pass-rusher, but Quinn said he's seen a nice jump in McKinley's play.
"Really at practice that's where I've seen his game really take over," Quinn said. "The physical style that he brings, the effort, the intensity. Over this past week I guess I've almost seen another jump take place. I thought he's had a good camp and then he took a shift. It was good, and then he took a shift again this week, which I was really happy to see."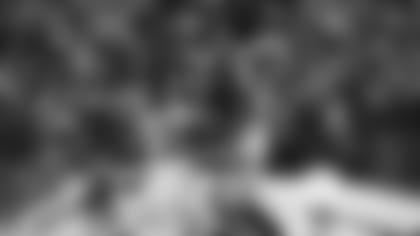 Zach Ertz vs. Falcons linebackers and safeties
A strong argument can be made that tight end Zach Ertz is the best weapon the Eagles have in their passing game. A Pro Bowler in 2017, the sixth-year tight end has surpassed 800 receiving yards in each of his last three seasons and caught a total of 21 touchdowns in his career, including eight last season.
Falcons SAM linebacker De'Vondre Campbell has become the defender Atlanta often utilizes to cover bigger athletic tight ends like Ertz, but there may be times when safety Keanu Neal or nickel corner Brian Poole are on Ertz as well. In their last game, Ertz caught three passes for 32 yards, but he's capable of getting hot at any time.
"You just have to have different ways to make sure that you're able to cover him," Falcons defensive coordinator Marquand Manuel said. "And with our guys, I think we have the guys that can do it. [De'Vondre] does a good job covering tight ends, Keanu does as well. Brian [Poole] at times has to cover tight ends from that standpoint, and then you've got the nugget that comes in, [Damontae] Kazee … Just to have the ability to understand that he runs precise routes, he knows how to get open, he has experience. He's not really testing you down the field until you let him, but he knows how to put himself in position with each quarterback and make himself a target."
Devonta Freeman and Tevin Coleman vs. Eagles run defense
The Eagles were the top-ranked rushing defense in 2017, holding opponents to an average of 79.2 yards on the ground. The Falcons topped that mark slightly last season, gaining 86 yards on 20 carries, but they weren't at full strength in the backfield. Devonta Freeman came into the game nicked up, and he managed just 7 yards on his 10 carries, but he did catch the Falcons' lone touchdown. Tevin Coleman carried the load for Atlanta in that game, gaining 79 yards on the 10 carries he was given.
Not only are both running backs fully healthy for this season opener, but offensive coordinator Steve Sarkisian has had an entire offseason to become more familiar with each player's unique skill sets and how to best utilize them. Freeman and Coleman are a unique duo who can provide mismatches all over the field, and although they face one of the best defensive lines in the country, they're talented enough to overcome the challenge.
"I think he has had a fantastic offseason and training camp," Quinn said of Freeman. "When we talk about it and talk about Julio and the difference that you see him being healthy I feel the same way with Devonta. His intent, energy, the violence that he can put his foot in the ground and transfer it and break guys off, it's been remarkable to see because he is really intent and ready."
Bonus matchup: Dan Quinn vs. Doug Pederson
This game has the potential to become a very interesting chess match between two of the games top coaches. Eagles coach Doug Pederson has been on the forefront of some of the league's newer offensive innovations, and he proved last postseason that he's not afraid to gamble in big situations. Quinn, meanwhile, has quickly turned Atlanta's defense into a top-10 unit with tons of speed.
The last time these two teams met, Quinn's halftime adjustments proved effective in slowing down an Eagles' rushing attack that averaged nearly 5 yards per carry in the first half, holding them to a 1.19-yard average on the same number of carries in the second half.