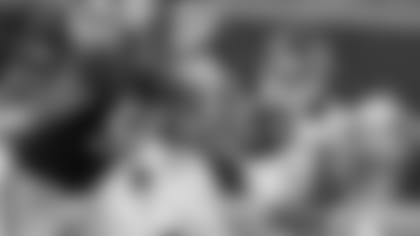 Most players with hopes of becoming draftable by the NFL have played football their entire lives. In some cases, there are talented players that came to football late in their teenage years and often used their experience in a different sport as they began to learn football. Alabama's Jesse Williams is one of those players.
A native of Australia, Williams took up football at 15 and it was easy to see that he had the ability, even at that age, to combine his size, power and athleticism into something that football teams covet. As a junior college transfer to Alabama, Williams was an immediate starter in 2011, playing on the outside defensive end position in 'Bama's 3-4 defense. He's shown he's a quick learner and Matt Miller of Bleacher Report (@NFLDraftScout) thinks his relative short time playing the game can be seen in one of two ways.
"This can be viewed as a positive and negative," Miller said. "Williams definitely got a late start, but this also can be viewed as having more upside or potential to be coached up. He also played rugby in Australia, and that skill set translates well to the NFL."
As a junior Williams contributed 24 tackles, 4 tackles for loss and a half sack, and in 2012 he showed the kind of force he can be in the middle. He moved inside to nose tackle and finished the season with 37 tackles, 2.5 tackles for loss and one sack. His numbers aren't astounding, but he anchored the middle of the top scoring defense in the country. More importantly, Alabama's defense was the nation's No. 1 run D, allowing just 76 yards per game and Williams was a big factor in that effort.
Listed at 6-foot-3, 323 pounds, Williams is seen as a potential difference maker in the NFL on run defense, a big body that clogs the middle or the end. Miller thinks Williams projects best as a 3-4 defensive end and sees the big-bodied tackle as one of the better ones in the draft.
"Williams is best suited to play on the outside of a 3-4 defense as the defensive end in a five-technique (head-up on the tackle)," Miller said. "His size, strength and ability to stack-up behind blockers make him one of the better fits in the 2013 class for the 3-4."
While he played the middle his senior season, Miller doesn't think he's got the girth to clog the middle of an NFL defensive line, but he could be a perfect fit as the bigger of two DTs in the middle of a 4-3 D-line.
"I don't see Williams being big enough to hold-down the fort in the middle of a 3-4 defense in the NFL, at least not initially, but in a 4-3 scheme he would be an ideal nose tackle," Miller said. "Williams has the size to lock down the 'A' gap in a one-technique or play head-up on the center in a zero-technique. He did this quite a bit at Alabama and could be an instant starter in that situation."
For a team that is looking to improve their run defense, a player like Williams could be a solid addition late in the first round. Miller thinks he's the fourth-best DT in the draft, but would find it surprising if Williams is there for the Falcons at No. 30. While Williams is one of the premier run-stuffers in the draft, Miller doesn't see him as a strong fit with the Falcons and their style of defense.
Assuming a need at DT for the Falcons, Miller thinks general manager Thomas Dimitroff and company would be better suited seeking a player that can help stop the run and generate some pass-rushing pressure from the middle. Williams isn't that guy, according to Miller.
"I've not seen proof on film that Williams can be a pass rusher on the inside," Miller said. "He's much stronger at the point of attack, his biggest asset, but the ability to split blockers and get to the quarterback isn't a strength of his. He might develop into a pass rusher, but that's not part of his game right now."
Williams was expected to post eye-popping bench press numbers at the Combine, but ended up with 30 reps, although his strength can't exactly be questioned. He's believed to have demonstrated an ability to bench press 600 pounds while at Alabama and that weight-room strength clearly translates to his ability to be strong at the point of attack. He's active on the field and his effort has never been questioned, but some scouts see him as a player with one very specific, although very good, talent on the football field: stopping the run.
Miller thinks Williams compares favorably to one of the better 3-4 DEs playing right now, the New York Jets' Muhammad Wilkerson, a player that can stuff the run from anywhere on the line. With a need to generate more of a pass rush, Miller thinks a player like Purdue's Kawann Short presents a better option.
One interesting thing to note about Williams is his role on offense at Alabama. Last season he was the short-yardage full back in the run game, blocking for 'Bama's talented backs as they headed into the end zone. His willingness (and ability) to do so speaks highly of his commitment to football.