FLOWERY BRANCH, Ga. -- Thursday's preseason game in Miami seemed to bolster a growing belief about the Falcons: They are deep along the defensive line.
Starting defensive tackles Grady Jarrett and Dontari Poe forced their way into Miami's backfield for much of the Dolphins' first two possessions. Once their day was over, Ra'Shede Hageman and Joe Vellano continued to generate interior pressure.
While Hageman is a player most Falcons fans are familiar with, Vellano likely isn't. The fourth-year defensive tackle spent the 2016 regular season on Atlanta's practice squad before being activated for the NFC Championship Game and Super Bowl.
In the Falcons' first preseason game, Vellano was a player who who caught coach Dan Quinn's eye.
"One player that stood out to me was Joe Vellano," Quinn said. "Joe got some snaps toward the end of the year last year, and I thought he played one of his better performances so far.
"Joe was one that I thought – not necessarily a first-year guy – but a guy that maybe everybody doesn't know, I thought he had a good first performance at it. … He was the one to me in the second half that stood out of the defensive line."
The play below is from late in the third half. Vellano (94) begins this play lined up directly across from Miami's center; when the ball is snapped, he deftly feints to the center's right shoulder before knifing through the A gap to the center's left. In the process, Vellano keeps the opposing lineman's hands off of him and uses a psuedo-rip move to break free. He then has a direct line to the quarterback, and the center is forced to commit a holding penalty.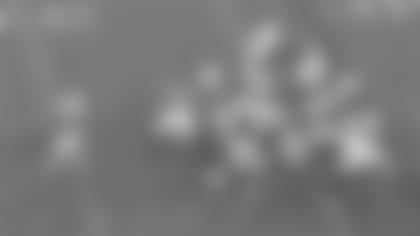 Vellano brings a bit more experience to the Falcons than one might initially expect. In fact, the 28-year-old defensive lineman earned a ring with the New England Patriots in 2014. He's a veteran who can help explain the level of strain it takes to continue playing in the NFL.
For now, Vellano is focused on continuing his own career. His on-field performance against the Dolphins caught the eye of coach Quinn, however, and it's one the younger defensive linemen could very well learn from.